GenealogyPhotoaday on Instagram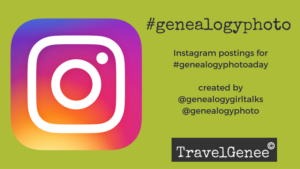 Way back in 2012 I started creating a TravelGenee Instagram Diary, a kind of TravelGenee visual blog about my life, travels and family history. Recently I have been taking part in the #GenealogyPhotoaday postings along with a number of other family historians. Here we share extracts of our family history based on prompts from @genealogygirltalks  who shares these posts at @genealogyphoto.
Here you can see my latest #GenealogyPhotoaday posts.
You to can join the challenge and post a #genealogyphotoaday. Why don't you join in? Follow @genealogygirltalks and @genealogyphotoaday on Instagram.  Tag your posts with #genealogyphotoaday and #genealogyphoto. It is OK to start in the middle of the month. Or just pick the days you fancy and post a few images.  Don't forget to check out others posts and 💜 them.
Background
In 2012, with the help of the Instagram app on iPhones or iPads, I  started mini blogging in the form of an Instagram diary. This is where you load up an image each day via the app (application) for iPhones and iPads.
Other Instagrammers can like your pics and leave comments. You can search for people or check topics with hashtags e.g., #travelgenee for me. Use the #genealogyphotoaday to find others posting on this topic. If you follow them they will then come up in your feed. It is considered polite to answer any comments.
It is also possible to connect to Facebook and Twitter. So if you do not use Instagram you can follow some of my images when they are displayed at Facebook or in Twitter feeds. Like me at Facebook or follow at Twitter to get updates. If you like Google+ you can catch me there too.
I have set up a feed on the travelgenee.com blog on the right hand side so you might catch recent Instagram posts when checking out the blog.
Enjoy my #GenealogyPhotoaday posts.