1001 Buildings You Must See Before You Die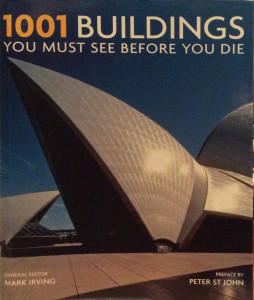 This is a book I purchased a number of years ago. While my goal has never been to visit them all I usually check out if there are any candidates when I am making my travel plans. Not counting university text books it is probably the most expensive book I have purchased. And it is totally work the price as I regularly enjoy picking it up and reading about different buildings, in different countries commencing from 3200BCE to 2008 – in my edition.
I have visited inside some or looked from the outside only. I have blogged about a few. I hope to visit more. Some I have only read about as they are situated in war torn places I am too afraid to visit.
Some that I have visited I would eagerly revisit given the chance. An example is the Great Mosque  at Córdoba in  Spain.
If you are interested I suggest you purchase the book as the summary about each one is well written and it shows the diversity of architectures, variety of building materials and building history through the ages.
As I quickly scanned the list again I marked a few in bold I have visited to help remind me to check out the photos I have taken and perhaps write a blog post – one day – until then I can dream about visiting more and read about them in my own copy of 1001 Buildings You Must See Before You Die.
So here is the list: 1001 Buildings You Must See Before You Die (2007 version)
Newgrange Burial Chamber – Brú na Bóinne, Donore, County Meath, Ireland
Step Pyramid of Zoser – Sakkara, Egypt
Great Pyramid of Khufu – Giza, near Cairo, Egypt
Ziggurat at Ur – Ur, near Nasiriyah, Iraq
Temple of Hatshepsut – Deir el-Bahri, Egypt
Temple at Luxor – Luxor, Egypt
Parthenon – Athens, Greece
Treasury at Petra – Petra, Wadi Mousa, Jordan
Maison Carrée – Nîmes, France
Pyramid of Cestius – Rome, Italy
Colosseum – Rome, Italy
The Pantheon – Rome, Italy
Castel Sant'Angelo – Rome, Italy
Hunting Baths at Leptis Magna – Leptis Magna, Libya
Arch of Constantine – Rome, Italy
Church of Santa Costanza – Rome, Italy
Shaolin Temple – Shaoshi Mountain, Henan, China
Hagia Sophia – Istanbul, Turkey
Basilica of San Vitale – Ravenna, Italy
Church of San Apollinare – Classe, near Ravenna, Italy
Skellig Michael – Ballinskelligs, County Kerry, Ireland
Hanging Monastery of Xuan Kong Si – Datong, Shan Xi Province, China
Church of St. Hripsime – Vagharshapat (Echmiadzin), Armenia
Great Mosque at Mecca – Mecca, Saudi Arabia
Great Kyz Kala – Merv, Bairam Ali, Turkmenistan
Ise Shrine – City of Ise, Mie Prefecture, Japan
Dome of the Rock – Jerusalem, Israel
Cathedral of St. Domnius – Split, Croatia
Big Wild Goose Pagoda – Da Ci'en Temple, Suzhou, China
Umayyad Mosque – Damascus, Syria
Pyramid of the Great Jaguar – Tikal National Park, Guatemala
Jotab-dong Pagoda – Gyeongsangbuk-do, South Korea
Temple of Kailashnath – Ellora Caves, Maharashtra, India
Church of St. Donat – Zadar, Croatia
Aachen Cathedral – Aachen, Germany
Borobudur Temple – Near Magalang, Java
Great Mosque al-Ukba – Kairouan, Tunisia
Mosque of Ibn Tulun – Cairo, Egypt
Saminid Mausoleum (Tomb of Ismail Samani) – Bukhara, Uzbekistan
Tiger Hill Pagoda – Yuyan Temple, Suzhou, China
Great Mosque – Córdoba, Spain
Observatory at Chichén Iztá – Yucatán Peninsula, Mexico
Brihadishvara Temple – Thanjavur, Tamil Nadu, India
Cathedral of St. Sophia – Kremlin, Novgorod, Russia
San Miniato al Monte – Florence, Italy
Glendalough Round Tower – Laragh, County Wicklow, Ireland
Basilica of San Marco – Venice, Italy
Qui Nhon Ban It Towers – Binh Dinh Province, Vietnam
Great Mosque of Masjid-i-Jami – Isfahan, Iran
Ananda Temple – Pagan, Myanmar
Basilica of St. Sernin – Toulouse, France
Dalmeny Church – Dalmeny, Edinburgh, Scotland
Cathedral of St. Lazarus – Autun, Burgundy, France
Jaisalmer Fort – Jaisalmer, Rajasthan, India
Le Thoronet Abbey – Provence, France
Abbasid Castle – Baghdad, Iraq
Monreale Cathedral – Palermo, Sicily, Italy
Durham Cathedral – Durham, England
Angkor Wat – Siem Reap, Cambodia
Minaret of Jam – Firuz Koh, Afghanistan
Koutoubia Mosque – Marrakech, Morocco
Church of St. George – Lalibela, Ethiopia
Cathedral of Santiago de Compostela – Santiago de Compostela, Galicia, Spain
Chartres Cathedral – Chartres, France
Castel del Monte – Near Bari, Puglia, Italy
La Sainte-Chapelle – Boulevard du Palais, Paris, France
Djenné Mosque – Djenné, Mali
Salisbury Cathedral – Salisbury, England
Cliff Palace – Mesa Verde National Park, Colorado, USA
Baptistery at Pisa – Pisa, Italy
Hospital of Santa Maria della Scala – Siena, Italy
Lincoln Cathedral – Lincoln, England
Raabjerg Church – Raabjergvej, Raabjerg, Ålbæk, Denmark
Great Enclosure and Chief's House – Great Zimbabwe, Zimbabwe
Notre Dame de Paris – Paris, France
Ightham Mote – Near Sevenoaks, England
Tower at Pisa – Pisa, Italy
Alhambra – Granada, Spain
Castelvecchio – Verona, Italy
Alfriston Clergy House – Alfriston, England
Royal Alcázar – Seville, Spain
Qutub Minar – Delhi, India
Swayambunath Stupa – Kathmandu Valley, Nepal
Temple of the Floating Stone – Yeongpung-gun, Gyeongsangbuk-do, South Korea
Jongmyo Shrine of the Yi Dynasty – Seoul, South Korea
Temple of the Golden Pavilion – Kyoto, Japan
Trullo Stone Houses – Alberobello, Apulia, Italy
Gur-i Emir – Samarkand, Uzbekistan
Hall of Prayer for Good Harvests – Temple of Heaven Park, Beijing, China
Hospital of the Innocents – Florence, Italy
Monastery of Santa Maria da Vitória – Batalha, Portugal
Florence Cathedral – Florence, Italy
Ca' d'Oro – Venice, Italy
Kumbum Chorten – Gyantse, Tibet
Palazzo Medici – Florence, Italy
Hôtel-Dieu Hospital – Beaune, Burgundy, France
San Francesco and Tempio Malatestiano – Rimini, Italy
Brussels Town Hall – Brussels, Belgium
Malbork Castle – Malbork, Poland
Palazzo Piccolomini – Pienza, Tuscany, Italy
Palazzo Schifanoia – Ferrara, Italy
Milan Cathedral – Piazza del Duomo, Milan, Italy
Knole – Sevenoaks, Kent, England
Santa Maria dei Miracoli – Venice, Italy
Palazzo Ducale – Urbino, Italy
Mosque of Masjid-i-Jami – Herat, Afghanistan
Temple of Confucius – Qufu, Shandong Province, China
Basilica of St. Mary – Gdansk, Poland
Tempietto di San Pietro in Montorio – Rome, Italy
Hostal de Los Reyes Católicos – Santiago de Compostela, Galicia, Spain
Villa Farnesina – Rome, Italy
King's College Chapel – Cambridge, England
Imcheonggak Estate Buildings – Beopheungdong, Andong, Gyeongsangbukdo, South Korea
Seville Cathedral – Seville, Spain
Château de Chenonceau – Chenonceaux, Indre-et-Loire, France
Villa Madama – Rome, Italy
Chapel of King Sigismund I – Krakow, Poland
Palazzo del Te – Mantua, Italy
Cotehele House – St. Dominick, Saltash, Cornwall, England
Palazzo Vecchio – Florence, Italy
Falkland Palace – Cupar, Falkland, Fife, Scotland
Palazzo Pitti – Florence, Italy
Tomb of Askia – Gao, Mali, West Africa
Jerónimos Monastery – Belém, Portugal
Süleymaniye Mosque – Istanbul, Turkey
Cathedral of Our Lady, Antwerp – Antwerp, Belgium
Villa Farnese – Caprarola, Viterbo, Italy
Villa Barbaro – Maser, Veneto, Italy
Cathedral of St. Basil the Blessed – Red Square, Moscow, Russia
Ali Ben Youssef Madrassa – Marrakech, Morocco
Virupaksha Temple – Karnataka, India
Château de Chambord – Chambord, Loire et Cher, France
Lahore Fort – Lahore, Pakistan
Villa Emo – Fanzolo di Vedelago, Italy
Palazzo dei Conservatori del Campidoglio – Rome, Italy
Town Hall – Lübeck, Germany
Florence Baptistery – Florence, Italy
Casa de Pilatos – Seville, Spain
Laurentian Library – Florence, Italy
Selmiye Mosque – Edirne, Turkey
El Badi Palace – Marrakech, Morocco
Uffizi – Florence, Italy
White Heron Castle – Himeji, Japan
Royal Monastery of San Lorenzo de El Escorial – Madrid, Spain
Church of Il Gesù – Rome, Italy
Fatehpur Sikri – Near Agra, Uttar Pradesh, India
Burghley House – Stamford, Lincolnshire, England
Villa Rotonda – Vicenza, Italy
Library of San Marco – Venice, Italy
Church of the Redeemer – Venice, Italy
Basilica of St. Peter – Vatican City, Italy
House of Tiles – Mexico City, Mexico
Ali Qapu Palace – Isfahan, Iran
Triangular Lodge – Rushton, Northamptonshire, England
Hardwick Hall – Doe Lea, Chesterfield, Derbyshire, England
Montacute House – Montacute, Somerset, England
Golden Temple – Amritsar, India
Temple of the Sacred Tooth Relic – Kandy, Sri Lanka
Church of Santa Maria della Consolazione – Todi, Umbria, Italy
Sheikh Lotf Allah Mosque – Isfahan, Iran
Banqueting House – Whitehall, London, England
Craigievar Castle – Alford, Aberdeenshire, Scotland
Rosenborg Castle – Øster Voldgade, Denmark
Mauritshuis – The Hague, Netherlands
Shir Dor Madrassa – Samarkand, Uzbekistan
Tomb of Jahangir – Shahdara, Lahore, Pakistan
Baghdad Kiosk at Topkapi Palace – Istanbul, Turkey
Merchants' Houses – Amsterdam, Netherlands
San Carlo alle Quattro Fontane – Rome, Italy
Fortress of St. Peter of the Rock – Santiago de Cuba, Cuba
Red Fort – Netaji Subhash Marg, Delhi, India
House of Charitable Works – Havana, Cuba
Drax Hall – Saint George Parish, Barbados
Taj Mahal – Agra, India
Masjid-i-Jahan Numa – Delhi, India
Church of San Ivo alla Sapienza – Rome, Italy
Church of Sant' Andrea al Quirinale – Rome, Italy
Amsterdam Town Hall – Amsterdam, Netherlands
Sheldonian Theatre – Oxford, England
Colonnade of St. Peter – Rome, Italy
Synagogue of the Holy Community Talmud Torrah – Amsterdam, Netherlands
Church of San Lorenzo – Turin, Italy
Santa Maria della Salute – Venice, Italy
Wren Library – Cambridge, England
Het Loo – Apeldoorn, Netherlands
Palace of the Archbishop at Hradcany – Hradcany, Prague, Czech Republic
Hampton Court Palace, East and South Facades – Hampton Wick, Middlesex, England
Tiger's Nest Monastery – Paro, Bhutan
Hall of Supreme Harmony – The Forbidden City, Beijing, China
Potala Palace – Lhasa, Tibet
Fortress of San Juan de Ulúa – Veracruz, Mexico
Hôtel de Soubise – Paris, France
St. Paul's Cathedral – London, England
LaBrang Tashikyil Monastery – Southwest of Lanzhou, Gansu Province, China
Golden-Domed Monastery of St. Michael – Kiev, Ukraine
Church of St. John of Nepomuk – Zdár nad Sázavou, Czech Republic
Schloss Belvedere – Near Vienna, Austria
Church of St. Charles Borromeo – Vienna, Austria
Peterhof – Near St. Petersburg, Russia
Chiswick House – London, England
Church of St. Martin-in-the-Fields – London, England
Zwinger Palace – Dresden, Germany
Marble Hill House – London, England
Royal Palace at Mafra – Mafra, Portugal
St. George's, Bloomsbury – London, England
Blenheim Palace – Woodstock, Oxfordshire, England
Melk Abbey – Melk, Austria
Lesser Basilica of St. Francis of Assisi – Havana, Cuba
Drayton Hall – Charleston, South Carolina, USA
Taj Lake Palace – Lake Pichola, Udaipur, Rajasthan, India
Sanssouci – Potsdam, Germany
Radcliffe Camera – Oxford, England
Cuvilliés Theater – Munich, Germany
Church of the Immaculate Conception – Concepción, Chiquitos, Chiquitanía, Bolivia
Pilgrimage Church of the Scourged Savior – Steingaden, Bavaria, Germany
Independence Hall – Philadelphia, Pennsylvania, USA
Castletown House – Celbridge, County Kildare, Ireland
Casino at Marino – Dublin, Ireland
Winter Palace – St. Petersburg, Russia
Holkham Hall – Wells-next-the-Sea, Norfolk, England
Ottobeuren Abbey – Ottobeuren, Bavaria, Germany
Petit Trianon – Palace of Versailles, near Paris, France
Syon House – London, England
Cromford Mill – Cromford, Derbyshire, England
Church of the Fourteen Holy Helpers – Bad Staffelstein, near Bamberg, Germany
Château de Versailles – Versailles, France
San Pedro Church – San Pedro de Atacama, Chile
Royal Crescent – Bath, England
Chinese Palace – Oranienbaum, St. Petersburg, Russia
Palacio de la Inquisición – Cartagena, Colombia
Strawberry Hill – Twickenham, London, England
The Royal Salt Works – Arc-et-Senans, near Besançon, France
Grand Théâtre de Bordeaux – Bordeaux, France
Brimstone Hill Fortress – St. Kitts, Leeward Islands, Caribbean
Lak Muang City Pillar Shrine – Bangkok, Thailand
Jefferson's Monticello – Charlottesville, Virginia, USA
Vilnius Cathedral – Vilnius, Lithuania
Hameau de la Reine – Versailles, France
Agate Pavilion and Cameron Gallery – Pushkin, St. Petersburg, Russia
Chinese Pavilion at L'Isle-Adam – L'Isle-Adam, France
Somerset House – London, England
Pavlovsk Palace – Pavlovsk, St. Petersburg, Russia
Column House, Désert de Retz – L'Isle-Adam, France
Groot Constantia – Constantia, Cape Town, South Africa
Court Theater, Drottningholm Palace – Stockholm, Sweden
Custom House – Dublin, Ireland
Palace of the Captains General – Havana, Cuba
Culzean Castle – Maybole, Ayrshire, Scotland
Panthéon – Paris, France
Pump Room – Bath, England
Pfaueninsel – Berlin, Germany
Castle Coole – Enniskillen, County Fermanagh, Northern Ireland
Hawa Mahal – Jaipur, Rajasthan, India
Batak Toba Houses – Lake Toba, Sumatra, Indonesia
Tower Houses – Sana'a, Yemen
Peasant Housing – Corripo, Ticino, Switzerland
Basilica of Our Lady of Copacabana – Copacabana, Bolivia
Sir John Soane's Museum – London, England
Dulwich Picture Gallery – Dulwich, London, England
Dinh Cam Pho Communal House – Hoi An, Vietnam
Vihti Church – Vihdintie, Vihti, Finland
Royal Pavilion – Brighton, England
Shaker Barn – Hancock Shaker Village, Pittsfield, Massachusetts, USA
Altes Museum – Berlin, Germany
Schloss Charlottenhof – Potsdam, Germany
Royal High School – Edinburgh, Scotland
Nat Taung Kyaung Monastery – Taung-bi, Myanmar
Arc de Triomphe – Paris, France
Church of St. Mary Magdalene – Paris, France
Pentonville, Prison – London, England
Church of St. Mary – Wreay, Cumbria, England
Walhalla Hall of Fame and Honor – Donaustauf, near Regensburg, Germany
The Grange – Ramsgate, England
Albert Dock – Liverpool, England
Church of St. Giles – Cheadle, Staffordshire, England
Thorvaldsen's Museum – Copenhagen, Denmark
Palm House – London, England
Church of St. Savior – Claremont, Cape Town, South Africa
Salt's Mill – Saltaire, West Yorkshire, England
Customs House – Paita, Peru
Paddington Station Trainshed – London, England
Dolmabahçe Palace – Istanbul, Turkey
St. George's Hall – Liverpool, England
Brevard-Mmahat House – New Orleans, Louisiana, USA
British Museum – London, England
Leeds Town Hall – Leeds, England
Church of All Saints – London, England
Dohány Street Synagogue – Budapest, Hungary
Main Cell Block, Fremantle Prison – Fremantle, Australia
St. Vincent Street Church – Glasgow, Scotland
Sheerness Boat Store – HM Dockyard, Sheerness, England
Long Room Library – Dublin, Ireland
Red House – Bexleyheath, Kent, England
Adare Manor – Adare, County Limerick, Ireland
Oranienburgerstrasse Synagogue – Berlin, Germany
Tyntesfield – Wraxall, North Somerset, England
Galleria Vittorio Emanuele II – Milan, Italy
Houses of Parliament – London, England
Royal Albert Hall – London, England
Mark Twain House – Hartford, Connecticut, USA
Palais Garnier – Paris, France
Midland Grand Hotel at St. Pancras Station – London, England
Old Government Buildings – Wellington, New Zealand
Manchester Town Hall – Manchester, England
Semper Opera House – Dresden, Germany
Schloss Neuschwanstein – Hohenschwangau, Germany
Museum of Natural History – London, England
Cologne Cathedral – Cologne, Germany
Royal Exhibition Building – Melbourne, Australia
Church of the Savior Not Made By Hand – Abramtsevo, Moscow, Russia
Gravers Lane Station – Philadelphia, Pennsylvania, USA
Palace of Justice – Brussels, Belgium
Academy of Athens – Athens, Greece
Palacio da Pena – Sintra, Portugal
Cragside – Rothbury, Morpeth, Northumberland, England
Summer Palace – Beijing, China
Chhatrapati Shivaji Terminus – Mumbai, India
Hotel del Coronado – Coronado, San Diego, California, USA
Allegheny County Courthouse – Pittsburgh, Pennsylvania, USA
Burgtheater – Vienna, Austria
Palau Güell – Barcelona, Spain
Castell Coch – Tongwynlais, South Glamorgan, Wales
Silver Pagoda – Phnom Penh, Cambodia
Georgetown Cathedral – Georgetown, Guyana
Tenement House – Glasgow, Scotland
Hôtel Tassel – Brussels, Belgium
Monadnock Building – Chicago, Illinois, USA
Winslow House – River Forest, Illinois, USA
Reichstag – Berlin, Germany
Guaranty Building – Buffalo, New York, USA
Chapel of St. Kinga – Wieliczka, Poland
Great Market Hall – Budapest, Hungary
Castel Béranger – Paris, France
Crown Liquor Saloon – Belfast, Northern Ireland
Secession Building – Vienna, Austria
Karlplatz Metro Station – Vienna, Austria
Majolica House – Vienne, Austria
Blackwell – Bowness, Cumbria, England
La Ruche Studios – Paris, France
Mole Antonelliana – Turin, Italy
Subotica Synagogue – Subotica, Serbia
Maison and Atelier Horta – Brussels, Belgium
Santa Justa Lift – Lisbon, Portugal
Architects' Housing at Hvittrask – Kirkkonummi, Finland
Eliseev Brothers Food Shop – St. Petersburg, Russia
Hill House – Helensburg, Scotland
Rue Franklin Apartments – Paris, France
Antwerp Central Station – Antwerp, Belgium
Casa Lleó Morera – Barcelona, Spain
Kinloch Castle – Rhum, Small Isles, Scotland
Albert Street Apartments – Riga, Latvia
Palacio de Correos – Mexico City, Mexico
Tampere Fire Station – Tampere, Finland
Unity Temple – Oak Park, Illinois, USA
Teatro Colón – Buenos Aires, Argentina
House Hohe Pappeln – Weimar, Germany
AEG Turbine Factory – Berlin, Germany
Ashton Memorial – Lancaster, England
Flatiron Building – New York, New York, USA
Glasgow School of Art – Glasgow, Scotland
Gamble House – Pasadena, California, USA
Masía Freixa, Terrassa – Terrassa, Spain
First Church of Christ Scientist – Berkeley, California, USA
Robie House – Chicago, Illinois, USA
Kuala Lumpur Railway Station – Kuala Lumpur, Malaysia
Steiner House – Vienna, Austria
Casa Milá (La Pedrera) – Barcelona, Spain
Casa Comalat – Barcelona, Spain
Flinders Street Station – Melbourne, Australia
Palais Stoclet – Brussels, Belgium
Palais Idéal – Hauterives, Drôme, France
Church at Kiruna – Kiruna, Sweden
Hôtel Guimard – Paris, France
Post Office Savings Bank – Vienna, Austria
Fagus Factory – Alfeld-an-der-Leine, Germany
Théâtre des Champs Elysées – Paris, France
Villa San Michele – Anacapri, Capri, Italy
Apartments, 26, rue Vavin – Paris, France
Abattoirs de la Mouche – Lyon, France
Hodek Apartments – Prague, Czech Republic
Union Buildings – Pretoria, South Africa
Hala Ludowa – Wroclaw, Poland
Lisbon Metro Headquarters Building – Lisbon, Portugal
Gran Teatro de La Habana – Havana, Cuba
Retiro Station – Buenos Aires, Argentina
Torre de los Ingleses – Buenos Aires, Argentina
78, Derngate – Northampton, England
Gellért Hotel and Baths – Budapest, Hungary
Helsinki Railway Station – Helsinki, Finland
Basilica of the Sacred Heart of Christ – Paris, France
Spaarndammerbuurt Housing Blocks – Amsterdam, Netherlands
Einstein Tower – Near Potsdam, Germany
Schindler-Chase House – West Hollywood, California, USA
Imperial Hotel – Tokyo, Japan
Hermann and Steinberg Hat Factory – Luckenwalde, Germany
Stockholm City Hall – Stockholm, Sweden
HSBC Building – Shanghai, China
Lingotto Fiat Factory – Turin, Italy
Schröder House – Utrecht, Netherlands
Chilehaus – Hamburg, Germany
Cathedral Church of Christ in Liverpool – Liverpool, England
Gut Garkau Farm Complex – Lübeck, Germany
Casa Planells – Barcelona, Spain
St. La Salle Hall, De La Salle University – Manilla, Philippines
Capitol Theatre – Melbourne, Australia
Café de Unie – Rotterdam, Netherlands
La Sagrada Família – Barcelona, Spain
Bauhaus – Dessau, Germany
Paris Great Mosque – Paris, France
Renaissance Theater – Berlin, Germany
Custom House – Shanghai, China
Weissenhof Housing Estate – Stuttgart, Germany
Fox Theatre – Detroit, Michigan, USA
Second Goetheanum – Dornach, Switzerland
Stockholm Public Library – Stockholm, Sweden
Villa Stein – Garches, France
Kameleon Department Store – Wroclaw, Poland
German Pavilion – Barcelona, Spain
Lovell House – Los Angeles, California, USA
Victoria Ocampo House – Buenos Aires, Argentina
Narkomfin Communal House – Moscow, Russia
Melnikov House – Moscow, Russia
E-1027 – Roquebrune-Cap Martin, France
Villa Savoye – Poissy, Paris, France
Club Náutico – San Sebastian, Spain
Rusakov House of Culture – Moscow, Russia
Medical-Dental Office (450 Sutter Street) – San Francisco, California, USA
Chrysler Building – New York, New York, USA
High and Over – Amersham, England
Castle Drogo – Drewsteignton, Devon, England
Church of St. Antoninus – Basel, Switzerland
Tugendhat House – Brno, Czech Republic
IG Farben Building – Frankfurt am Main, Germany
Hotel Nacional de Cuba – Havana, Cuba
Bacardi Building – Havana, Cuba
Villa Noailles – Hyères, Côte d'Azur, France
Van Doesburg House – Meudon (Paris), France
Villa Müller – Prague, Czech Republic
Central Market Halls – Riga, Latvia
Lenin Mausoleum – Moscow, Russia
Church of St. Martin – New Delhi, India
Plaza de Toros Monumental de Las Ventas – Madrid, Spain
Majorelle House and Studio – Marrakech, Morocco
Rashtrapati Bhavan – New Delhi, India
Hilversum Town Hall – Hilversum, Netherlands
Empire State Building – New York, New York, USA
Van Nelle Factory – Rotterdam, Netherlands
Boots' D10 Building – Beeston, Nottingham, England
Diego Rivera and Frida Kahlo Studio-House – Mexico City, Mexico
Le Grand Rex – Paris, France
Maison de Verre – Paris, France
Memorial to the Missing of the Somme – Thiepval, France
Church of the Sacred Heart – Prague, Czech Republic
Paimio Sanatorium – Paimio, France
Hangar One – Moffett Federal Airfield, California, USA
Isokon Building – London, England
Tempe à Pailla – Castellar, near Menton, Provence, France
Shrine of Remembrance – Melbourne, Australia
Park Hotel – Shanghai, China
Prague Castle – Prague, Czech Republic
Ufficio Postale – Rome, Italy
ANZAC Memorial – Sydney, Australia
Glaspaleis – Heerlen, Netherlands
Highpoint I Apartments – London, England
Villa Girasole – Marcellise, Verona, Italy
Collective House – Stockholm, Sweden
Aalto House – Munkiniemi, Finland
Tsentrosoyuz Building – Moscow, Russia
De La Warr Pavilion – Bexhill-on-Sea, Sussex, England
Casa del Fascio – Como, Italy
Kavanagh Apartment Building – Beunos Aires, Argentina
Newman College – Melbourne, Australia
Villa Rebbio – Rebbio, Italy
Magnitogorsk Metal Kombinat – Chelyabinsk Oblast, Russia
Budapest Aerodrome – Budapest, Hungary
Zeppelin Field Tribune – Nuremberg, Germany
Sant'Elia Nursery School – Como, Italy
Passos Manuel Garage – Porto, Portugal
Fiat Tagliero Building – Asmara, Eritrea
Church of St. Michael – Ljubljana, Slovenia
All-Russia Exhibition Center – Moscow, Russia
Museum of Modern Art – New York, New York, USA
Fallingwater – Bear Run, Pennsylvania, USA
Prora Seaside Resort – Prora, Rügen Island, Germany
Villa Mairea – Noormarkku, Finland
2 Willow Road – London, England
Zale Cemetery – Ljubljana, Slovenia
Rockefeller Center – New York, New York, USA
Woodland Crematorium – Stockholm, Sweden
Helsinki Olympic Stadium – Helsinki, Finland
Grundtvig Church – Copenhagen, Denmark
Martienseen House – Johannesburg, South Africa
National and University Library – Ljubljana, Slovenia
Århus Town Hall – Århus, Denmark
Ministry of Education and Health – Rio de Janeiro, Brazil
Casa Malaparte – Capri, Italy
Pentagon – Arlington, Virginia, USA
Italian Chapel – Lambholm, Orkneys, Scotland
Hamdi Seif al-Nasr Rest House – Fayyum, Egypt
Dymaxion House – Dearborn, Michigan, USA
Kaufmann Desert House – Palm Springs, California, USA
New Gourna – Luxor, Egypt
Breuer House II – New Canaan, Connecticut, USA
Casa Barragán – Mexico City, Mexico
Case Study House No. 8 (The Eames House) – Pacific Palisades, California, USA
Glass House – New Canaan, Connecticut, USA
Turin Exhibition Hall – Turin, Italy
Rose Seidler House – Turramurra, New South Wales, Australia
Farnsworth House – Plano, Illinois, USA
860-880 Lake Shore Drive Apartments – Chicago, Illinois, USA
Beverly Hills Hotel Refurbishment – Beverly Hills, California, USA
Aula Magna – Caracas, Venezuela
Unité d'Habitation – Marseille, France
Säynätsalo Town Hall – Säynätsalo, Finland
Dublin Central Bus Station – Dublin, Ireland
Yale Art Gallery – New Haven, Connecticut, USA
Moscow State University – Moscow, Russia
Smithdon School – Hunstanton, Norfolk, England
Neimeyer House – Rio de Janeiro, Brazil
Maison Curutchet – La Plata, Argentina
Notre Dame du Haut – Ronchamp, Franche-Comté, France
Tate & Lyle Sugar Silo – Liverpool, England
Kresge Chapel – Cambridge, Massachusetts, USA
Casa Antonio Gálvez – Mexico City, Mexico
House Fox – Worcester, South Africa
Pedregulho Residential Complex – Rio de Janeiro, Brazil
Chandigarh High Court – Chandigarh, India
Palace of Culture and Science – Warsaw, Poland
Berlage Institute – Rotterdam, Netherlands
Rødovre Town Hall – Rødovre, Copenhagen, Denmark
Hiroshima Peace Center – Hiroshima, Japan
University Library – Mexico City, Mexico
Clock Tower, Church of St. Joseph – Le Havre, Normandy, France
Israel Goldstein Synagogue – Jerusalem, Israel
Pirelli Tower – Milan, Italy
Seagram Building – New York, New York, USA
Atomium – Brussels, Belgium
Palazzetto dello Sport – Rome, Italy
Church of the Three Crosses – Vuoksenniska, Imatra, Finland
Ingalls Hockey Rink – New Haven, Connecticut, USA
Great Hall of the People – Beijing, China
Mausoleum of the Aga Khan – Aswan, Egypt
Solomon R. Guggenheim Museum – New York, New York, USA
Hooper House II – Baltimore County, Maryland, USA
Century House – Lagos, Nigeria
Song Festival Complex – Tallinn, Estonia
Planalto Palace – Brasilia, Brazil
Malin Residence ("Chemosphere") – West Hollywood, California, USA
Capuchinas Chapel – Tlalpan, Mexico City, Mexico
Trenchard Hall, University of Ibadan – Ibadan, Nigeria
Case Study House No. 22 – Los Angeles, California, USA
Monastery of Sainte Marie de la Tourette – Eveux-sur-Arbresle, Rhône, France
Park Hill – Sheffield, England
Student Housing, Sussex University – Falmer, Sussex, England
Teatro General San Martin – Beunos Aires, Argentina
Kingo Houses – Helsingør, Denmark
Upper Lawn Pavilion – Wilshire, England
Archaeological Museum – Thessaloniki, Greece
TWA Terminal – Queens, New York, USA
Olivetti Nuova ICO Factory – Ivrea, Turin, Italy
Pilgrimage Church – Neviges, Germany
Coventry Cathedral – Coventry, England
House Biermann – Durban, South Africa
Nedbank Centre – Durban, South Africa
Rosen House – Los Angeles, California, USA
Temple Street Parking Garage – New Haven, Connecticut, USA
Berlin Philharmonic Concert Hall – Berlin, Germany
Engineering Building – Leicester, England
Elder Dempster Building – Lagos, Nigeria
Casa de Chá Restaurant – Matosinhos, Portugal
Church of St. Mark – Björkhagen, Stockholm, Sweden
Marina City – Chicago, Illinois, USA
Royal College of Physicians – London, England
Vanna Venturi House – Philadelphia, Pennsylvania, USA
National Gymnasia for the Tokyo Olympics – Tokyo, Japan
2 Columbus Circle – New York, New York, USA
Yser Tower – Diksmuide, Belgium
National School of Arts – Havana, Cuba
Toronto City Hall – Toronto, Canada
Church of St. Peter – Klippan, Sweden
Wharton Esherick House – Paoli, Pennsylvania, USA
Liverpool Metropolitan Cathedral – Liverpool, England
Bank of London and South America – Buenos Aires, Argentina
Louisiana Museum of Modern Art – Humlebaek, Denmark
Whitney Museum of American Art – New York, New York, USA
Leça Swimming Pools – Matosinhos, Portugal
Church of St. Aengus – Burt, County Donegal, Ireland
Shizuoka Press and Broadcasting Center – Tokyo, Japan
Montreal Biosphère – Montreal, Canada
Dr. Rogers House – London, England
Habitat '67 – Montreal, Canada
Church at Haparanda – Haparanda, Sweden
St. Catherine's College – Oxford, England
New National Gallery – Berlin, Germany
Elrod House – Palm Springs, California, USA
Cuadra San Cristóbal – Mexico City, Mexico
Church of St. Mary – Red Deer, Alberta, Canada
Catton House – West Vancouver, British Columbia, Canada
Preston Bus Station – Preston, England
Temppeliaukio Church – Helsinki, Finland
Trinity Car Park – Gateshead, Tyne and Wear, England
Torres del Parque – Bogotá, Colombia
Metropolitan Cathedral – Brasilia, Brazil
Spodek Multipurpose Arena – Katowice, Poland
Rothko Chapel – Houston, Texas, USA
North Building, Denver Art Museum – Denver, Colorado, USA
Transamerica Pyramid – San Francisco, California, USA
Nakagin Capsule Tower – Tokyo, Japan
Olympic Park Swimming Hall – Munich, Germany
Kimbell Art Museum – Fort Worth, Texas, USA
Indiana College Life Insurance Company Building – Indianapolis, Indiana, USA
Trellick Tower – London, England
Bernat Klein Design Studio – High Sunderland, Selkirk, Scotland
Salto Bus Station – Salto, Uruguay
Mirador del Río – Lanzarote, Spain
Arango House – Acapulco, Mexico
Werdmuller Centre – Cape Town, South Africa
Faculty of Science, University of Lagos – Lagos, Nigeria
Sears Tower – Chicago, Illinois, USA
Sydney Opera House – Sydney, Australia
RTE Campus Headquarters – Dublin, Ireland
PREVI Experimental Housing – Lima, Peru
Casa Bianchi – Riva San Vitale, Lake Lugano, Switzerland
Institute of Public Administration – Ahmedabad, India
Dick House – Troyes, France
Can Lis – Mallorca, Spain
Walden 7 Apartments – Barcelona, Spain
Terminal 1, Charles de-Gaulle Airport – Roissy, France
Vacation House I at Oxylithos – Oxylithos, Greece
Barbican – London, England
Camino Real Hotel – Mexico City, Mexico
Miró Foundation – Barcelona, Spain
Dominican Institute – Ibadan, Nigeria
House VI (Frank House) – Cornwall, Connecticut, USA
Casa Bofill – Montrás, Girona, Spain
Dhaka National Assembly – Dhaka, Bangladesh
Ho Chi Minh Mausoleum – Hanoi, Vietnam
Museum of Anthropology – Vancouver, Canada
Heckscher House – Mount Desert Island, Maine, USA
Azuma House (Row House) – Osaka, Japan
National Theatre – London, England
Church at Bagsværd – Bagsværd, Denmark
Fire Island House – Fire Island, New York, USA
Centre Pompidou – Paris, France
Museum of Contemporary Art – Tehran, Iran
Quinta da Malagueira Housing Program – Évora, Portugal
Venturi House – Tucker's Town, Bermuda
Brion Tomb and Sanctuary – San Vito d'Altivole, Treviso, Italy
Byker Wall – Newcastle upon Tyne, England
Salisbury Centre for Visual Arts – Norwich, England
Gehry House – Santa Monica, California, USA
East Building, National Gallery of Art – Washington, D.C., USA
Tuol Sleng Genocide Museum – Phnom Penh, Cambodia
Crystal Cathedral – Garden Grove, California, USA
Sangath Design Studio – Ahmedabad, Gujarat, India
Thorncrown Chapel – Eureka Springs, Arkansas, USA
Asian Games Village – Delhi, India
Church of Espírito Santo do Cerrado – Uberlândia, Brazil
Casa Rotunda a Stabio – Ticino, Switzerland
Portland Public Service Building – Portland, Oregon, USA
Renault Distribution Centre – Swindon, England
Kanchunjunga Apartments – Mumbai, India
Nordic House – Tórshavn, Faroe Islands
Housing Block "Bonjour Tristesse" – Berlin, Germany
Cubic Houses – Rotterdam, Netherlands
Ministry of Foreign Affairs – Riyadh, Saudi Arabia
Sea Ranch Chapel – Sea Ranch, Sonoma County, California, USA
Walter Segal Self-Build Houses – London, England
Neue Staatsgalerie – Stuttgart, Germany
San Cataldo Cemetery – Modena, Italy
Roof Roof House – Ampang Selangor, Malaysia
Hong Kong and Shanghai Bank – Hong Kong, China
Friendship Cultural Palace – Hanoi, Vietnam
Spiral Building – Tokyo, Japan
Museum for Applied Arts – Frankfurt, Germany
Richmond Riverside Development – Richmond, Surrey, England
Lotus Temple – Delhi, India
Snowshoe Cabin – Soda Springs, California, USA
SESC Pompéia Factory – São Paulo, Brazil
Museum of Roman Art – Mérida, Spain
Lloyd's Building – London, England
Archaeological Enclosure – Chur, Switzerland
Bank of Asia Building – Bangkok, Thailand
St. Alban-Tal Apartment Houses – Basel, Switzerland
Etisalat Tower – Dubai, United Arab Emirates
Church of Hallgrimur – Reykjavik, Iceland
Hundertwasser House – Vienna, Austria
Stein House – Steindorf, Austria
Musée d'Orsay – Paris, France
Mound Stand, Lord's – London, England
School of Electrotechnics and Electronics – Champs sur Marne, Marne-la-Vallée, France
Instiut du Monde Arabe – Paris, France
Aalto Theater – Essen, Germany
Parliament House – Canberra, Australia
Athan House – Monbulk, Australia
Church on the Water – Tomamu, Hokkaido, Japan
Street-Porter House – London, England
United Airlines Terminal, O'Hare Airport – Chicago, Illinois, USA
Rooftop Remodeling – Vienna, Austria
Basilica of Our Lady of Peace – Yamoussoukro, Ivory Coast
Pyramide, Le Grand Louvre – Paris, France
Opéra de la Bastille – Paris, France
Grand Union Canal Terrace – London, England
Mirage Casino – Las Vegas, Nevada, USA
Rungnado Stadium – Rungna Island, Pyongyang, North Korea
Canadian Centre for Architecture – Montreal, Canada
Wexner Center for the Visual Arts – Columbus, Ohio, USA
Spiral Apartment House – Ramat Gan, Israel
Ice Hotel – Jukkäsjarvi, Sweden
San Nicola Stadium – Bari, Italy
Joshua Tree Monument – Joshua Tree, California, USA
Church of the Holy Spirit – Paks, Hungary
Demas Nwoko's House – Idumuje Ugboko, Delta State, Nigeria
Haas House – Vienna, Austria
Bank of China Tower – Hong Kong, China
La Grande Arche de la Défense – Paris, France
The Wall – Tokyo, Japan
Seattle Art Museum – Seattle, Washington, USA
Norwegian Glacier Museum – Balestrand, Fjærland, Norway
Neuendorf House – Mallorca, Spain
João de Deus Kindergarten – Penafiel, Portugal
Nexus II Residential Block – Fukuoka-shi, Japan
Goetz Gallery – Munich, Germany
House Aktion Poliphile – Taunus, Wiesbaden, Germany
Metropolitan Cathedral at Managua – Managua, Nicaragua
The Ark – London, England
Fire Station at Vitra – Weil am Rhein, Germany
Kirchner Museum – Graubünden, Sweden
National Library of Argentina – Buenos Aires, Argentina
La Congiunta – Giornico, Ticino, Switzerland
Stretto House – Dallas, Texas, USA
IBM Building, Menara Mesiniaga – Selangor, Malaysia
Montjuic Telecommunications Tower – Barcelona, Spain
Kunsthal Rotterdam – Rotterdam, Netherlands
Ryugyong Hotel – Pyongyang, North Korea
Sports Services Building – Barcelona, Spain
Reykjavik City Hall – Reykjavik, Iceland
Supreme Court – Jerusalem, Israel
Naoshima Contemporary Art Museum – Gotanji Naoshima-cho, Japan
Bonnefantenmuseum – Maastricht, Netherlands
Vitra Conference Pavilion – Weil am Rhein, Germany
Great Mosque Hassan II – Casablanca, Morocco
Carré d'Art – Nîmes, France
Permanent Mission of India to the UN – New York, New York, USA
Center for Contemporary Culture (Casa del Caritas) – Barcelona, Spain
Netherlands Architecture Institute – Rotterdam, Netherlands
Hight Residence – Mendocino, California, USA
Villa Anbar – Dammam, Saudi Arabia
Faroe Islands Art Museum – Tórshavn, Faroe Islands
Olympic Art Museum – Lillehammer, Norway
Storefront for Art and Architecture – New York, New York, USA
Suzuki House – Tokyo, Japan
Marika-Alderton House – Arnhem Land, Northern Territory, Australia
Groninger Museum – Groningen, Netherlands
Saint-Exupéry TGV Station – Lyon, France
MI6 Headquarters – London, England
Manggha Center of Japanese Art and Technology – Krakow, Poland
Channel 4 Building – London, England
Chikatsu-Asuka Historical Museum – Osaka, Japan
Kandalama Hotel – Dambulla, Sri Lanka
Signal Box – Basel, Switzerland
Passenger Terminal, Kansai International Airport – Osaka, Japan
Glyndebourne Opera House – East Sussex, England
Museum of Mankind – La Coruña, Spain
Takatori Kyokai Catholic Church – Kobe, Japan
Bibliothèque François-Mitterrand – Paris, France
Akenzua Cultural Center – Benin, Nigeria
Villa Eila – Mali, Guinea
GIG Building – Völkermarkt, Austria
Museum of Contemporary Art – Barcelona, Spain
Dancing Building – Nové Mesto, Prague, Czech Republic
Public Lavatory – Groningen, Netherlands
Aronoff Center for Design and Art – Cincinnati, Ohio, USA
Mooloomba House – North Stradbroke Island, Queensland, Australia
Arken Museum of Modern Art – Ishøj, Denmark
River and Rowing Museum – Henley on Thames, Oxfordshire, England
MAC-Niterói Contemporary Art Museum – Rio de Janeiro, Brazil
Bus Shelter – Aachen, Germany
RMIT Storey Hall – Melbourne, Australia
District Heating Plant – Faaborg, Denmark
Solomon R. Guggenheim Museum – Bilbao, Spain
Sheep Farm House – Kyneton, Victoria, Australia
Library, Delft University of Technology – Delft, Netherlands
Kunsthaus – Bregenz, Austria
Fuji TV Headquarters Building – Tokyo, Japan
Tokyo International Forum – Tokyo, Japan
National Studio for the Contemporary Arts – Tourcoing, France
Educatorium – Utrecht, Netherlands
Minnaert Building – Utrecht, Netherlands
Villa VPRO – Hilversum, Netherlands
WoZoCo – Amsterdam, Netherlands
Wall-less House – Karuizawa, Nagano, Japan
Kowloon Ventilation Building – Kowloon, Hong Kong, China
National Bank of Dubai – Dubai, United Arab Emirates
Petronas Towers – Kuala Lumpur, Malaysia
Tree House – Cape Town, South Africa
Jean-Marie Tjibaou Cultural Center – Noumea, New Caledonia
No. 1 Poultry – London, England
Villa Floriac – Bordeaux, France
Mobius House – Het Gooi, Netherlands
Schoolhaus – Paspels, Switzerland
Dominus Winery – Yountville, California, USA
Jin Mao – Shanghai, China
Thermal Baths – Vals, Graubünden, Switzerland
Portugal Pavilion – Lisbon, Portugal
B018 Nightclub – Beirut, Lebanon
Kiasma Museum of Contemporary Art – Helsinki, Finland
Casa Nanon – Lanaken, Belgium
Karmøy Fishery Museum – Sletten, Vedavågen, Norway
Oriente Station – Lisbon, Portugal
Embassy Complex for the Nordic Countries – Berlin, Germany
Millennium Dome – London, England
NatWest Media Centre – London, England
Peckham Library – London, England
Yellow House – Flims, Graubünden, Switzerland
Ricola Marketing Building – Laufen, Switzerland
House in Lège-Cap Ferret – Lège-Cap Ferret, France
Poddar Farmhouse – Delhi, India
Trinational Environmental Center – Weil am Rhein, Germany
School of Architecture – Valparaiso, Chile
Blue Lagoon – Illahraun Lava Field, Grindavik, Iceland
Nordea Headquarters – Copenhagen, Denmark
Norwegian Petroleum Museum – Kjeringholmen, Stavanger, Norway
Burj al Arab – Dubai, United Arab Emirates
Stalls and Abattoir – Vrin, Graubünden, Switzerland
New Art Gallery – Walsall, England
AutoTürme – Wolfsburg, Germany
Lohbach Residences – Innsbruck, Austria
Al Faisaliyah Tower – Riyadh, Saudi Arabia
Mason's Bend Community Center – Mason's Bend, Alabama, USA
Rose Center for Earth and Space – New York, New York, USA
University of Toronto Graduate House – Toronto, Canada
Great Glasshouse – Lanarthne, Carmarthenshire, Wales
Lowry Centre – Salford, England
Liechtenstein Art Museum – Vaduz, Liechtenstein
British Embassy Berlin – Berlin, Germany
Palais de Justice – Nantes, France
Ecole Normale Supérieure – Lyon, France
Naked House – Kawagoe, Japan
Experience Music Project – Seattle, Washington, USA
Cathedral of Christ the Savior – Moscow, Russia
Jamie Residence – Pasadena, California, USA
Diamond Ranch High School – Diamond Bar, California, USA
Tate Modern – London, England
Hôtel Habita – Mexico City, Mexico
Vienna Twin Tower – Vienna, Austria
National Space Centre – Leicester, England
Eden Project – St. Austell, England
International J.C. Decaux Headquarters – Madrid, Spain
Undercover Lab – Tokyo, Japan
Interbank Building – Lima, Peru
Casa pR34 – Mexico City, Mexico
Apartment Building, Gasometer B – Vienna, Austria
Musée de Prehistoire des Gorges de Verdon – Quinson, France
Imperial War Museum North – Manchester, England
Walpen Residence – Blatten, Switzerland
Children's Room – Mexico City, Mexico
Aoki I House – Tokyo, Japan
National Museum of Australia – Canberra, Australia
Aluminum Forest – Houten, Netherlands
Århus University – Århus, Denmark
Skaparbyn Art Center – Övägen, Sweden
Sendai Mediatheque – Sendai, Japan
Kvarterhuset – Copenhagen, Denmark
Ekonologia House – Malmö, Sweden
Alexandria Library – Alexandria, Egypt
Blue Moon Aparthotel – Groningen, Netherlands
Borusan (BMW) Expedition Center – Istanbul, Turkey
Jewish Museum – Berlin, Germany
Magna Science Adventure Centre – Rotherham, England
Parco della Musica Auditorium – Rome, Italy
Dirty House – London, England
Vista – Dungeness, England
Yokohama International Port Terminal – Yokohama, Japan
Ilhavo Maritime Museum – Ilhavo, Portugal
Laban Dance Centre – London, England
Beddington Zero Energy Development – Beddington, England
Bergisel Ski Jump – Innsbruck, Austria
Kingdom Center – Riyadh, Saudi Arabia
Botanical Institute of Barcelona – Barcelona, Spain
La Maison Icône – Montreuil, France
Eso Hotel – Cerro Paranal, Chile
Bruges Concert Hall – Bruges, Belgium
Downland Gridshell – Chichester, England
Silodam – Amsterdam, Netherlands
Philippi-Lansdowne Public Space – Cape Town, South Africa
Hydra Pier – Haarlemmermeer, Netherlands
Simmons Hall Dormitory – Cambridge, Massachusetts, USA
Hector Pieterson Museum – Soweto, South Africa
Casa Vieja – Santiago de Chile, Chile
Market Hall – Aarau, Switzerland
National Maritime Museum – Falmouth, England
Australian Centre for Contemporary Art – Melbourne, Australia
Esplanade-Theatres on the Bay – Singapore, Republic of Singapore
Telenor Headquarters – Oslo, Norway
Modern Art Museum of Fort Worth – Fort Worth, Texas, USA
House in Corrubedo – Corrubedo, Spain
Centrum Bank – Vaduz, Liechtenstein
Disney Concert Hall – Los Angeles, California, USA
Selfridges – Birmingham, England
Kunsthaus – Graz, Austria
Crooked House – Sopot, Poland
Vacheron Constantin Watch Factory – Geneva, Switzerland
Prada Epicenter Store – Tokyo, Japan
Palais des Congrès – Montreal, Canada
Social Housing – Brussels, Belgium
Center for Visual Arts – Coimbra, Portugal
4 x 4 House – Kobe, Hyogo, Japan
Estádio Municipal de Braga – Braga, Portugal
Amazing Whale Jaw – Hoofddorp, Netherlands
An Turas – Island of Tiree, Scotland
Schaulager – Basel, Switzerland
Ferrari Research Center – Modena, Italy
Living Tomorrow Pavilion – Amsterdam, Netherlands
Gormley Studio – London, England
Rosenthal Center for Contemporary Art – Cincinnati, Ohio, USA
Casa Ponce – Buenos Aires, Argentina
International Center for Possibility Thinking – Los Angeles, California, USA
Church of the Jubilee – Rome, Italy
Slice House – Porto Alegre, Brazil
Minami Yamashiro Primary School – Kyoto, Japan
Casa D'Água – São Paulo, Brazil
Usera Library – Madrid, Spain
30 St. Mary Axe – London, England
Scottish Parliament Building – Edinburgh, Scotland
Lewis Glucksman Gallery – Cork, Ireland
Sharp Centre for Design – Toronto, Canada
Stock Orchard Street – London, England
Perimeter Institute for Theoretical Physics – Waterloo, Canada
Chanel Tower – Tokyo, Japan
Flower Tower – Paris, France
British Council Nairobi – Nairobi, Kenya
Heyri Museum of Architecture – P'aju, Heyri, South Korea
Cistercian Monastery of Novy Dvur – Pilsen, Czech Republic
Langen Foundation – Neuss, Germany
Stata Center – Cambridge, Massachusetts, USA
Seattle Public Library – Seattle, Washington, USA
Wales Millennium Centre – Cardiff, Wales
Shanghai Oriental Arts Center – Shanghai, China
Netherlands Embassy – Berlin, Germany
Caltrans District 7 Headquarters – Los Angeles, California, USA
Constitutional Court – Johannesburg, South Africa
Museum of World Culture – Göteborg, Sweden
Mirador – Madrid, Spain
Twenty-First Century Art Museum – Kanazawa, Japan
Freedom Park – Pretoria, South Africa
Santa Caterina Market – Barcelona, Spain
ARoS Århus Kunstmuseum – Århus, Denmark
IT University of Copenhagen – Ørestad, Denmark
Utrecht University Library – Utrecht, Netherlands
Too-High Teahouse – Nagano, Japan
British Council Lagos – Lagos, Nigeria
Yad Vashem Holocaust Museum – Jerusalem, Israel
de Young Museum – San Francisco, California, USA
Parliament Palace – Bucharest, Romania
Tod's – Tokyo, Japan
Brick House – London, England
Phæno Science Center – Wolfsburg, Germany
Reina Sofía Museum – Madrid, Spain
Central Building, BMW Plant – Leipzig, Germany
Mercedes-Benz Museum – Stuttgart, Germany
Casa de Música – Porto, Portugal
Allianz Arena – Munich, Germany
National Assembly for Wales – Cardiff, Wales
Big Dog House – Lexington, Massachusetts, USA
Hotel Puerta América – Madrid, Spain
Walker Art Center – Minneapolis, Minnesota, USA
Whitechapel Idea Store – London, England
Green Building – Manchester, England
Turning Torso – Malmö, Sweden
New Law Court – Antwerp, Belgium
Music Building – Amsterdam, Netherlands
Tietgen Hall of Residence – Copenhagen, Denmark
Nobel Peace Center – Oslo, Norway
Juicy House – Tokyo, Japan
Dulnyouk Publishing House – Paju Book City, South Korea
Palace of Peace and Reconciliation – Astana, Kazakhstan
Red Location Museum of the People's Struggle – New Brighton, South Africa
Coffee House, Jinhua Architecture Park – Zhejiang Province, China
Kaurna Building – Adelaide, Australia
The Public – West Bromwich, England
Davies Alpine House – London, England
Sails and Winds Building – Valencia, Spain
Casa Guerrero – Cadiz, Spain
Municipal Theater and Auditorium – Torrevieja, Spain
Eureka Tower – Melbourne, Australia
British High Commission – Kampala, Uganda
Museum of Modern Literature – Marbach am Neckar, Germany
State Prison East Jutland – Horsens, Denmark
Pull House – Brattleboro, Vermont, USA
Quai Branly Museum – Paris, France
Madrid Barajas International Airport Terminal 4 – Madrid, Spain
South Essex Rape and Incest Crisis Centre – Grays, England
Olympic Tennis Center – Madrid, Spain
National Grand Theater of China – Beijing, China
Prado Museum – Madrid, Spain
Matrimandir Meditation Center – Auroville, India
Museum for Ibere Camargo Foundation – Porto Alegre, Brazil
New Acropolis Museum – Athens, Greece
Bahrain World Trade Center – Manama, Bahrain
Beijing National Stadium – Beijing, China