My great grand father, James Miller IRELAND, was buried at the Karori Cemetery in Wellington, New Zealand on 8 December 1926 two days after he died.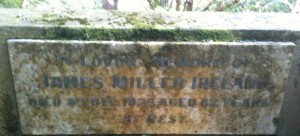 I found his grave in November 2010. It is down a dirt track, on a steep slope towards the back of the cemetery. The surface of the grave has caved in and it was filled with leaf litter.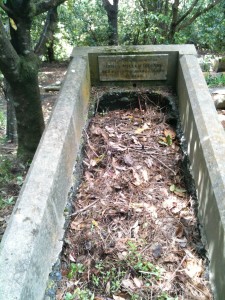 Also his wife, Mary Scott MacDONALD (1846-1930) is buried in the same plot however there was no memorial to be found. May have not been one. Or it fell down the hill or into the grave.
This post about the burial of my great grand fathers burial on 8 December 1926 is part of My Family History Series.
It's exciting when a family history researcher finds an ancestors grave. Any stories you would like to share?