My Grandmother did inspiring things. She was involved in athletics in 1923 and I did not even know about it.
This posting is about Olive Constance Beatrice IRELAND DOB 13 Apr 1887.
When surfing the web I occasionally search on Papers Past, a New Zealand site with loads of digitised newspapers. As they put it, "Papers Past is a collection of digitised historic New Zealand newspapers which offers browsing and full text searching." I am one of the lucky ones that often finds articles or advertisements related to my family.
Ladies Amateur Athletics Club in Wellington
From the Evening Post, October 1923 there is the report on the annual general meeting of the Ladies Amateur Athletics Club in Wellington. From this I found out my Grandmother was elected as the president of the Ladies Amateur Athletics Club in Wellington. Now this may not seem that special now days when women have a go at any type of exercise. This was a time when running for women was not recommended by the British Medical Association. The New Zealand Amateur Athletic Association (NZAAA) did not support women's races. National administrators believed athletics was only for men.
"Women athletes
As far as early administrators were concerned, athletics was for men only. There were no women's athletic events at the Olympics until 1928, and the International Association of Athletics Federations (IAAF) did not recognise women's records until 1936. Women were limited to the sprints, hurdles and selected field events until well into the second half of the century.
Women joined existing athletics clubs, and women's athletic clubs were formed in Auckland, Wellington and Masterton in the early 1920s……
…….women were 'neither physically nor physiologically adapted to sustained strenuous muscular exertion'."
Source: Encyclopedia of New Zealand
In the mean time my Grandmother was running directly against popular beliefs, medical associations and male dominated national and international sports administrators to support women wanting to run. My Grandmother did inspiring things, something to be proud about.
Do you have inspiring ancestors? Feel free to comment below.
This leads me to:
Happy International Woman's Day 8 March 2014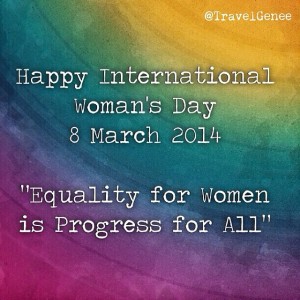 Sources :
Amateur Athletics, Evening Post, 12 October 1923 and
Women Athletics – Danger of Physical Strain, Evening Post, 10 March 1925
Part of the My Family History Series: 12 October