Day two at RootsTech I am reporting on the Federation of Genealogical Societies (FGS) Lunch for this posting and mapping as portals to the past, fine tuning ancestry.com searches and DNA For Part 2.
Federation of Genealogical Societies (FGS) Lunch

At the Federation of Genealogical Societies (FGS) Lunch we listened to Kris Rzeoczynski, the FGS VP of Membership, discussing Agents of Change: Genealogy Societies Today.
Kris's speech covered 5 topics triggered by the letters in the word c-h-a-n-g-e. He covered many concepts under each section and here are a few of the points he made during the talk.
C for Community
How the definition of community has changed with the growth of social media. However while many folks are online with social media the site based conferences such as RootsTech and their own FGS conference are growing in popularity so communities still like to actually meet and it is not just virtual meetings happening.
H for History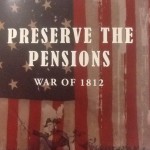 Here Kris talked about the increased ability for us to integrate the larger story with the growth in records becoming available online. He said it is an exciting time to be a genealogist. While some access to data requires paid subscriptions partnerships such as the FGS partnering with fold3 to Preserve the Pensions for the War of 1812 will ensure these fragile documents are digitised. Ancestry is also helping cover some of the digitising costs. Kris said even with the involvement of subscription based companies these records will be available free to the public.
A for Activism
Yes you have probably read about records being destroyed, access to records restricted and archives shut down because of funding being withdrawn by cash tight communities.
Kris talk about some successes where societies and individual genealogists have mobilised and become activists to save records to ensure their ongoing preservation and continued access to be records ensured.
N for New as in new technologies
Kris notes how so much has changed, scanners, source keeping via Evernote, use of ePublicatins, enewsletter and genealogical society blogs. He commented that some societies still publish physical indexes for libraries. I wonder how long this will continue.
G for Goals for societies
Here he quoted some direction to societies for goals but I unfortunately missed the source. (Unfortunately this matches my own sourcing which needs improvement.)
These are excellent points for any societies, not just genealogical ones, goal setting activities and speak for themselves:
Build on strength

Concentrate resources

Integrate programs & services

Align for efficiency

Abandon when necessary
E for everyone
Kris pointed out, despite our differences we are all part of the story. I think he was refering to the importance and relevance of the genealogical societies in today's genealogical community. While things are changing, societies will and need to adapt to these changes.
Sneak peek for part 2 of day 2 at Rootstech
On the ancestry.com site sliders coming soon. So you can select broad to exact rather than type in the range you will be able to use a slider. Also there will be more options to focus search results by country. More tips on searching on ancestry.com tomorrow.
Do you have any thoughts about things changing in your life? How different is your life to your grandmothers?