My preparation for the RootsTech for a first timer is nothing like it should have been.  At this stage it is totally inadequate compared to all the experienced attendees that have been blogging about how to get ready.
Being an Aussie and seeing it's Australia Day I do know "She'll be alright, Mate!" It is just the Australian way to just throw yourself "in at the deep end", does it matter if your preparation is "a bit rough round the edges"? So I may be as "mad as a gum tree full of galas" not doing this prep. So it's "Gidday digger", "I'm off – like a bucket of prawns in the hot sun" to finish packing.
Tomorrow I am flying off to the USA to first visit with a cousin and then fly up to Salt Lake City to the largest genealogy conference
Thing I have not done:
Finished transferring my Reunion data to Family Tree Maker so I will not be carrying all my notes with me.
Still not included in my data the important info on the last lot of births, deaths & marriages I have collected.
Selected backup sessions  for RootsTech, if I cannot get into my first selections.
Have a warm coat to take – it is hot here even in winter.
Purchased any type of additional beading so I can wear my own if no-one gives me any.  (Don't want to look like a total first timer nobody.)
Figured out how to hide my extra bad sourcing methods (code for none in some cases) so hopefully no-one notices.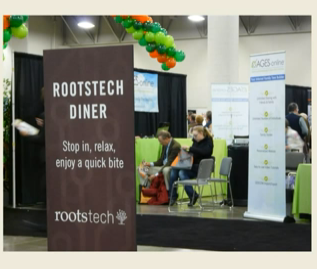 What I have done is listened Jill Ball /GeniAUS and friends at Google Hangout: GeniAUS Hangout on Air – Foreigners and First timers at Rootstech or your can watch directly below.
One important point I made a mental note about is that there is big sandwiches.
So I hope to blog more about the conference and share what I learn.
And if you do see me around at RootsTech give me a "fair crack of the whip" cause I'm "fair dinkum" when I say "no dramas mate". It will work out fine.
Featured Image and other from Jill Ball /GeniAUS presentation at Google HangOuts.