If you checked in yesterday to read the blog post getting Ready for RootsTech Connect: Review the sessions you will have seen the extensive list of talks that are going to be presented at RootsTech Connect 2021.
These are not the only presentations we will have the opportunity to view. This year, taking advantage of the virtual conference format, there will be many more keynote speakers than usual.
Who are the keynote speakers for 2021?
Nick Vuijicic – International motivational speaker and New York Times best-selling author
Will Hopoate – Tongan international rugby league footballer in Australia
Astrid Tuminez – Current president of Utah Valley University and former Microsoft executive
bless4 – Japanese vocal ensemble consisting of four siblings
Sunetra Sarker – Award-winning actress
Erick Avari – Award-winning Indian-American actor; currently plays the role of Nicodemus in The Chosen
Francesco Lortoro – Italian musicologist; wrote music telling the stories of Holocaust victims
Ladysmith Black Mambazo – Grammy-award winning South African male choral group
Bruna Benites – Brazilian footballer on the Brazil women's national team.
"Tita" (Milton Queiroz da Paixão) – Brazilian former association footballer.
Diego Lugano – Former professional fútbol player and team captain from Uruguay
Lorena Ochoa – Former professional golfer from Mexico; mother; entrepreneur
Sharon Leslie Morgan – Founder of OurBlackAncestry.com; author and genealogist
Plus Steve Rockwood, CEO at FamilySearch and the Song Contest Winners.
Handout with more details of repeat sessions below.
How to get to see the keynote speakers
The first presentation starts with Nick Vujicic, a world-renowned motivational speaker and best-selling author who happens to be born in Australia. This is on 24 February at 11.00 pm EST. That is the time in places like New York in the USA. It is short for Eastern Standard Time. More on time zones and how to work with them tomorrow.
Keynote speakers will be right on the front page of the RootsTech Connect website – I think it will be called the Main Stage. It is where the live streaming will happen plus some announcements. While viewing what is currently being streamed live there will also be information on what is coming up. (Based on the prototype seen in the video you can find in the blog post, Ready for RootsTech Connect: Behind the scenes.)
Screenshot only, not a video: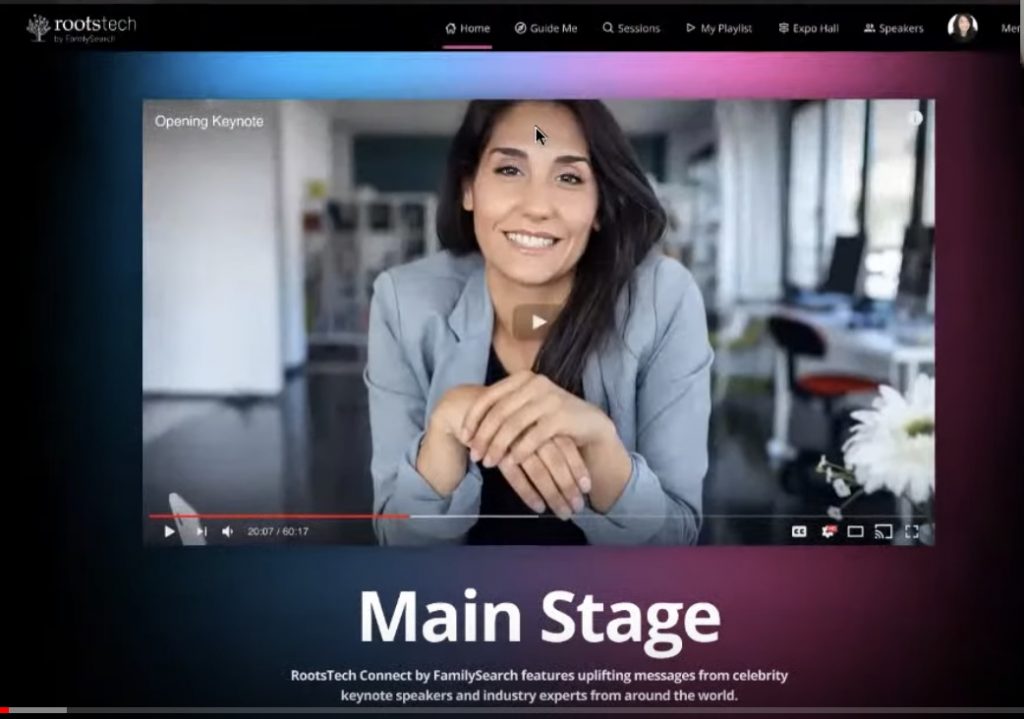 Difference between Keynote and other speakers
While the session speakers cover topics such as teaching genealogy methodology, how to improve our research techniques, provide tips, helping us with an understanding of place and social aspects of our ancestors' lives, etc., the keynote speakers I have heard in the past give us inspirational talks. They share their story.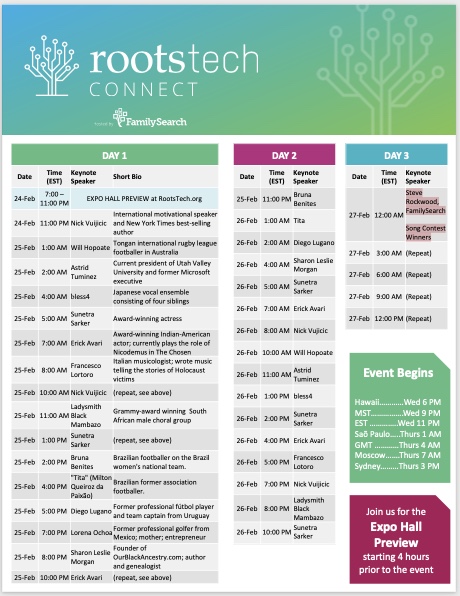 I can warn you that you can never tell how you might laugh, cry, or what emotions a keynote speaker may draw from you. Since first going to RootsTech in 2014 I have experienced many of the keynote speakers live on the big stage. Those I least expected to have a captivating story to tell had me on the edge of my seat. So do not assume because you are not interested in a speakers background you will get nothing out of the speech. So feel free to download the Main Stage Schedule Ver.4.
Speechs will also be translated into many languages.
A big advantage of a virtual conference: There will be a larger number than usual of keynote speakers at #RootsTech in 2021. Find out more with the getting Ready for #RootsTechConnect blog post.
Click To Tweet
A couple of my genimates have admitted they just registered. Have you registered? It is not too late. Register for RootsTech Connect now!