TravelGenee #atozchallenge G – GIBSON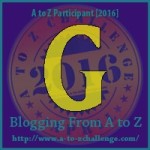 GIBSON is a family name on my maternal side.  My great grandmother Jane GIBSON's (DOB 1855) father was George GIBSON (DOB 1832). Only saying his given name is George as this is the #atozchallenge for the letter G. He is not what this post is about.
I have found three sisters and two brothers for Jane GIBSON. They were born between 1855 and 1873 if my research is correct.
Sometimes I struggle when researching extended families. Usually, there are few family tales to help provide leads but not so much with extended families.
That is when it is important to look beyond your favourite databases.
Ancestry added a database of Masons late in November 2016. It's called the "England, United Grand Lodge of England Freemason Membership Registers, 1751-1921″¹,². Jane's two brothers both appear in this database.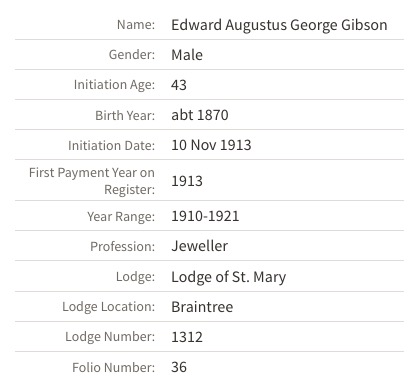 Edward Augustus George Gibson (DOB 1870) appears in the index for the Lodge of St Mary located at Braintree. The Masonic data is useful for family historians. Information like gender, initiation age and therefore estimated birth year are included. There is the lodge number 1312 and folio number 36. I liked that the profession is listed. In this example, Edward's profession is a Jeweller.
Knowing Jane's brother's profession adds more context to these families research. Jane married Edward Charles DAWSON (DOB 1854) who was a watchmaker and jeweller.
The Ancestry database has most of the lodge records listed in the index. This is helpful when the handwriting is small and hard to read on the digitised image, like in Edward's case. Still, it is a good idea to check the digital image so that you can review the transcribed data.
There is an extra link that Ancestry provides so that you can check out about Lodges locations at Lane's Masonic Records.
The other brother Arthur Frank GIBSON (DOB 1872) belonged to another lodge. In his case, the original handwriting is easier to read. It was the Joshua Nunn Lodge from Halstead in Essex.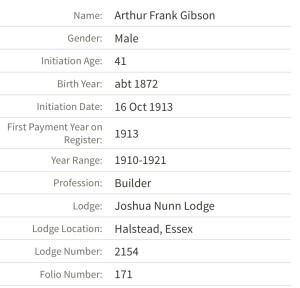 Arthur was a builder.
With Lane's Masonic Records I found the lodge addresses. Google Maps estimated the distance between them. In current times, it is just over 7km and would take 21 minutes by car or 28 minutes by bus.
Using difference sources lets you find out more facts about the people you are researching. I now know more about my great grandmother's brothers. I did search on George Gibson, their father, and there were over a 1000 results in the Mason's database.
Again less common names always help your research. Have you checked for Mason's yet?

Sources:
Who Do You Think You Are? Magazine. Freemasonry records revealed for the first time. (No longer available online.)
TravelGenee #atozchallenge G – GIBSON
This is part of the A to Z Blogging Challenge for April 2016: Letter G for GIBSON. You can read more about the A to Z challenge and my other posts. Or search on social media with #atozchallenge.