TravelGenee #atozchallenge Q – QUINNEY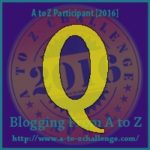 There was a sigh of relief when I found Rosa QUINNEY (DOB 1875) in my family tree for the TravelGenee #atozchallenge Q challenge. I know I have a few letters without names and expected Q to be one of them.
How is Rosa QUINNEY is related to me?
Because she is from the United Kingdom and my immediate family is based in New Zealand she feels like one of those distant persons so many times removed. However she is much closer than it feels: the mother-in-law of first cousin 1x removed.
I need to understand this in terms of the actual persons.
Rosa QUINNEY is the mother-in-law of my mother's cousin, Edward George DAWSON  (DOB 1909). He married Gladys COLBURN (DOB1911) in 1934. And her mother was Rosa QUINNEY. Quite close really. My mother was Roena (or Rowena) Mabel Dawson, born 1921 in New Zealand.
One of the other common ways to show relationships is by the family tree: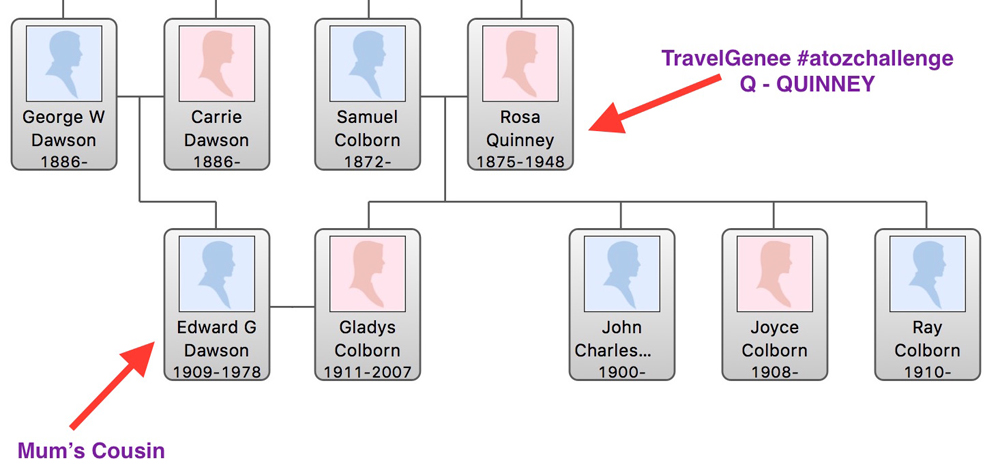 Or sometimes relationship is shown as a list how each person relates to the next person:
Rosa Quinney (1875 – 1948)
mother-in-law of 1st cousin 1x removed
Gladys Colborn (1911 – 2007)
daughter of Rosa Quinney
Edward George Dawson (1909 – 1978)
husband of Gladys Colborn
George Walter Dawson (1886 – )
father of Edward George Dawson
Edward Charles DAWSON (1854 – 1913)
father of George Walter Dawson
Charles Collis DAWSON (1885 – 1952)
son of Edward Charles DAWSON
Rowena Mabel DAWSON (1921 – 1975)
daughter of Charles Collis DAWSON
To me: Fran Kitto
You are the daughter of Rowena Mabel DAWSON
What can we learn from Rosa QUINNEY?
The Danger of Not Adding Sources When Adding Facts
Rosa has 2 marriage dates in my tree. One for July 1895 at King's Norton, Worcestershire with no source documented. The other, in 1899, is based on the 1911 census. I am loath to delete the un-sourced one as it might be correct and the details supplied in census for the 1899 be incorrect. She may have married twice. It would have been so much easier to have the source so I could check why I decided to add this fact. Or if I had written a note about the reason it was added.
No sourcing or incorrect sourcing creates work. In this case I looked for why I may have added the 1895 marriage. I found it appeared in Ancestry Trees. This earlier marriage was to a person called POOLE. Now I need to check it all out fully!!
In summary you end up going around in circles rechecking facts when you do not source.
The Risk in Using Index Data Instead of Certificates
For more distant branches I do not want to purchase certificates so rely on indexes and other documents I find to pull together a case. For example the England & Wales Marriage located at Ancestry showing Edward G DAWSON marrying a COLBURN.  And Gladys COLBURN marrying a DAWSON with the same Volume and page numbers. I also check that there are not others listed in the index with the same or similar names.¹
The above images look to provide accurate facts as does this Birth Index giving Gladys COLBURN's mothers maiden name as QUINNEY. However without vital records there might be mistakes. You either need to purchase the certificates or spend time collecting more facts to help verify your assumptions.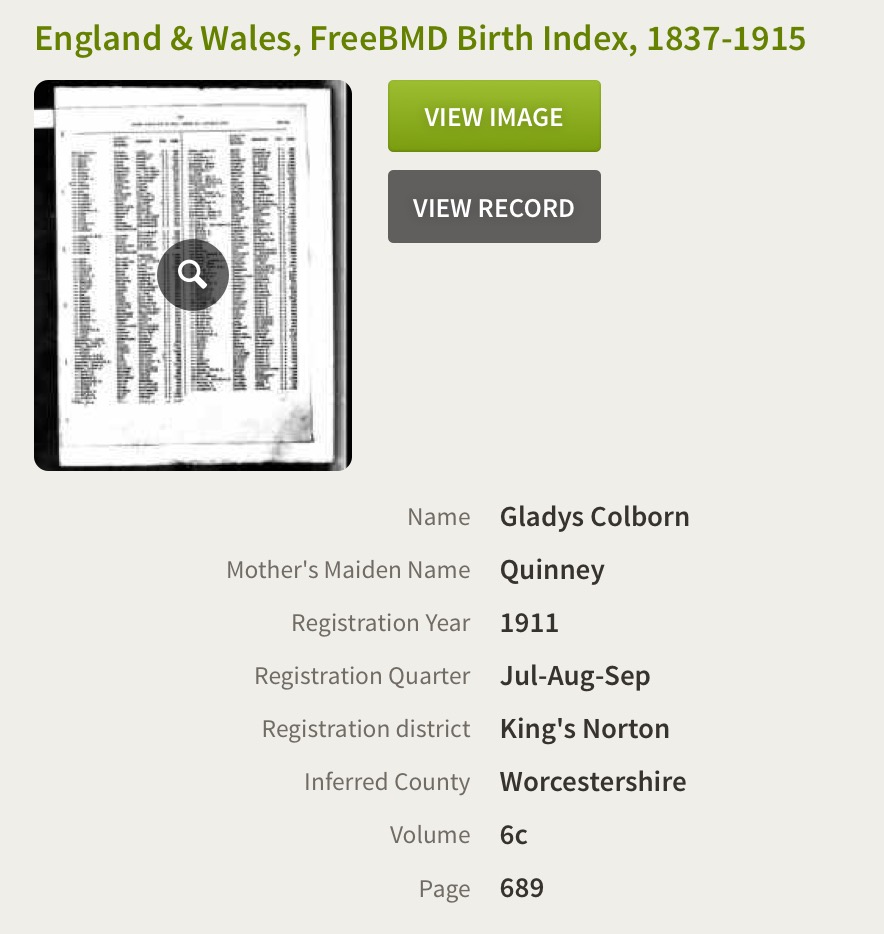 In summary, this blog post explains a few ways to show and describe your relationship to another person. It also showed an example of how not sourcing facts in your tree adds to the work load trying to clarify facts. And finally the risk of inaccurate facts when using index data rather than full copies of vital records.
Do you still find un-sourced facts in your tree ? Leave a comment.
Sources:
Ancestry data – requires a subscription.
TravelGenee #atozchallenge Q – QUINNEY
This is part of the A to Z Blogging Challenge for April 2016: Letter Q for QUINNEY. You can read more about the A to Z challenge and my other posts. Or search on social media with #atozchallenge.