TravelGenee #atozchallenge Y – ~nYm.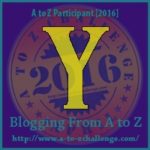 I hunted and hunted because I thought I remembered a seeing a  "Young" somewhere on the extremities of my family tree but it must have been late at night or I just dreamed it.
So what do you do?  Look for anyone online with one of my main surnames and the initial Y. Just so you know hunting online looking for 'Y*Kitto' or 'Y*Dawson' is not the best search proposition. So plan B.
A gratuitous photo: The lights of my rugby league #purplepride tribe taken at the Melbourne Storm/Warriors ANZAC Day match 2016: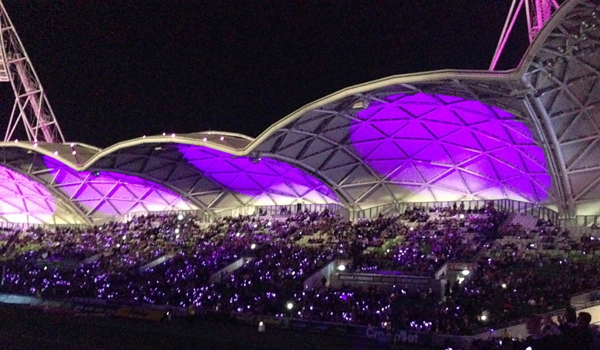 Or do a blog post that sends you to an interesting website I found online while hunting for a suitable post idea! So basically the post has nothing to do with a name starting with 'Y' but a pile of words with meanings that have something to to with 'names' and end in 'nYm'.
Names for Names is webpage listing "about 40 words relating to names. These words contain the root "nym", which comes from the Greek onoma, a name."¹ You get to see the usual suspects like acronym, synonym and pseudonym. Or rarer ones like teknonymy – the naming of the parent from the child. It's more often known as paedonymic, the practice of referring to parents by the names of their children.
Pseudonym's are in common use online so that a shortened version – nym³ is now used to refer to the name a person has invented for themselves. It might be part of an email address, twitter handle, used in chat groups or user ID in forums, etc. Initially created to protect privacy on the internet many nym's have become a brand for the person – e.g., TravelGenee.
In unfortunate circumstances they are used to make identification difficult when the user is spamming, trolling or doing other unethical actions.³
If you kept reading and missed the link to Names for Names list above, that was it again. Take a quick visit and come back soon.
One more name word – Geneanym4 – I found this one on a webpage that mentioned the Queensland Rugby League, State of Origin. That got my attention. They are part of my tribe. It discusses how our origin, our country, our village, our family and our name helps find our identity.  Barbara ended the post with a quote:
A people without the knowledge of their past history, origin and culture is like a tree without roots.' (Marcus Garvey, 1867 – 1940)
(Sorry it's no longer available) As it's a quick read, this post titled State of Origin so it's worth a visit. Although it might get you thinking and has some more nym words.
NSW or Queeeeeeenslander? Comments?

(Sorry to the readers that don't get the State of Origin tribe feeling. Replace this with a favourite team or other "tribe" group to help get the feeling.)
Sources:
http://phrontistery.info/name.html
https://en.wikipedia.org/wiki/Teknonymy
http://www.webopedia.com/TERM/N/nym.html
http://metamorphosoz.com/news-may-2012/ (Sorry it's no longer available)
TravelGenee #atozchallenge Y – ~nYm
This is part of the A to Z Blogging Challenge for April 2016: Letter Y for~nYm. You can read more about the A to Z challenge and my other posts. Or search on social media with #atozchallenge.