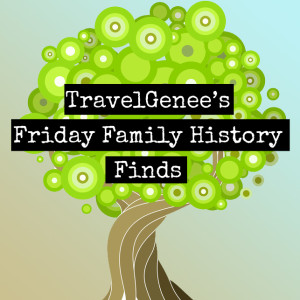 This is the second in what may become a regular post: TravelGenee's Friday Family History Finds. They will be interesting bits (to me) and pieces I have found recently while researching my own family history.
#2 of TravelGenee's Friday Family History Finds
This week I had a winner of a find. I have be looking for the passenger records for my material grand parents and 3 eldest children migrating to New Zealand. I was so excited I mentioned it in yesterdays blog  on the AFFHO Congress update – not being able to wait for Friday Finds.
So lets look at a non-find. Today at the NSW Archives stand in the exhibition hall at AFFHO Congress I spoke to them about finding the coroners reports as my great grandfathers brother Richard John KITTO (DOB 1859) died on 16 Dec 1891 in Illawarra, New South Wales. I have found the one line listing recording that a coroners report was done however however now know that these records are no longer available for this time period.
Still a good find as I will no longer keep an eye out for coroners reports from NSW for 1891. And secondly a good reason for attending conferences – making discoveries with little effort!
My family History for 16 Dec 1891.
Did you have any interesting finds with your own family history this week? Feel free to share.