Today a fellow blogger wrote about blogging for a cause. (Feel free to pop over to Nikki's blog after you have read mine!) Seems there are loads of bloggers writing to promote a large selection of worthwhile causes. So here goes. It is not really about travel this time however having cancer can be a person's hardest journey. The family and friends they take for the ride have a bit of a bumpy trip also.
Recently I attended the Sunshine Coast Business Women's Network (SCBWN) joint lunch with the local branch of the Cancer Council to fundraise for their Daffodil Day. It's 50 years since the Queensland Cancer started its journey to help all Queenslanders affected by cancer, rallying community support in the fight against cancer. Today, their work continues, inspired by a vision for a cancer-free Queensland.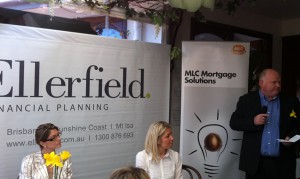 The lunch was sponsored by Ellerfield Financial Planning and MLC Mortgage Solutions and held at the Budermin restaurant Le Baroque. A most enjoyable event. The food can be totally recommended. Just to make that clear I totally enjoyed my food! No complaints! Followers of my blog know I am prone to complaining. I'm difficult to please.
Rather than pushing the financial planning side of their businesses Ellerfields and MLC chose to talk about how cancer invaded the lives of their staff. The staff was brave to allow this and it was most appreciated by the audience. Naturally, we wish them all the best.
We raised nearly $2000 for Daffodil Day. And much networking was also done.
I would like to thank Nicole, a fellow PD committee Member of the SCBWN for organising the Lunch of Hope at Le Baroque. Her consulting business Nicole Sylvester Consulting was a supporting sponsor.
Nicole was aided on the day by other members of the PD committee, Kay Franks from Life Events,  Anne Jacobson from ConnectRelocate,  Liz Terrens GM at the Sebel in Maroochydore and myself, Rosewall and Decorating Heaven.
According to the thank you note from the Cancer Council Team, "The luncheon was also one of the most professionally run fundraisers we have attended in a long time and we thank you for that too." Shows you how we can organise a totally great event and still run businesses, do our jobs, take children to sport and loads more.
Back to the Cancer Journey….not really, you noticed I was avoiding it, we are all inclined to do.  I wanted to also thank local businesses and SCBWN members donated prizes for the raffles and door prizes. This generosity helped the fundraising side of the lunch. I will try to get the full list and update the blog so you can support these local businesses.
Finally, the first time I crossed paths with cancer was in my early teens with my Mum who died of breast cancer.  Please support the Cindy MacKenzie Breast Cancer Foundation, a local Sunshine Coast group, who have a number of events coming up.
More pics: