Day 9 Pen/Pencil/Writing Tool
I have been collecting pens at #rootstech. I needed another FGS (Federation of Genealogical Societies) pen as the one I got at a previous RootsTech has been borrowed by Mr TG. The FGS style pen is an example of a more recent pen with the addition of a soft pad for using on tablets and smart phones. When I think of pens, it's fountain pens that bring back memories.
In the background is part of the large bags supplied by MyHeritage at their RootsTech stand. The bag is a useful freebie when collecting writing tools, brochures and more.
Writing Tools of the Past
Did you attend school when you progressed from a pencil to a fountain pen? In my early years at school biros were considered not to be suitable for school work. They were something crude and not "proper" like a fountain pen.
Radient blue was the colour of the ink we used at school. A little frustrating for me as my father used blue-black colour so I had to make sure I had sufficient supplies of radiant blue for my school work.
I always liked the way fountain pen ink flowed. Writing with a fountain pen required vey little pressure. "Joined up" writing is ideal as thoughts flow. I often used one for taking notes at university. I could write much faster and for longer periods of time with my fountain pen. Biros, with their restricted ink flow do not write darker no matter how hard you press. Slight pressure on a fountain pen nib and the slit opens a little letting more ink flow.
Which brings me to the reason most of us have stopped using fountain pens – the unwanted blobs and the need to blot your writing. Not heard of a blotter?
"Joined Up Writing"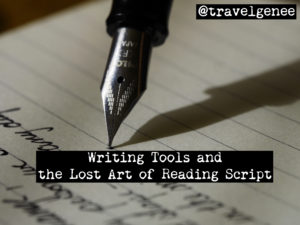 Writing about fountain pens leads me to consider the concern some genealogists have about script style handwriting not being taught in school any more. Consequently leading to a reduction in the number of people to be able to read old documents written in script style.
Personally I feel this is less of a problem than the number of places that destroy documents that might be valuable for family history research, in the future.  Progress with computers reading documents has made much progress over recent years.
I think I might hunt out my Lamy fountain pen when I get back from RootsTech.
View this #GenealogyPhotoADay along with others on Instagram.
Share on Pinterest, thanks.