Update to AFFHO Congress Speaker Interviews Post: Latest Interview with Grace Karskens interviewed by Pauleen Cass.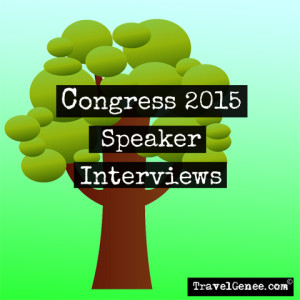 If you have not checked out the AFFHO Congress Speaker Interviews yet it is time you did. Congress will start be starting next week so you only have few days to work out the speakers you are going to try and get a photo with for your conference memories.
Who are people behind the AFFHO Congress Speaker Interviews?
The interview have been written or videoed by the official bloggers for Congress and here is some background about them, in alphabetical order:
Jill Ball is an amateur genealogist that generously shares her skills and experiences researching family history. Recently she was a speaker for the RootsTech 2015 conference in Salt Lake City, Utah. She has worked as a librarian, teacher and in the field of  information technology. Consequently she loves to integrate technology with genealogy. She blogs at Geniaus, GeneaDictionary and on many others topics including her Curry Family Research.
Jill is often on social media: Google+, Twitter, Pinterest and Youtube which also includes videos of Jill's Google+ hangouts where she convenes forums on family history topics of interest.
Pauleen Cass is a family history enthusiast and presenter who traces her own ancestors and also researches significant places in her family history including Dorfprozelten, Bavaria and East Clare, Ireland. Pauleen's blog Family history across the seas is about her family history in Australia and overseas and related migration. In 2003 Pauleen has published Grassroots Queenslanders: the Kunkel family for which she won two prizes.
Catch up with Pauleen online at Google+, Twitter and Pinterest
Shauna Hicks frequently speaks on a range of family history topics and is a director at Shauna Hicks History Enterprises, a research and consultancy business. She blogs to records her own family history research and other findings at her blog Diary of an Australian Genealogist. Shauna has a comprehensive background ideally suited for family history consultancy including formal studies, awards, numerous publications and abundant experience.
You can also follow Shauna on Twitter and Google+ and Pinterest.
Pauleen, Jill and Shauna are supporters of Genealogists for Families team (GFF) that was started by Judy Webster. It is a group within the Kiva scheme that organises micro-loans to help people raise themselves out of poverty by approaches such as expanding their businesses, supporting and educating their children.
AFFHO Congress Speaker Interviews
Here is the list of persons interviewed  and the interviewer, so just click the name to go to the posting starting with the keynote speakers.
Roger Kershaw – Keynote speaker – Jill
Richard Reid – Keynote speaker  – Shauna
Josh Taylor –  Key Note Speaker –  See link to blog post and video interview with Jill Ball below
Kate Bagnall – Shauna
David Berry – Shauna
John Blackwood – Shauna
Pauleen Cass —  See link to blog post and video interview with Jill Ball below
Kerry Farmer – Pauleen
Colleen Fitzpatrick – Pauleen
Simon Fowler – Jill
Heather Garnsey – Jill
Shauna Hicks – Pauleen
David Holman – Jill
Jenny Joyce – Pauleen
Roger Kershaw – Jill
Seonaid Lewis – Pauleen
Perry McIntyre – Pauleen
Cheryl Mongan – Pauleen
Robert Nash – Pauleen
Michelle Nichols – Shauna
Jennie Norberry – Shauna
Cora Num – Shauna
Sue Reid – Shauna
Carole Riley -Shauna
Helen Smith – Pauleen
Mathew Trinca – Shauna
Robyn Williams – Shauna
Jan Worthington – Jill
Video interviews
Josh Taylor (link to full blog post) – Key Note Speaker – Jill
Australian geneabloggers Pauleen Cass and Jill Ball (GeniAus) interview Josh Taylor who will be a keynote speaker at the 2015 AFFHO Congress in Canberra in March.

Pauleen Cass (link to full blog post) – Jill
Jill Ball aka Geniaus chats with #AFFHO Congress 2015 presenter and official blogger Pauleen Cass. Pauleen discusses family history in general , discusses her topics for Congress and shares a few tips for attendees.

Check out the speakers topics on the Congress Program at the Congress website. (No longer available.)
Which speakers do you want to get your photo with?