April is over and I am finally doing my reflections post for the #AtoZChallenge 2017. I had to catch up with some work first and do an assignment for the Family History Diploma I am doing at the University of Tasmania. I cannot wait until I can find time to get back into my family history research. So here is the final summary for the A to Z Challenge posts for April 2017. You can also read my comments reflecting on the challenge further down this post.
#AtoZChallenge 2017 Summary
Instead of the usual list of posts I have used an image to get you tempted to go and see what the post is about. Feel free to visit one to all the posts for April.
#AtoZChallenge 2017 Reflections
It was easier this year with many of my posts prewritten and scheduled.
I loved being to share many of my #GenealogyPhotoADay from Instagram on the blog. The blog post are more permanent than being lost in the Instagram stream.
Loving the family history and other bloggers comments.
Some family historians do fabulous research.
I enjoy the blogs that share music. Nice to live in the past.
Posting a link each day on the A to Z Blogging Challenge Website is not that hard. Plus when you clicked links to comment you went directly to the correct post.
 Failed with my original topic as I did not prepare early enough. Also it was too complicated. I need to pick a topic suited to short, quick posts.
Check out more of my #GenealogyPhotoADay on Instagram.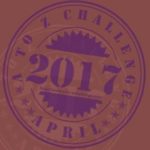 The 2017 A to Z Blogging Challenge was based on my genealogy posts for #GenealogyPhotoADay (some days, not everyday) on Instagram. I managed to do all 26 letters. Here's the collection of 2017 A to Z posts. Or there are the 2016 series using family names for some more information about my ancestors and me.
Thanks heaps to all the people that left comments!!
Here is an image to pin on Pinterest if you wish to share my posts.