Celebrating my Family History for 24 March with the wedding of Gertrude Ethel Amelia Stone (DOB 1887) and Edward William Gibson DAWSON (DOB 1880) who was my grand uncle. He was the elder brother of my grand father,  Charles Collis DAWSON's (DOB 1885). I only have a picture of Edward and not one of Gertrude.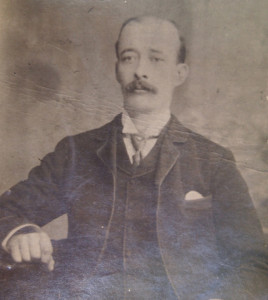 Dawson and Stone Wedding
They were married at the All Saints Church in Fulham, London on 24 March 1910. He was 29 and she was 23 as indicated by this extract from London Metropolitan Archives, ALL SAINTS, FULHAM, Register of marriages, 1909 Sep-1913 Aug, P77/ALL/033.

Being a Chelsea Football Fan I checked out the church location. It is about 5 minutes drive from Fulham Broadway in London. This is the location of Chelsea's home ground, Stamford Bridge, since their formation in 1905. I wonder if either of them went to a game.
Interestingly Gertrude's death index on Ancestry has her birthday as 24 March (1887) too. This requires more research as it might be that the person registering her death got muddled up with her marriage date.
Many names within my family come from popular or family naming practices. Edward's middle name Gibson comes from his mother maiden name Jane GIBSON, my great grand mother. Charles's middle name Collis comes from Ann Collis, his great grand mother and my 3rd great grand mother.
The Dawson and Stone Wedding is part of My family History for 24 March 1910.
I wonder if large sporting clubs will release old membership records or perhaps they have been lost?