August is Family History Month 2015 in Australia and New Zealand so in the first part of the month I have been including events around Australia and New Zealand celebrating this annual event. Another topic is DNA. Check out some great websites that explain DNA and how it can help your family history research. Don't miss the great Friday Flashbacks I have found at the Caloundra Family History Library and of course the Genie Jokes.
Family History Month 2015 on Social Media – First half of August
One-place studies are a great way of finding out what life was like in the place your ancestors lived. Nearly 2,000 places worldwide have been registered so far. Could your special place be next?
Find out about One-place studies here:
This post on One-place studies was from the  Worldwide Genealogy ~ A Genealogical Collaboration.  Most days a blogger from the genealogy or historical community posts to Worldwide Genealogy.  Topics include something related to genealogy or history.
---
A Fresh Look at Organizing Genealogy Files — Part Two by James Tanner. More serious consideration of filing family history by genealogist James Tanner.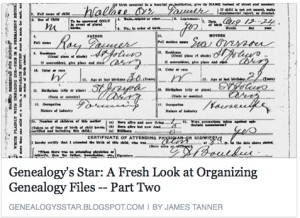 ---
A Fresh Look at Organizing Genealogy Files — Part One
A discussion by James Tanner who thinks before he writes. If you are interested in ideas and thoughts on organising your family history files this article is for you.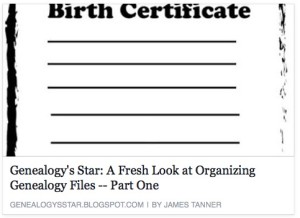 ---
Friday FlashBack – a useful web link from Nov 2005 that still works. Found in the Journal Missing Link, Cooray-Noosa Genealogical & Historical Research Group Inc, Issue no 17, Nov 2005 with COMPUTER TIPS by Bob Godefroy….
"Reading Old Handwriting:
This is a free tutorial to assist family historians in learning to read the handwriting in old documents such as wills and admons."

---
Internet Genealogy – is this progress? A view about doing genealogy on the Internet from Worldwide Genealogy ~ A Genealogical Collaboration by Janet Frew
---
Enter Now: Check out the Family History month website for sponsors prizes/giveaways. Open to CFH members and other Australians. (Closed)
National Family History Month 2015 Competition: Prize details and Entry Details.  Still, time to enter but will close on entries close on 27 August 2015. (Closed)
---
Nothing I can add to this one.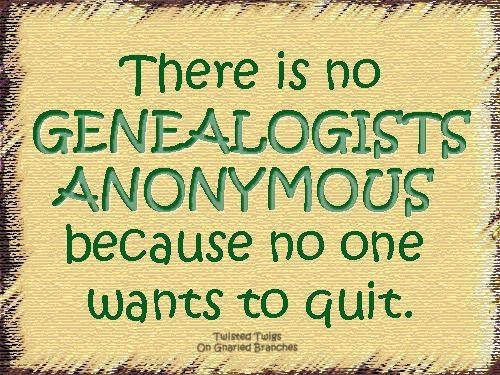 Via Twisted Twigs On Gnarled Branches Genealogy on Facebook
---
From the State Library, Queensland – a guide and links for divorce records. The focus is what is available in Australia.

---
Know your Library segment update from the last General Meeting.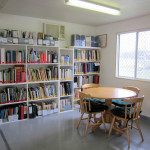 Loris mentioned a useful resource is the Ask a Librarian service at our state library. Loris said for those considering the next step of writing their family story, our library can help there too. She suggested the books 'The Family History Writing Book' by Noeline Kyle and mentioned the chapters The research task, How to make sense of the documents, and fourteen different ways to write a family history! Another book with a different approach is- 'Writing Interesting Family Histories.' Other books on this topic are on the white reference section shelf and can be borrowed.
Worldwide Indexing Event FUEL THE FIND with Family Search.
FamilySearch: Join volunteers around the world to Fuel the Find during the Worldwide Indexing Event on August 7 to 14.
You have one week to participate by indexing one batch in the language of your choice. The goal is for 100,000 people to participate in one week. Last night over 44,000 people around the world had been indexing. Why don't you join in?
Even though the week of worldwide indexing is finished you can still participate in indexing at Family Search.
---
If you are looking to discover what a place may have looked like when your ancestors were there have a look at Historypin. It's a global community collaborating around history. Images come from many sources so if you are planning to use an image don't forget to check the copyright.
https://www.historypin.org/

---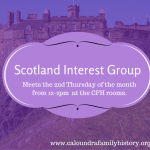 Interested in going? Scotland Interest Group Meeting for 13 Aug – Paul is the co-ordinator and the group meets 2nd Thursday of the month from 12-2pm at the club rooms.
If you want more details on the Caloundra Family History Interest Groups for Scotland, England & Wales or Germany here are the contact details.
---
Tip from Cora Num: Use Trove to Search for Divorce Records
Major Australian newspapers such as the Sydney Morning Herald published lists and details of divorce cases. Use this site to search for such notices.
http://trove.nla.gov.au/newspaper
---
Smile it's Sunday. Or on a serious family research note……c/- Pinterest
Have you interviewed all the people you should yet?
---
Feast of finds from Jana. She shared discoveries from the weeks. Loads of places to check out and new blogs found and her own contributions to the blogosphere. I always find something at Jana's Fab Friday's.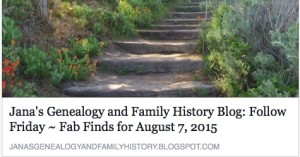 ---
Tips for finding females in your family tree. Video. Sorry, link no longer available.

---
DNA can get a bit complicated so FamilySearch created another great briefing.
Contents include:
1 Frequently Asked Questions
2 Y-DNA Testing
3 MTDNA Testing
4 Autosomal DNA Testing
5 DNA Testing Companies
6 Public DNA Databases
7 Result Analysis
8 DNA Projects
9 What is DNA?
10 DNA in the news
11 Websites
12 References
13 Disclaimer
Plus loads of links to deeper incite. Bookmark the link for when you are ready to find out more.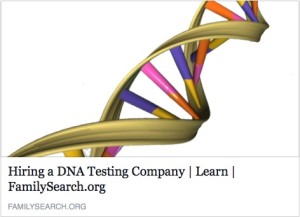 ---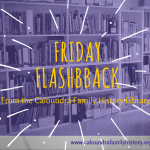 Friday Flashback: This week, like last week, from the Missing Link, Cooray-Noosa Genealogical & Historical Research Group Inc, Issue no 17, Nov 2005.
CuriousFox, the village by village contact site for anyone researching family history, genealogy and local history in the UK and Ireland.
I checked and it is still up and running with a very active community researching by county and more options.

---
Check out the bad diet, politically incorrect posters of the past on why to come to Australia. Attracting adult migration to Australia. (Link no longer available.)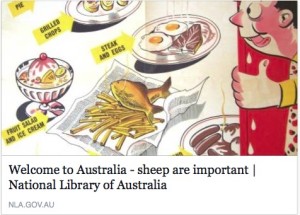 ---
Win a Copy of The Unofficial Guide to FamilySearch.org (CLOSED)
E-book version available so we can enter in Australia (CLOSED).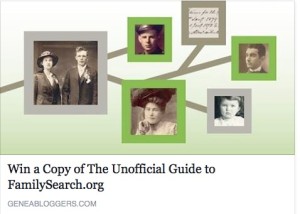 If you have liked the Caloundra Family History Facebook Page you may have seen this post in time to enter.
---
Continuing the DNA theme – Blood of the Irish: What DNA Tells Us About the Ancestry of People in Ireland.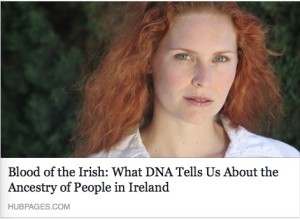 ---
QFHS Open Day – being held on Saturday 22 August 2015 from 10.30 am – 3 pm at their Library and Resource Centre, 58 Bellevue Avenue, Gaythorne. CFH members can see our notice board for more details.
Queensland-Family-History-Society Facebook Page.
---
Family History Month 2015 events in Noosa to check out. Thanks, Carmel for sharing.
There are 5 National Family History Month events at Noosa Library services, all free Researching your WW1 Ancestors, Family History online, Family History Brick walls, Blogging your family history and Irish family history.
---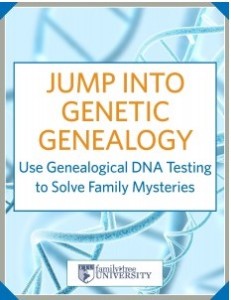 Another freebie to download from Family Tree University.
Jump into Genetic Genealogy: Use Genealogical DNA Testing to Solve Family Mysteries – See more at: Family Tree University
---
Want to know more about DNA for Family History? Check out Pinterest for summaries, images, links to more information.
https://www.pinterest.com/pin/513340057501585472/

---
NEW ZEALAND Update:
Auckland Family History Expo @ Central City Library, Auckland, New Zealand
When: Friday 7 August – Sunday 9 August
Where: Central City Library
Cost: Free for all events, except Friday opening event
On the KINTALK blog from the Auckland Library.
Check out this blog if you are interested in NZ family History.
---
UK mapped out by genetic ancestry – Finest-scale DNA survey of any country reveals historical migrations.  http://www.nature.com/news/uk-mapped-out-by-genetic-ancestry-1.17136

---
A reminder that the new Australian series of Who Do you Think You Are begins on Tuesday 4 Aug. 7:30pm on SBS. Featured in this series will be Geoffrey Rush, David Wenham, Luke Nguyen, Toni Collette, Dawn Fraser, Ray Martin, Greig Pickhaver (HG Nelson) and Peter Rowsthorn.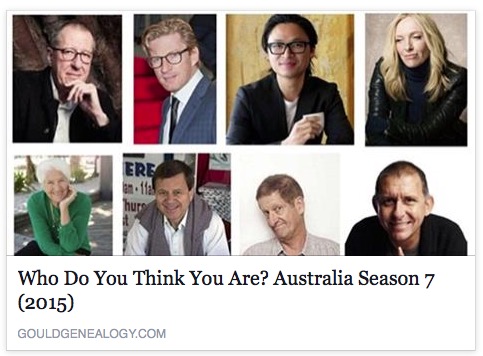 ---
Hope you got some great research done this weekend! Any photographs you have been surprised by?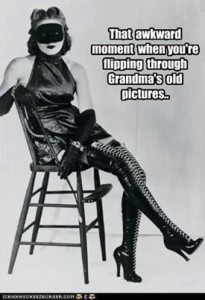 ---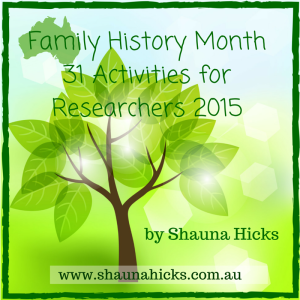 It's family history month 2015. Shauna Hicks is the voluntary national coordinator of NFHM on behalf of AFFHO (Australasian Federation of Family History Organisations). Links are at Shauna's website.
Check out the "31 Activities for Researchers and 31 Activities for Genealogy/Family History Societies during NFHM. You can do one every day, or a few a week or only one or two over the month. The choice is yours but the activities are designed to assist with your research and to perhaps look at different resources or ways of doing things."
I'm still doing some from last year!
---
DNA testing reunites sisters.

---
Surnames across Europe. What does your surname mean?
http://visual.ly/surnames-across-europe
---
So that's another couple of weeks on Facebook including family history month 2015.
Where I added comments I have attempted to put these in italics.  If you have any questions or suggestions for sites to share on Facebook or other social media feel free to leave a comment.
Save
Save
Save