In October I found a number of interesting genealogy websites to help your research. Originally published as posts on the Caloundra Family History Facebook Page I am finally adding a post to my blog listing them for future reference.
For the serious Dutch researcher links to Archives and language translations of common family history words. The UK 1939 register was finally online in the UK while the Family Search Library celebrated 30 years in the USA. Numerous links posts from attendees at the In Time and Place Conference in Brisbane. There was Smile, its Sunday to keep you bright and happy and ready for research.
Genealogy Websites
Friday Flashbacks from old material at the Caloundra Family History became Love Your Library where I report on more recent acquisitions and things going on at the library. Plus much more.
Starting with the last post of the month: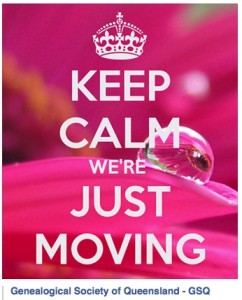 GSQ at 38 Fisher Street, East Brisbane is now closed as they are moving.
---
A Guide to ordering Victorian Inquest Records.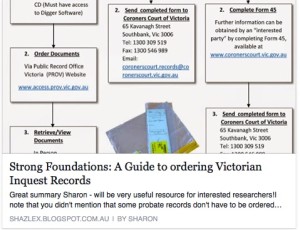 ---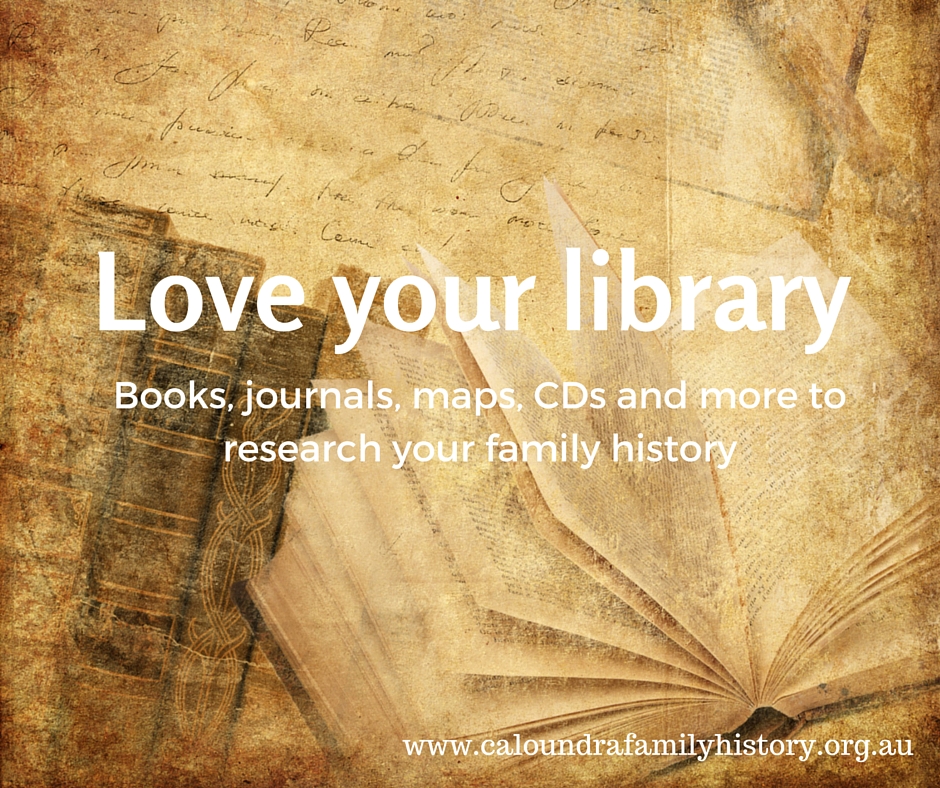 A new Friday feature starts today. Love your library – I will be featuring in the following weeks books, journals, maps, CDs and more to research your family history. All of these are available at the Caloundra Family History Library on the Sunshine Coast. It pays to be a member. And members don't forget about your free computer hours vouchers.
Here is a list of the new books our Librarian reported at the October General meeting:
1. 'Finding Your Dutch Ancestors'
2. 'An Irish History of Civilization Vol 2' Stories and anecdotes.
3. 'Clan Donald'
4. 'S.S Dicky'
5. 'The Women of Botany Bay'
6. 'Researching in German Records'
7. 'The Spirits of Gallipoli' A Centenary of Anzacs.
8. 'The Nashos' War' donated by Phyllis Gerhardt.
9. 'Our Backyard' Drayton and Toowoomba Cemeteries
10. 'Our Backyard Revisited'
11. 'Where do I start?'
12. 'Arrivals in Australia'
Some were donated by members, thanks.
---
Update on 1939 Register via Gould Genealogy.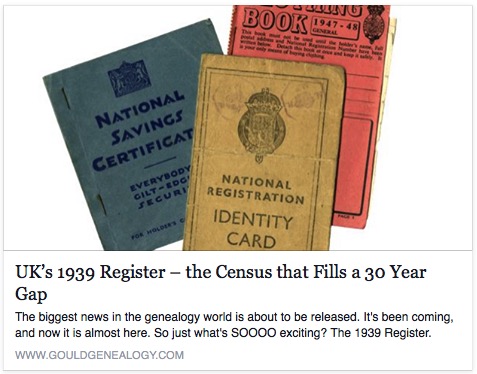 ---
A new database is available on Family Search – Queensland, Australia Cemetery records 1802-1990 – update from Family History Assoc., of North Qld Inc – with thanks to our member for passing on the information.
There are images and is originally from the private collection of Jim and Alison Rogers, Bargara.
https://familysearch.org/search/collection/1927198
---
Family History Library, Salt Lake City in Utah,  celebrate its 30th anniversary in October 2015.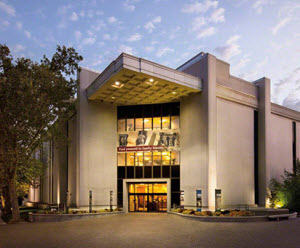 ---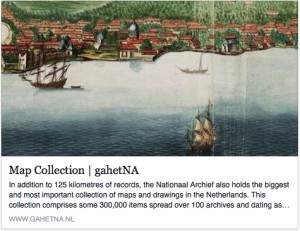 The Netherlands National Archive, "Nationaal Archief" has a large collection of maps. "The Nationaal Archief also holds the biggest and most important collection of maps and drawings in the Netherlands. This collection comprises some 300,000 items spread over 100 archives and dating as far back as the late Middle Ages. You can use these maps to research the history of the formation of the Netherlands and its former overseas territories, e.g. a fort abroad, changes to the Dutch coastline or the land owned by a person's ancestors."
Expanding our Dutch Resources for genealogy research theme this week.
Update: they have changed the site and the maps are no longer easily found.
https://www.nationaalarchief.nl/en
(As the newer posts are higher in this post see below for more Dutch Resources.)
---
Continuing the language theme for this site has another list of useful Dutch words. Also pitfalls with Dutch genealogy research, reading and understanding birth acts and more.

---
The Huge Genealogy Mistake We All Need To Stop Now
---
Continuing yesterday's theme of the Dutch language in genealogy research:
Dutch Phrases & Words in Church Records. Also included shorthand used.
Via Olive Tree Genealogy. From Olive Tree Genealogy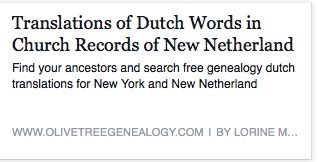 ---
Sunday smile time…..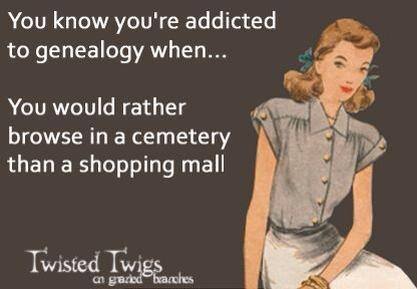 ---
A genie friend just received a CD with Dutch genealogy research. Finding materials in a language you do not speak adds difficulty to your research. As a starting point there are language pages with common words and genealogical words at Family Search. Here is the Netherlands page. There are other languages too.
---
Looking for something to do today on the Sunshine Coast?
Visit the Nambour & District Historical Museum Association. Opening Hours – Wednesday to Saturday (inclusive) 1pm to 4pm. Small Admission Fee.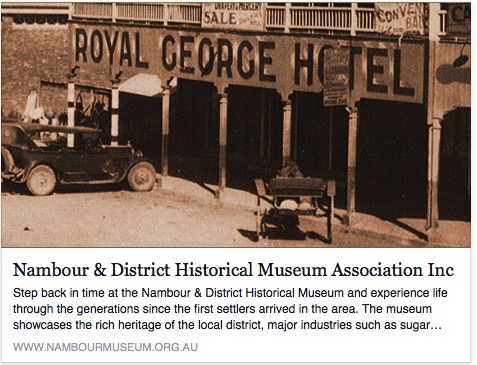 ---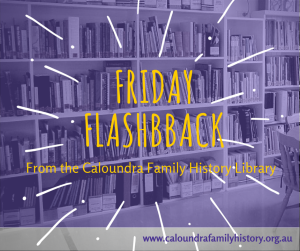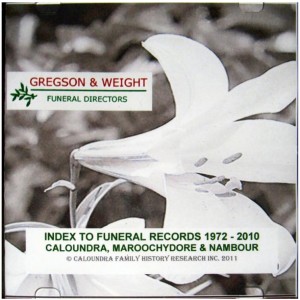 Friday Flashbacks: In our library there are hundreds of CDs containing indexes and other reference material, including Vital Records, Cemetery Records, Police Gazettes, School & Electoral Records, Railway Staff Records, Landsborough Shire Records, Gregson & Weight Funeral Records . All the indexes have been loaded onto the computers for easy accessibility.
---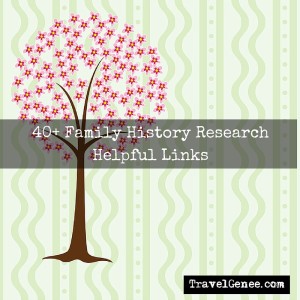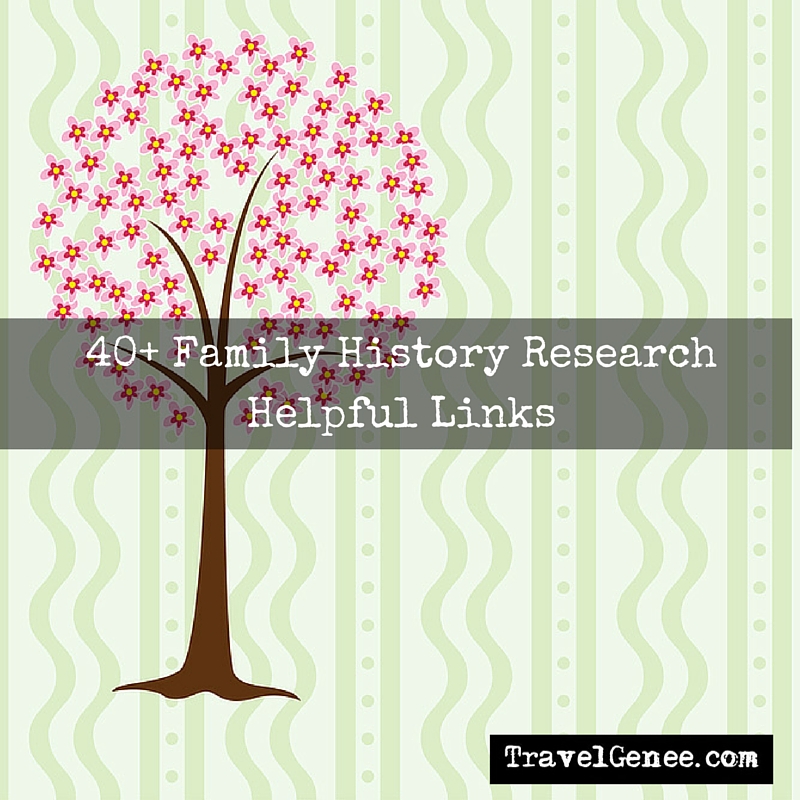 If you have been interested in the Family History Research Helpful Links found on the Caloundra Family History Page here is the summary for the September Links.
---
Some information on the transformation of the Sunshine Coast and maps can be found at the Queensland Historical Atlas. Plus other info on other parts of Queensland.
---
Posted about the Genealogical Society of Queensland Move to Wishart and changes in hours for the move.  Check out the GSQ website for any updates. They are reopening on 1 December.
---
Announced last week on the Family Search Blog: Australia, Queensland Cemetery Records, 1802-1990.
Description: An index which combines several indexes, cemetery transcriptions, burial and other records from cemeteries in Queensland. This collection also contains small portions of New South Wales, Norfolk Island, Tasmania, and Western Australia.
---
Tip on how to continue with your research while your are asleep…..from Lisa Louise Cooke.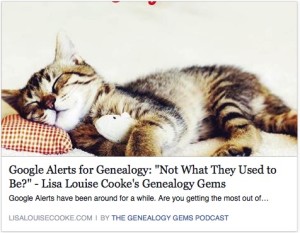 ---
Do You Need these WWII Documents at The National Archives [UK]?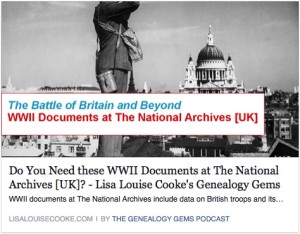 ---
More Smiles via Twisted Twigs on Facebook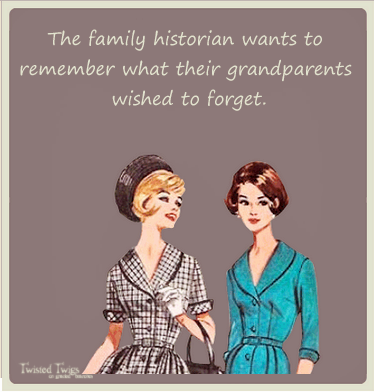 ---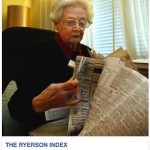 Another fantastic milestone was reached yesterday for the RYERSON INDEX.
Seventeen years and six days ago, members of the Sydney Dead Persons Society decided to start indexing the death notices from the Sydney Morning Herald. Yesterday they completed the job.
Every death notice published in the SMH since 1831 is now included in Ryerson – all 1,861,095 of them. That works out at more than 2,000 death notices per week for 17 years! In addition, over 200,000 funeral notices are also included, some of them in addition to a death notice, but many as a substitute for a death notice.
This is a huge resource, and is without doubt the only index to Australian death records outside the official BDM indexes which covers such a span – 184 years.
For those who have not yet looked at Ryerson, it is well worth checking out. You may find records indexed as recently as this week that fill the big gap after official records end. The index was updated last Saturday, and by tonight, another week's work will be added to the database recording death notices which occurred only a day or so ago.
---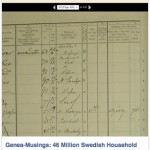 46 Million Swedish Household Records are Available on MyHeritage . Read more about this announcement and some testing on Randy Seavers blog.
---
The Street Party Collection – Photos through the ages of people taking to the streets to celebrate, from VE Day to Queen Elizabeth's Silver Jubilee. (HistoryPin does not seem to be a live site anymore so link disabled. Jan 2019 update)
---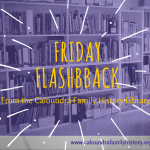 Flashback Friday: Queensland historic ordnance maps in the Vertical Map Cabinet at the Library.
Our Caloundra Family History group was recently successful in receiving a grant from the Sunshine Coast Council. The funds were used to purchase Mylar for map encapsulation. Working bees have been busy recently to complete this large project which commenced last year. Thanks to SCC, Cr Rick Baberowski and Bill Kitson [former Curator of the Museum of Lands, Mapping and Surveying].
The vertical map cabinet in the library now has many Queensland historic ordnance maps available for research by members and visitors.
---
Final National Library of Australia eResources in this series.
(This posting is part of a series on the topic of the National Library of Australia. To see earlier Library posts keep reading.)
Irish Newspaper Archives is the largest online database of Irish newspapers in the world. The archive dates from 1763 to the present and includes a mix of out of print titles and current titles, providing word-searchable access to articles or full pages. Titles include the Irish Independent (1905 – current), The Freeman's Journal (1763-1924), the Connacht Tribune (1909-2007), the Leitrim Observer (1924- Jan 1976), the Meath Chronicle (1897- April 2005) and the Southern Star (1892-2006). Coverage from 1763.
Library card required.
I have to stop surfing at the NLA online as each day I have spent 2+ hours on multiple sites around the world reading……reading….reading. Much available at the NLA eResource is either only available to via a library membership or paid access is required.
---
Available from the National Library of Australia – JSTOR. This is a ….
"A continually expanding multi-disciplinary archive of scholarly material in the social sciences and humanities and the sciences. It includes the archives of over 1,000 journals, monographs, newspapers and selected conference proceedings. Access is provided to the complete scanned image of the item. Journals are available from volume 1, issue 1, although the most recently published journal issues are not available on JSTOR. The National Library subscribes to the Arts & Sciences Collections Parts I – XIV, the Nineteenth Century British Pamphlets collection and the Ireland collection." NLA free to available archives. Or individual access to JSTOR is about $200 per annum.
Applied for your library card yet?
Or try the Times Literary Supplement Historical Archive, 1902-2010.
---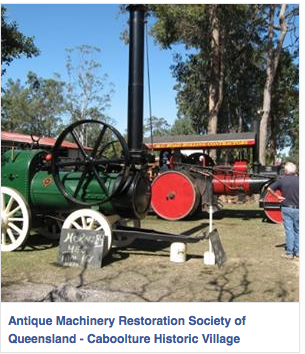 Local History….
Antique Machinery Restoration Society of Queensland at the Caboolture Historic Village – Link no longer available.
---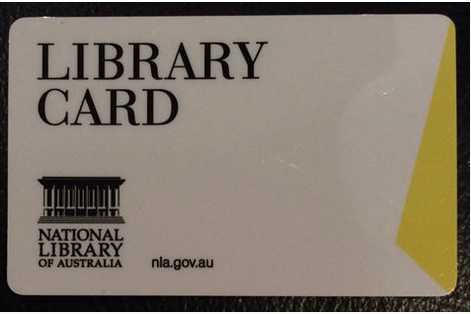 More on the National Library of Australia (Facebook Page) – this weeks theme.
Freely available eResources are websites freely available to anyone over the Internet
Licenced eResources are databases available by logging in with your library card.
If you have not organised a library card see yesterday's post for help. You may need a card to access some of the links later in the week.
National Library of Australia Website.
National Library of Australia eResources.
---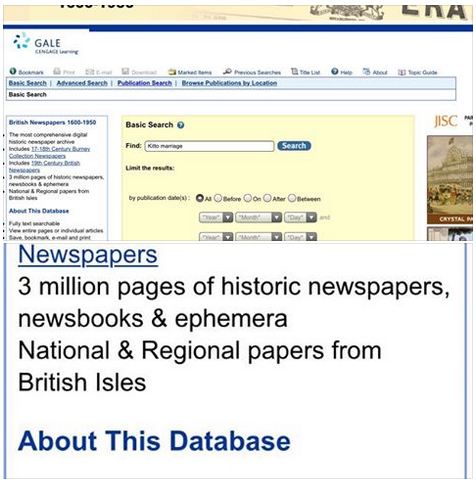 More research suggestions from the National Library of Australia eResources. Library card required but you can get an idea of the resource from the attached images. I have been searching newspapers for free. Search for British Newspapers 1600-1950. (Don't forget to respect copyright requirements.)
National Library of Australia eResources.
---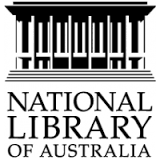 Get yourself a library card. Do you have a library card for the National Library of Australia? There is a large Family History section online and access to many more Australian and overseas libraries, if you have a library card. This link goes to the eResources page. Still unsure… there is help on how eResources works.
---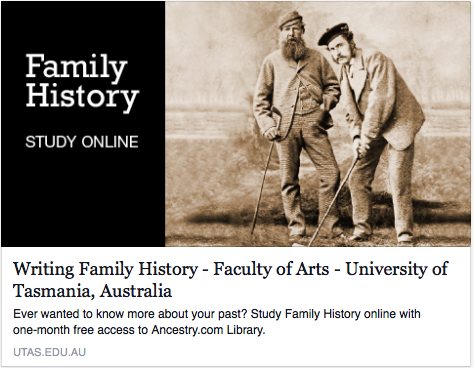 ---
I wish I could get back to 1715….Sunday Smiles from Twisted Twigs On Gnarled Branches Genealogy
---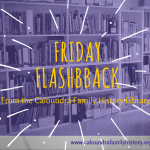 Friday Flashback: More resources available from our Caloundra Family History Library. Large range of Maps, particularly for Queensland and for numerous dates. See link for a list of available maps our members have access to at the library.
http://www.caloundrafamilyhistory.org.au/documents/maps.pdf
---
Bringing to you posts about the In Time and Place conference, Qld.
Find out more about the ‪#intimeandplace‬ conference last weekend from the view point of a young genealogist, Caitlin Gow.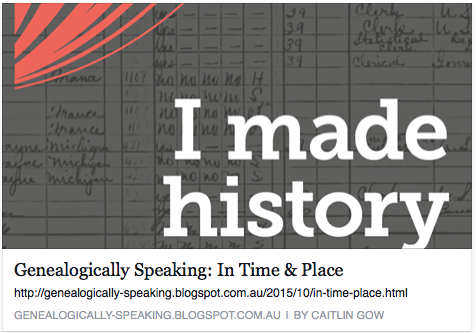 GenieQ by Helen Connor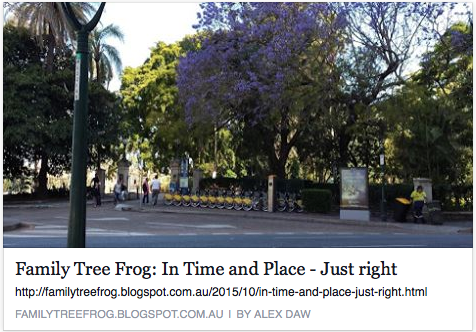 My own TravelGenee blog post about Shauna Hicks Keynote Speech. Challenging our assumptions when doing our genealogy.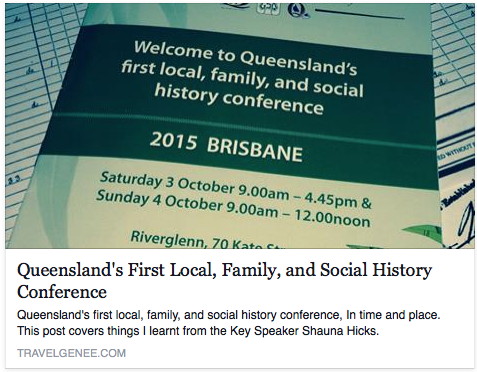 The Conference Announcement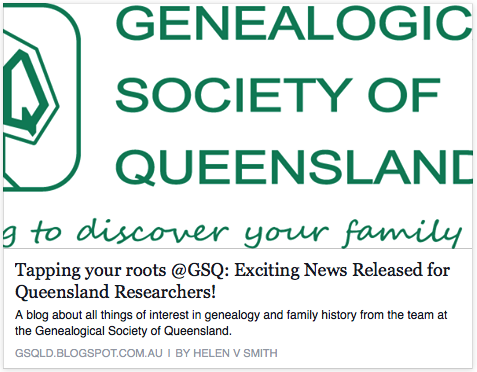 The Queensland "Office for the Registrar for Births, Marriages and Deaths announced they are digitising the marriage source documents from 1940 backwards ".
Announcement made at the In time and Place Conference. Digitised Marriage certificates.
---
Bringing time to research. Try 30 x 30. Read about how to get on with a specific research goal.
---
The digitising of the 1891 Census for Norway is finished. The 1891 Census consists of one sheet per person and one sheet per house/residence. These sheets have all been scanned and published in ordered series for the 559 cities and municipalities (herred) that existed in Norway at the time of the census.
Not in English, as expected,once I check into the data pages. Discovered via Dick Eastman.

---
Also shared on the Caloundra Family History Facebook page is when the big sites offer free access or interesting things to do on the Sunshine Coast, Brisbane or family history events.  Like the page if you wish to see these post as they happen. For example there was free access to Ancestry, Things to do in Brisbane and an a live update from the In Time and Place Conference as Shauna Hicks did her presentation. Plus regular reminder for our Interest Groups, General Meetings and other Caloundra Family History events.
Plus genie bargains like the October English CD Sale in October at Gould Genealogy.
And of course notifications for any workshops we run such as the one for the "On Screen Demonstration of the FamilySearch website held in October.
---
Tip for using German Maps on James Tanner's post: "The website is in German (of course) but by using Google Translate on the entire page, I can read the website in fairly good English."
And here is the link to the maps via Jame's post.
---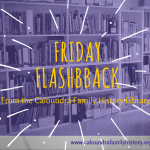 "As always, check EVERY record available."
From the Gazette, Journal of the Toowoomba and Darling Downs Family History Society inc. Vol 21 no 2 July 2008.
This recommendation notes several instances where indexing has created errors or even the original minister wrote the incorrect date in the records. The indexer correctly copied the document so the index repeats the error. Only in the original documents will the error be discovered as they occurs on a page within another time period. So to repeat the Gazette, "As always, check EVERY record available."
---
I've been doing some random name searching on free census records for Ireland. Seems a very easy site to use. Other databases also available.
http://www.genealogy.nationalarchives.ie/
---
Did you know that Ancestry searches around 220 websites outside Ancestry's own and contracted databases. And you can search this material for free if you aren't an Ancestry member. Find out more at Genealogy Gems Blog.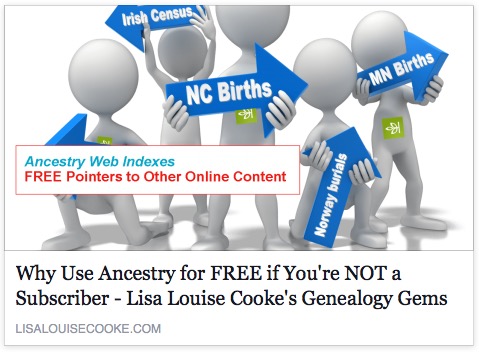 So that was the genealogy websites discovered in October and if you have any suggestions of websites for me to share on Facebook feel free to leave a comment with the link.