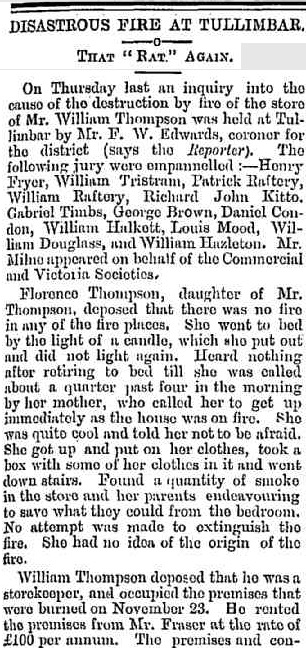 DISASTROUS FIRE AT TULLIMBAR
THAT "RAT" AGAIN.
On Thursday last an inquiry into the
cause of the destruction by fire of the store
of Mr. William Thompson was held at Tul-
limbar by Mr. F. W. Edwards, coroner for
the district (says tho Reporter). The
following jury were empannelled : — Henry
Fryer, William Tristram, Patrick Raftery,
William Raftery, Richard John Kitto,
Gabriel Timbs, George Brown, Daniel Con-
don, William Halkett, Louis Mood, Wil-
liam Douglass, and William Hazleton. Mr.
Milne appeared on behalf of the Commercial
and Victoria Societies.
If you wish to read more visit Trove – Illawarra Mercury (Wollongong, NSW) Tuesday 1 December 1891, Page 3.
---
Searching for a Trove Tuesday post I found more information on Richard John KITTO DOB 1859.  It appears he was on a jury about a case of a serious fire. As noted in a previous Trove Tuesday he was my Great Grandfathers (Francis KITTO DOB 1853) brother. The earlier post was Richard John KITTO late of Albion Park (Trove Tuesday).
It is more than the fire that interests me. It is the timing of the inquiry into the fire where Richard John KITTO was one of the men on the jury. They were unable to conclude if the fire was accidental or on purpose.
A verdict was returned to the effect —
"That the premises were totally destroyed by fire on the morning of the 23rd Nov., but how the fire originated, whether accidentally or otherwise, the evidence adduced does not enable them to say."
This article does make me wonder. Did listening to evidence where a store keeper was in financial trouble have any part in him committing suicide? He died on 16 December, a few weeks later. Like William Thompson in the Trove piece, KITTO was a storekeeper also.
Australia was in a depression in the early 1890's according to various sources including the Reserve Bank.
I know from the earlier post that his goods were sold at auction to cover debt.
Did he see that suicide was his only option in a time of economic depression in Australia? Apparently the Coroners reports for this period are not longer available according to the NSW Archives stand in the exhibition hall at AFFHO, earlier this year.
Sources:
Trove – DISASTROUS FIRE AT TULLIMBAR. (1891, December 1). Illawarra Mercury (Wollongong, NSW : 1856 – 1950), p. 3. Retrieved October 27, 2015, from http://nla.gov.au/nla.news-article132287141
Reserve Bank of Australia, System Stability Department. TWO DEPRESSIONS, ONE BANKING COLLAPSE, Chay Fisher and Christopher Kent, Research Discussion Paper 1999-06, June 1999 http://www.rba.gov.au/publications/rdp/1999/pdf/rdp1999-06.pdf
If you need help, call Lifeline on 13 11 14 or access its online Crisis Support Chat here. Kids Helpline on 1800 551 800 or Suicide Call Back Service on 1300 659 467.