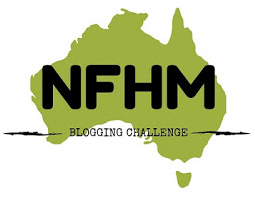 This post is about my KITTO ancestors lives as Cornish miners. A number of my ancestors worked in both lead and tin mines the 1800's. It is week 2 of the National Family History Month (NFHM) blogging challenge where the topic is honouring our working ancestors and the challenges they faced in their occupations.
More details can be found about this weeks challenge at Family Tree Frog Blog.
Why did my ancestors become Cornish miners?
"Despite being an intensive process of hard physical labour in often poor conditions, it was the first choice occupation for most Cornish men and women due to the generally better wages on offer. Mine workers usually spent around eight hours a day underground, often after walking several miles to work."¹
My Cornish miners ancestors worked in Lead and Tin mines. In the 1800's my ancestors would not have known the full range of health issues that can develop with lead poisoning.  A number of years ago I learnt about the lead poisoning of school children in the USA.  Their class room had higher than usual petrol fumes as it was at road level on a busy intersection. Now we do not allow lead in petrol. And the problems related to lead paint means that lead paint is banned in Australia. When reviewing this topic I found that the number of health issues lead poisoning can cause is many.  There is a large list at the The LEAD Group Inc., an Australian organisation. They also mention "that most people who are lead poisoned present with no symptoms at all."²
Conditions that my ancestors knowingly suffered included:
Having to climb or walk long distances before paid work commenced,
working in excessive heat,
bad air from dust or lack of oxygen,
accidents with rock falls, explosives, machinery, tools, etc.,
after shifts, tired miners could fall of the ladders used to climb out of the mine,
in the damp, moist conditions, a disease named ankylostomiasis thrived. (A hook hookworm infection of the small intestine, often leading to anaemia.³)
a lack of facilities to wash after work,
and read about more dangerous details at the Cornish Mining World Heritage website.(Unfortunately, they deleted this content from the website.)¹
"The Health of Towns Association returns for 1841 showed that the average age of death in the Redruth district, the heart of Cornish mining, was 28 years and 4 months. Mining was a dangerous occupation where accidents from falling, blasting, drowning, rock-falls and entanglement in machinery –which often maimed and sometimes killed – were inevitable."¹
What did I learn from my research on Cornish miners?
My research on mining in Cornwall means that I will consider possible early death dates for my Cornish Miners. When I am trying to locate missing census years perhaps they died from a mining related disease or accident and this is why they are missing from census records.
In the 1841, 1851, 1871 England Census for my 3rd x's great grandfather Richard KITTO (DOB 1798) household with many of his sons and even a daughter working in mining jobs.(4)
1841 Census
Richard KITTO (DOB 1798) 1841, Listed as 40 years old*, Lead Miner
Sons:
Joseph (DOB 1821) 1841 at 20 years*, Lead Miner
Richard (DOB 1822) 1841at 20 years*, Lead Miner
Sampson (DOB 1826) 1841at 15 years*, Lead Miner
William (DOB 1829) 1841at 14 years, Lead Miner
John (DOB 1831) 1841 at 12 years, Lead Miner
* Note the practice of rounding adult ages to 5-year multiples.
1851 Census
Richard KITTO (DOB 1798) 1851 at 53 years, Miner Lead
Sons & Daughter:
William (DOB 1829) 1851 at 22 years, Miner Lead
John (DOB 1831) 1851 at 20 years, Miner Lead
Francis (DOB 1833) 1851 at 18 years, Miner Lead
Fanny (DOB 1836) 1851 at 15 years, Tin  Dr???
James (DOB 1839) 1851 at 12 years, Tin Dr???
1861 Census with Richard Kitto to be located
1871 Richard KITTO (DOB 1798) 1871 at 73 years, Lead miner
Compared to the life span of many miners he lived a long life dying on 06 June 1878 at about 80 years old. So while mining was a hard life my 3rd  great grandfather Richard KITTO survived this hardship longer than many others.
Where to Find Out More
For Family History Month 2016 on social media use the hashtag #NFHM or #NFHM2016.
To find my blog posts check out the National Family History Month tag, NFHM.
Follow up on the sources for more on Cornish miners and mining.
Sources:
The Lead Group Inc. https://www.lead.org.au/fs/fst7.html.
Wikipedia.  https://en.wikipedia.org/wiki/Ancylostomiasis.
Ancestry.co.uk for Census data