I wanted to call this post "I'm a Lisa Louise Cooke Fan" yet it is about marketing strategies for genealogists.  It's the Innovator Summit today at Rootstech 2016. Most of the program is about developers, data and nerd stuff. However one session, DIY Small Business Guerrilla Marketing Strategies (for genealogists) took us on a path that would help our businesses or for bloggers, help us grow our audiences.  There are few sessions based around the running of a genealogy based business. Or ones to help us to develop to skills to better understand our audiences needs. As more and more family historians are going online to find cousins via blogs and social media being able to market oneself at no or little cost will be come an important skill.
DIY Small Business Guerrilla Marketing Strategies was a Rootstech presentation by Allison Dolan Publisher, Family Tree Magazine,  Lisa Louise Cooke, CEO Genealogy Gems and Jenna Mills, Genealogist Desperately Seeking Surnames. I'm a Lisa groupie.  I listen to her free and premium podcasts, have the Google Earth CDs, the Google Toolbox book to name a few items. Any sessions I see Lisa doing I attend if at all possible. They are always enjoyable and with great content value. The other speakers where also not new to me. Allison I know from her regular segments on the free monthly Family Tree Podcast. Jenna I see via my Feedly stream for her blog, Instagram and other social media.
Here is a list of tips or points shared and things you can do to "better" market your business or blog for little or no money. The ones I managed to note anyway:
Marketing Strategies for Genealogists in Business or Blogging
Newsletters – a must
With a newsletter list you have the ability to directly contact your audience.
You own the list.
Use newsletters as an extension of the relationship.
With newsletters make a connection with your audience.
Provide quality incentives to sign up.
Have newsletter signups on every place you can. eg Blog pages, Facebook.
Facebook  – get more out of it in less time
Schedule Facebook Posts with the Facebook scheduling tool.
Use www.facebook.com/twitter to link your Facebook and Twitter accounts. Then when you post in FB this is sent to Twitter.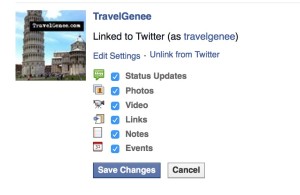 Facebook Insights tells you what people are interested in – use them.
Insights will help you know what are your successful posts.
Helps you spend less on time on social media and achieve greater results.
Also search out credible sources to help grow your social media skills. Eg Mari Smith.
And once you have studied the insights – Test, test, test. Test posting times, with or without graphics and more and…
Document your testing.
Then create a Social Media marketing Plan. Eg when to post, how often, etc.
(Skinny Fonts are hard to read on mobile.)
Content Marketing – give value for free and build trust
Content Marketing should Entertain – Inspire – Educate and Convince to buy.
Provide "really useful" information in your content.
It is not a pitch.
Use content themes eg Free Form Fridays via Family Tree Mag.
Give stuff away free – yes – give tips, strategies and why…
to build trust.
Use a variety of content location e.g., YouTube channels with interesting and informative videos or newsletters, event planning, webinars, your blog and more.
And don't forget to tell them if you want something or
Include calls to actions.
Hold surveys to ask what the audience wants.
And great content helps your SEO.
For WordPress there is the Yoast SEO Plugin.
The speakers covered much in the short time allocated. It would have been hard to walk away without learning something new.  Or being reminded of those critical things you keep planning to do.
Yes I need to share more frequently valuable content via blog posts. I need to read my Facebook insights more. Plus actually start writing a newsletter but I have added the ability for people to sign up via Facebook. I hope you found some helpful hints from the marketing strategies for genealogists talk too.

I must start my newsletter. I must create a quality sign up incentive. What can you do to improve your marketing? Comments welcome.