From my research, I am wondering if an ancestor a murderer.  I have been researching my paternal grandmother's family,  Olive Constance Beatrice IRELAND DOB 1887. I am trying to connect up the links back on her maternal side to the persons that came to New Zealand in the mid-1800s.
I believe I have found the vessel on which the Harper's arrived. The Fifeshire was a 557 Ton ship. The Captain was Harford Arnold and the Surgeon Superintendent,  William Spence. She sailed from London on 17th September 1841 & Downs on 2nd October 1841. The Fifeshire arrived in Nelson on February 1st 1842. She was the first New Zealand Company ship to bring migrants to Nelson. They included James Harper 38 years and his daughter Sarah aged 14 years. 1, 2
Despite this discovery, I am still trying to untangle these family groupings.  There are the usual problems found when researching family history. Such as needing to discover more records, common Christian names and the spelling of surnames. Plus more intriguing stories to investigate like the story of a drowning.
Even in the mid-1800s news was shared between New Zealand and Australia. In the early years of the New Zealand settlement Trove is another option to search.  Especially when  NZ vital records may be missing.
Using both PapersPast and Trove I check for names, places and dates for events.  This is what I found in Trove:

Like Trove, the New Zealand PapersPast website is a resource I often use to try and fill in some gaps in my family history research. There were details of the inquest into Richard Bourke's death and the trial of Francis McDonald. According to witnesses, Francis MacDonald assaulted Richard Burke who later died. James Harper provides testimony at the inquest.
Ancestor a Murderer?
Is this the Francis MacDonald/McDonald in my family tree? There is also a mention of John McDonald being charged with assault.  Could this be Francis McDonald's father?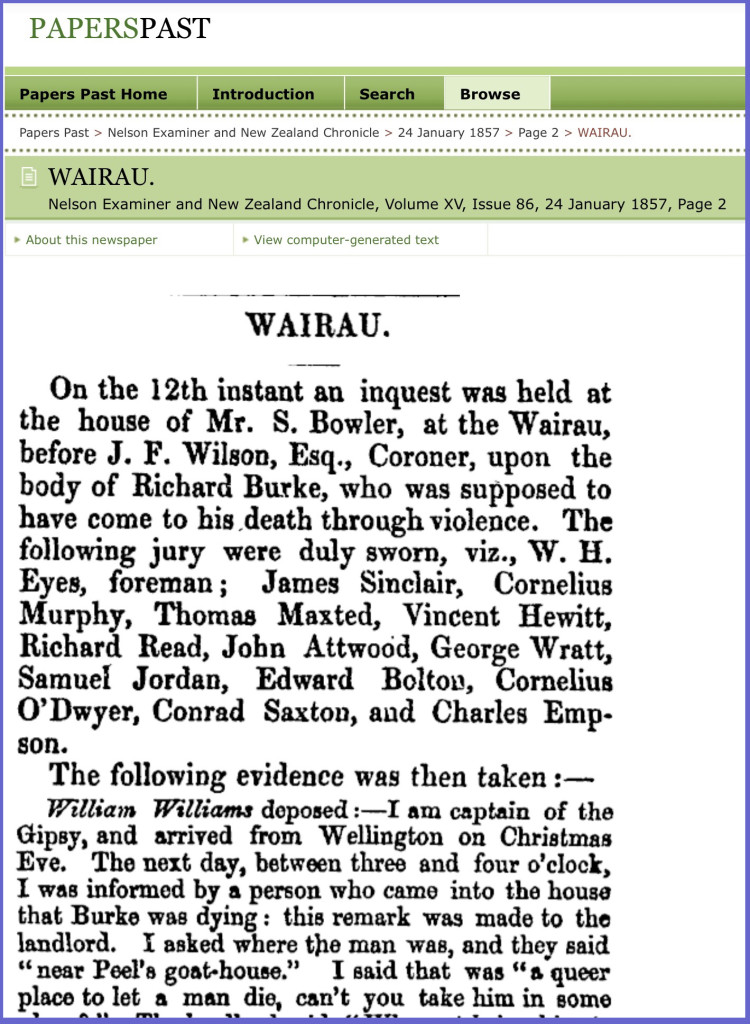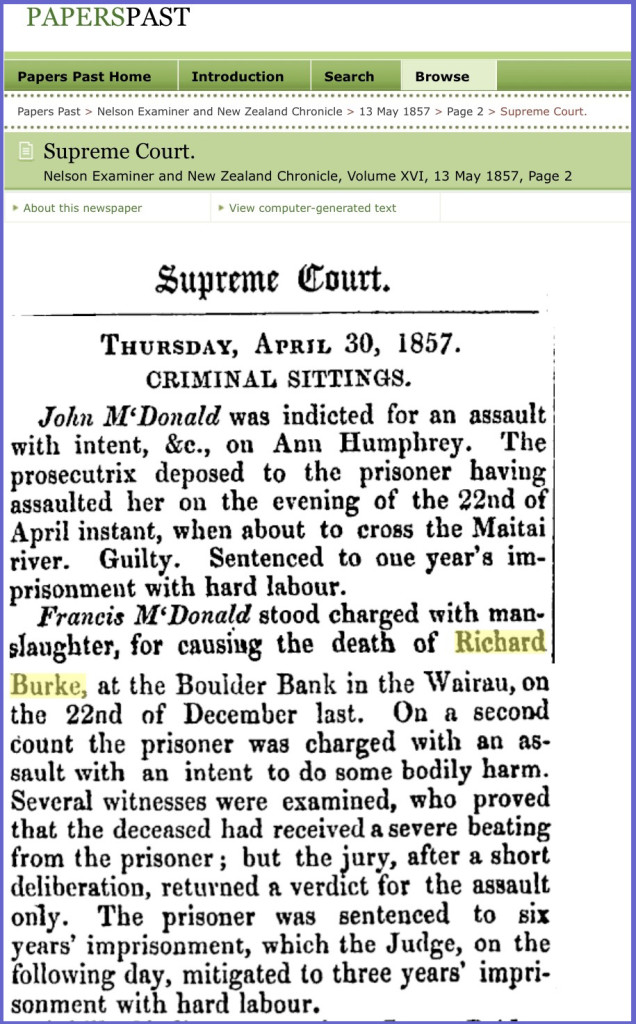 I think a timeline is required and more vital records to confirm relationships.
Do you ever put the events you find on Trove on a timeline? Comments welcome.
Sources:
http://freepages.genealogy.rootsweb.ancestry.com/~ourstuff/Fifeshire.htm (Link is broken – 31 May 2018.)
http://www.museumnp.org.nz/pdfs/PassengerLists.pdf (Link is broken – Aug 2022.)
1857 'NEW ZEALAND.', The Courier (Hobart, Tas. : 1840 – 1859), 21 February, p. 3, viewed 22 February 2016, http://nla.gov.au/nla.news-article2458033
Try this link as an alternative: https://freepages.rootsweb.com/~nzbound/genealogy/lists.htm