The Waves in Time Family & Local Conference that will be held on 24 to 27 May 2019 on the Sunshine Coast. There will be a variety of topics from family and local history streams.  With the increasing popularity for DNA testing learning how to make use of the DNA results received is the hot topic at most conferences. One of the speakers talking DNA will be Helen V Smith.
Meet the Speaker: Helen V Smith
Here goes with the interview:
Could tell us a little about your background?
I am a public health microbiologist/molecular epidemiologist who has been researching family history since 1986. I had my first DNA test in the days when blood was required!
Are you a genealogist, researcher, historian or representing your organisation?
I am a family historian with social history leanings and a firm belief that DNA testing is an additional useful tool for family historians in their research. DNA is a  tool that should be used in conjunction with traditional research.
How has genealogy/family history/history/heraldry improved or changed your life?
It has been an obsession since 1986. The joys of researching aspects of life, the social history of the past have taken me down many interesting paths.
What do you love most about genealogy/family history/history/heraldry?
I enjoy the finding out of the "why" of the past, what external factors/laws/economic situations affected people and influenced their decisions.
Living the Conference Experience
Have you attended the Queensland Family and Local History Conference in previous years?
I am a conference junkie and have attended and presented at local, state, national and international conferences. It is a learning experience and also a great social experience being with people who have the same interests/obsessions as yourself. You can always learn something new from any presentation.
What are your key topics for the Waves in Time Conference?
I am talking on DNA and its use for genealogists.
How do you think your topic/s will help the family & local historians at the Waves in Time Conference 2015?
The talk will help people use this new tool in their research and help integrate its use in their traditional research.
What do you think are the benefits of attending a large conference like this, for you personally and for others attending?
The learning is always great, finding out about new resources and databases. Meeting up again with genealogical friends and making new ones.
Conference Tips
Do you have a favourite piece of advice or a tip or trick you can share with conference attendees?
Wear comfortable clothes and shoes. People are friendly so don't be scared to talk to people you don't know, we have all been bitten by the genealogy/history research bug.
Is there somewhere we can connect with you online?
I have a website, Dragon Genealogy and a sadly neglected blog, Dragon Genealogy Blog. I am on Facebook and Twitter.
With Helen being a conference junkie, like me, look out for her at the Waves in Time conference. If you are a beginner or been researching for years I agree with Helen that you "can always learn something new from any presentation". And don't forget to "wear comfortable clothes and shoes".
Waves in Time Talk on DNA
If you want to learn more about how your DNA results can be used to enhance your genealogical research then book the Friday session from 2.50pm to 3.50pm with Helen V Smith – Topic: DNA: What it can do for your Genealogical Research. You can attend this session before or after checking out the exhibitors at the FREE Family & Local History Fair.
Look out for future talks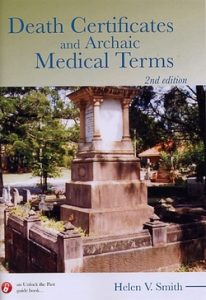 As well as her interest in DNA Helen has a raft of other talks that will advance your family history research knowledge and ability to better research your ancestry. She frequently presents talks locally, nationally and internationally. I distinctly remember one after lunch talk with an interesting trench foot discussion at a Caloundra Family History WW1 seminar.
Helen's professional career is a Molecular Epidemiologist specializing in Public Health Microbiology. This gives a clue to her interest in infectious diseases and Public Health through the ages. Her book, Death Certificates and Archaic Medical Terms is a great reference to have handy when working with death certificates.
Disclaimer: As a Waves in Time Ambassador I receive free registration in return for promoting the conference in various social media forums and on my blog.