The term veteran is often used to mean someone that has returned from war. Unfortunately not all return.
Remembering them on Anzac Day
Today, the 25 April, marks the anniversary of the landing of New Zealand and Australian soldiers – the Anzacs – on the Gallipoli Peninsula in 1915.¹ First marked in 1916, Anzac Day has gone through many changes. While an Anzac was originally a soldier in the Australian and New Zealand Army Corps in 1914 to 1918. It has come to mean any Australian or New Zealander that is a past or present member of the armed services.
For international readers, Anzac Day is like Remembrance,  Veterans or Armistice Day. Although there was no military victory at Gallipoli, the Australians (and New Zealanders ) displayed great courage, endurance, initiative, discipline, and mateship. Such qualities came to be seen as the Anzac spirit.²
So to acknowledge my ancestors on this Anzac Day I am sharing some of my military-themed #GenealogyPhotoaday posts from Instagram.
Military Veteran Francis Kitto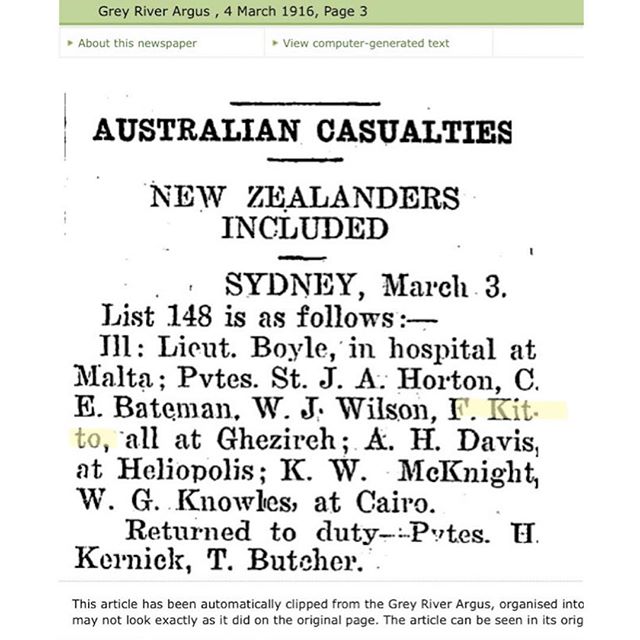 With the 100 year anniversary of the end of WW1, I shared on Instagram ancestors and their relations that participated in the Great War. First is Francis Kitto, my grandfather's elder brother. He was born at Taranaki Street in Wellington, New Zealand on 29 March 1881. He enlisted in Australia and was part of the Australian Flying Corps. Injured many times according to his military record that shows him in hospital. Injuries were also reported in newspapers like in the image above.
The records show he was reprimanded for deserting his post. Perhaps the horror of war was too much.  Today we better understand illnesses like post-traumatic stress. Unfortunately, he died of the Spanish flu in the United Kingdom not long after Armistice Day.
View this #GenealogyPhotoADay along with others on Instagram.
Military Veteran Herbert Cleveland Eric Kitto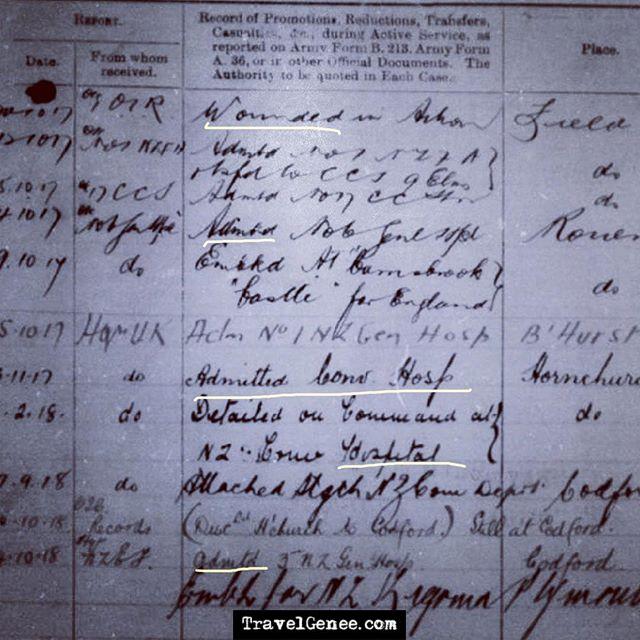 Herbert Cleveland Eric Kitto died on 8 March aged 1939 of a cerebral tumour. Dying at only 44 years of age makes me wonder how much the traumatic years of WW1 was a toll on his health. While his discharge records tell of no serious illness he was wounded and caught influenza so admitted to hospital many times. The image is an extract from his military record.
View this #GenealogyPhotoADay along with others on Instagram.
Military Veteran Francis Hamblin Reade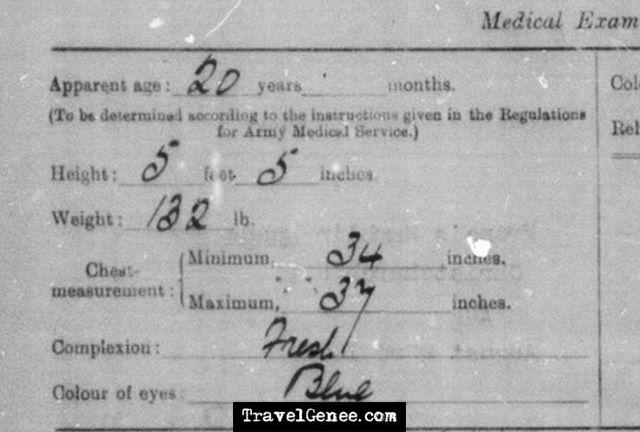 This post shows the type of information that is available in the WW1 New Zealand military records. Reported details such as height, weight and eye & hair colour as common. When we have lost details of our ancestor's physical features or do not have a photograph these details give us a clue to their characteristics. These particular characteristics are for:
READE, Francis Hamblin – WW1 72522 – Army
Date of birth 23 August 1897
View this #GenealogyPhotoADay along with others on Instagram.
Earlier in this months AtoZ Challenge I posted about my grandfather, Charles Collis Dawson – Traveler, soldier & family man. Also some details from the military records of Ernest James Ireland, my Grandmother's brother. Previous ANZAC posts honour ancestors and others.
Australian and New Zealand 1916-1918 Memorial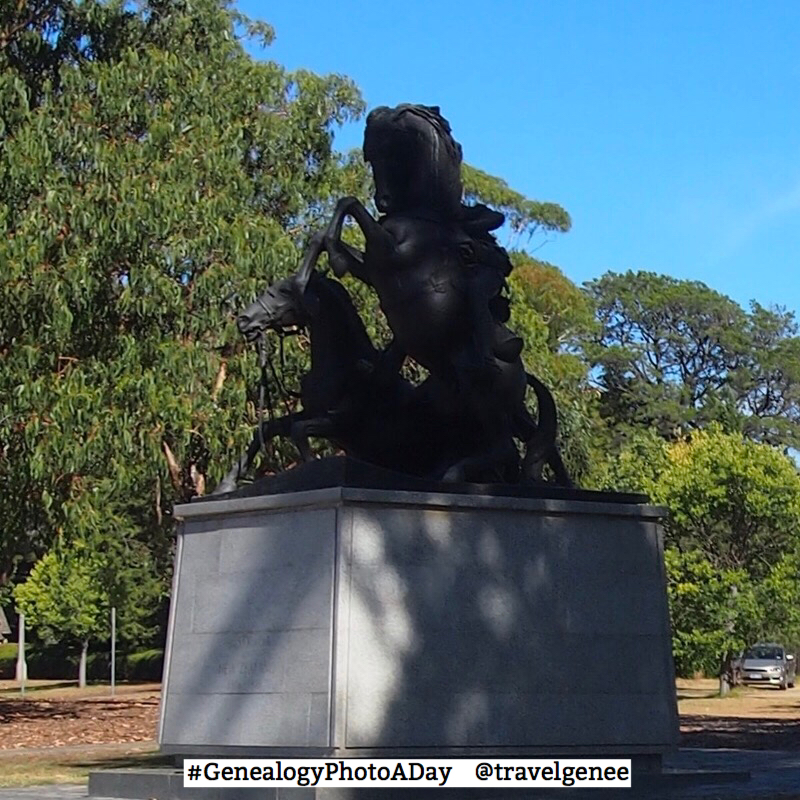 Day 11 Veteran
On Remembrance Day, 11 November we remember the men and women that made the ultimate sacrifice. At Anzac Parade, leading up to the Australian War Memorial in Canberra, are many memorials. This one above is the Australian and New Zealand 1916-1918 Memorial.
View this #GenealogyPhotoADay along with others on Instagram.
If you did an Anzac post leave the link in the comments, thanks.
Source:
1. https://nzhistory.govt.nz/war/anzac-day/introduction
2.https://www.awm.gov.au/visit/exhibitions/dawn/spirit
AtoZChallenge Veteran – Remembering on Anzac Day