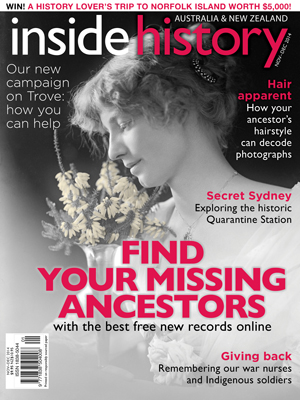 Update: Inside History has a new name and a new publisher! Check out Traces – Uncovering the Past.
Inside I am loving reading magazines on the iPad.  This week I am working through the latest edition of Inside History. I started reading magazines on the iPad because I am still working on the suggested tasks created by Shauna Hicks  for 31 Genealogy Activities for Researchers During National Family History Month August 2014, Australia.
The goal for me in continuing the the tasks is to increase my genealogy & family  history knowledge and research skills. Subscribing to a magazine is an easy and enjoyably way to do this.
Family History Month task number 23: "Visit your local newsagent and see what genealogy and family history magazines they have. Australian Family Tree Connections and Inside History Magazine – both prize sponsors."
In August I purchased a UK family history magazine from a newspaper shop. I was not able to easily find an Australian magazine and I had to visit a few shops to actually find family history magazines at all. If you want a Triathlon or Running magazine I can tell you of a shop with 18 different magazines covering these topics.
Since then I have still not read the physical magazine I purchased except for a brief flick through. With the physical magazine it has become buried in my home office.
I also subscribed to Inside History for my iPad.  I have been enjoying the issues that arrive on my iPad. The advantage of the iPad is that I carry it around a lot of the time so have it at hand to read at the coffee shop, instead of watching TV and loads more situations.
The advantage of being able to click the links to more information online is a neat feature. The pages open with in the app and I have not figured out yet how to open them in a browser app like Safari. I like to open the page in Safari, continue reading the magazine and come back to the Safari page later.
The other small negative was one time the subscription went a little a stray. When I tried to open the magazine I was sent to a page requesting I pay a subscription.  A little frustrating but as I have numerous books to finish on my iPad I always have something else to read. I checked again the next day and it was still not available. It did come right after a day or so just in time to save me an email to the editor. Just one of those things that happens when using technology. I do keep the confirmation emails I get for online purchases in case of the need to follow up with the seller.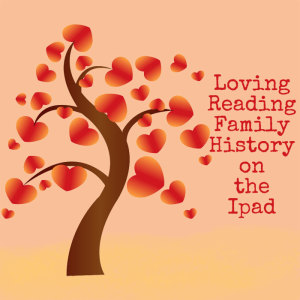 Overall the positives easily out weigh the negatives so I will continue reading magazines on the iPad and feel free to Tweet this story: thanks.
Here are the other posts in this series of posts on the Family History Month Challenges.
Do you read on a tablet?
Love to read your views and comments.