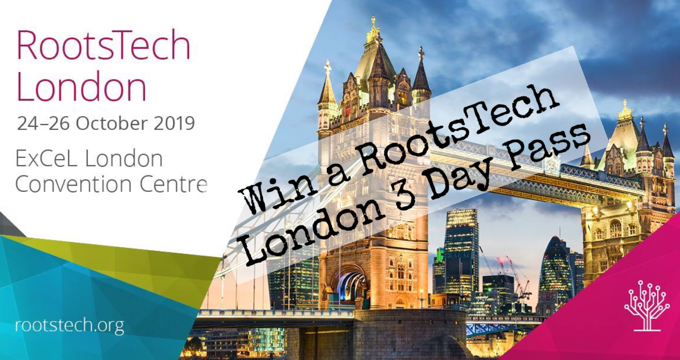 Click to go straight to the chance to win.
So you are thinking of going to London in October? Then one place any family historian would not want to miss is RootsTech London being held on 24-26 October. Whether you are just thinking of starting your family tree or been at it for years there is something for everyone at Rootstech events. I know this is correct because in the last 6 years I have only missed one RootsTech in Salt Lake City.
Why am I going to RootsTech in London?
150 plus sessions
There will be over 150 sessions to choose from that cover a wide range of topics such as DNA, methodology, records from faraway places around the globe, family history technology tools such as apps and software, military, organising your family history, immigration and loads more. Talks cater for the beginner, intermediate, professional and the advanced family historian.
Inspiring keynote speakers
Every Keynote I have attended over the years at RootsTech in Salt Lake City stirred more in me than what you would expect from the "exciting celebrity" description at the RootsTech website.  Top of my list was the moving inspired talk by Tan Le, a Vietnamese-Australian telecommunications entrepreneur. There was hardly a dry eye in the room by the time she finished.
I think my favourite year for keynotes was 2107. The knowledgeable talk from CeCe Moore, genetic genealogist, on DNA, opened me up even further to the possibilities of DNA. Being a Trekie (Star Trek fan), LeVar Burton's stimulating thoughts on equality, race, history, and self-perception was rousing. Even more so, when you added the images of Burton as the young slave Kunta Kinte not wanting to change his name in the 1977 TV series Roots. The scene is haunting. Buddy Valastro, best known as the star of the reality television series Cake Boss and Drew and Jonathan Scott, Canadian reality TV stars were more what I call "celebrity" speakers. Instead of acting like spoilt celebrities all three focused on the importance of family in their lives.
Being a bit of a tech nerd I loved the 2017 Innovator Summit keynote speaker, Liz Wiseman.
Liz Wiseman is an American researcher, speaker, executive advisor and author. Her invigorating talk left you walking away with more food for thought than just "that was nice". So much so that when we happened to cross paths in the Salt Palace I had to ask for a pic and say thanks for the inspiring talk.
The WOW Expo Hall
I have filled in many an hour wondering the Exhibition Hall at RootsTech in SLA. First I check out the times for all the presentations and note all the "must not miss" ones to my schedule. I try to talk to someone on just about every stand. I ask about all sort of questions to find out more about their products & services, where they come from, what they hope to achieve at Rootstech, what is happening in their industry and loads more. Sometimes I even get help with my own research.  I have had FindMyPast find me newspaper clippings of my family in the UK. Family Search helped find for me ancestors on passenger lists, in their vast catalogue.
RootsTech London 3 Day Pass Giveaway
By now you have probably figured out that I am a conference junkie. RootsTech is one of my favourites so if you want to join me at RootsTech in London enter to win a Complimentary RootsTech London 3 Day Pass Giveaway – £149 value (approximately AUD 265).
The pass includes the following:
150 classes to select
Keynote / General sessions
Expo Hall (or as I call it the WOW Expo Hall)
Evening event
No purchase is required to enter. If you have already purchased a RootsTech London pass, you will get a full refund.
Increase your chances of winning with bonus entries.
The prize is a RootsTech London 3 day Pass only. It is not transferable to cash or cover other costs such as accommodation and transport. If the winner does not reply within a week of the winner being announced or forgoes the giveaway there will be a redraw.
Why not read a few more posts about my trips to RootsTech in SLC. Or leave a comment if you are hoping to attend and we could try to catch up in London.
Disclaimer: As a RootsTech London Ambassador I receive free event registration and entry to ambassador events in return for promoting it in various social media forums, at events and on my blog. Because I see so much value in advancing my family history skills knowledge I have paid my accommodation in London and flights from Australia.
The views and opinions expressed in the blog are my own.