Recently I attended both the 3-day Sydney and 1-day Brisbane DNA Downunder events. Here I totally grounded my knowledge so that now I am comfortable with more than the DNA basics. Secondly, I extended my DNA knowledge for researching my family history to cover the more difficult tasks like phasing and chromosome mapping.
The key speaker was Blaine Bettinger, leading international genetic genealogist, all the way from the state of New York. Other speakers included Louise Coakley, Kerry Farmer, Shelly Crawford & Helen V Smith from Australia and  Michelle Patients & Fiona flew in from New Zealand. The Brisbane sessions covered a mixture of beginner to intermediate topics. The 3-days in Sydney more intermediate and advanced topics where included.  I thoroughly enjoyed these. Especially the opportunity to stretch my knowledge.
In addition to his other work, Blaine is known for the shared centimorgan project. He describes it like this on his The Genetic Genealogist website:
The Shared cM Project is a collaborative data collection and analysis project created to understand the ranges of shared centiMorgans associated with various known relationships. 
It's a chart used to work out how a match is related to us by considering the number of matching centimorgans. I have carried a paper copy for a few years and it has become well worn from use. Or if online I use the tool at DNA Painter.
Here is a summary of 10 things to remember from the DNA Downunder events though there were loads more covered:
1. What is Segment Data?
Blaine Bettinger explained segment data likened to GPS coordinates for a piece of a shared segment of DNA. That is a piece of DNA you share with another person. When using segment data you need to know the chromosome number you are referring to, the start and stop locations, its size and the number of SNPs.
2. "Ethnicity can be very powerful."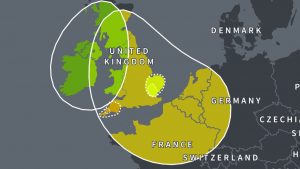 Blaine Bettinger made this statement in the "Understanding and interpreting your ethnicity results session". Previously I had been on the side thinking that ethnicity results were not much more than a marketing ploy to get customers to purchase DNA kits. However, ethnicity results can be useful to our research, for example looking at clusters of ancestors in time and place.
We do need to understand the limitations of the ethnicity results. For example, the quality of the reference panel. Or that when DNA results and family knowledge conflict it is important to remember you can only get results for the DNA you received. Segment not passed to you will not show up in your ethnicity profile. If you get 3.1% from your 3 x great-grandfather then you did not get 96.9%.
Which brings in the point of confirmation bias. We need to be aware that we can and probably do have confirmation bias when viewing genetic or even traditional genealogical sources. If we see a common ethnicity result with a match we still need to do the research to confirm the common ancestor.
3. Beware of small segments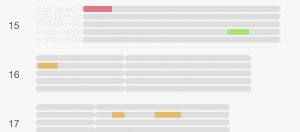 The danger zone is a match below 7cM. Small segments can be false positives in many cases.  A number of times Blaine referred to small segments causing issues. They might not all be invalid however the problem is how do you tell which are real matches and which are not. Blaine proposed that reviewing data below 10 cM is poisoned by false matches.
The testing companies have selected different minimum segment levels so results will differ between the different testing companies. Different minimum levels mean matches may be included or excluded depending on the level selected.
FTDNA include small segments in their centimorgan totals so we need to remove these so that inflated numbers are not used when cousin matching. The bigger the pieces of matching DNA the closer relationship so they are easier to work with when trying to find common ancestry. The reverse of this is that the smaller the matching segments the more distant is the relative or it might be a false match.
Kerry farmer also reminded us about the dangers of small segments in her presentation on Combining DNA with traditional genealogy techniques, as did many of the other speakers.
4. Chromosome Browsers make your DNA matched more visual
If you are a visual person, like me, being able to see your results as an image is useful. The chromosome browsers are available at many sites including Gedmatch, MyHeritage, Family Tree DNA and 23andme. Each site differs slightly and the way you can use them.
The lack of a chromosome browser at Ancestry is seen as a major limitation to the Ancestry DNA product. This means that you need to ask others to download their data and load up to Gedmatch or one of the other sites so that you can work on matching at the chromosome level.
5. Genetic DNA is full of scientific words, abbreviations & acronyms.
From Autosomal DNA (atDNA), Cambridge Reference Sequence (CRS),  Single Nucleotide Polymorphism (SNP) to Y-STR – and acronym for Y-chromosome Short Tandem Repeat DNA, genetic DNA is full of abbreviation & acronyms. Bookmarking the International Society of Genetic Genealogy Wiki glossary is one way to stay on top of these when you are reading up about genetic DNA. Testing sites like FTDNA also have lists of words related to genetic genealogy.
6. Shared Matching is powerful
When the goal is to identify common ancestors then shared matching is powerful data to help us progress.  Many of the talks supported the concept that shared matching is powerful.
How do we do this? Start with the matches provided by the testing companies. Build trees for people that do not have trees. These can be "research trees" built on Ancestry so make sure that these trees private and not searchable so that theories do not become facts in other peoples trees.
Use tools like the MyHeritage Cluster, DNA painter, Chromosome Browsers, Leeds methods, and more. Google your matches for more helpful pieces of information. They may be on another testing companies site. These and many more suggestions were given on how to identify common ancestors.
The importance of testing older relatives first was stressed as they will have less diluted DNA and will achieve better matches. Not testing reduces our ability to find common ancestors.
7. Combining traditional genealogical techniques with DNA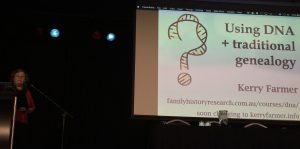 To get the best results it is important to combine both the traditional genealogical techniques and DNA. Neither can be viewed in isolation. For example, when Kerry Farmer talked using DNA Painter it is our traditional genealogical research to whether a person is from our paternal or maternal that is required before we can even paint with the DNA painter tool.
Blaine presented the Helen Marley story as a case study that showed how both the DNA and traditional genealogical techniques solving a brick wall.
8. Watch out: a plague of zombies is coming
What happens to kits when people die? Testing companies have different policies.
Create a DNA transition plan that designates a beneficiary. A beneficiary form is available at the Genetic Genealogy Tips & Techniques Facebook group.
9. Informed consent and other ethical issues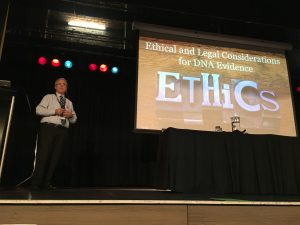 There are many ethical considerations related to DNA testing such as informed consent, understanding the terms of service, can 3rd part access your data, unexpected results and more. When asking others to test, managing others kits and even your own kit is it important to understand the ethical issues. Being a young industry change is occurring at a rapid pace so you can keep up to date by following the Legal Genealogist, Judy Russell who keeps an eye on things like terms of service, privacy and related issues. For standards recommendations and best practices for "the genealogical community to follow when purchasing, recommending, sharing, or writing about the results of DNA testing for ancestry" download the Genetic Genealogy Standard Document.
Genetic Genealogy Tips & Techniques Facebook group has a form to obtain for informed consent.
10. To get the best out of DNA results you need to put in some hard work!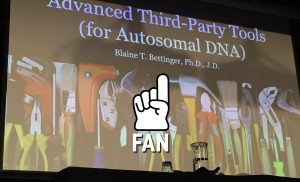 Being a bit of a lazy genealogist I sure noticed that working with your DNA takes some concentrated work.  There is help out there. There are plenty of tools for varying levels of experience. Some are built into the testing company products,  others are 3rd party tools and may be free or have a cost.
The Facebook group mentioned above has many files attached with instructions. There is the Blaine Bettinger's book The Family Tree Guide to DNA Testing and Genetic Genealogy (2nd edition) available at Gould Genealogy. I have the first edition already so are waiting for the ebook version so I can take it away with me. It is worth considering the second edition if you are serious as there are changes, new material and updates in the second edition.
Genimates at the events
DNA to the Max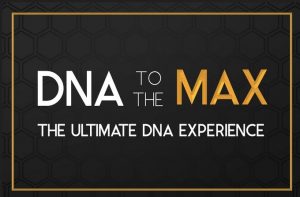 This was only a small amount of the learnings and comments I have been giving thought to from the DNA Down Under Event. The team from UnLock the Past at Gould Genealogy ran an excellent event and I support and recommend future DNA events they plan to run.
Disclaimer: As a DNA Down Under Ambassador I receive free registration for the Sydney event in return for promoting the seminars in various social media forums, events and on my blog. Because I see so much value in advancing my DNA knowledge I have paid for the Brisbane event.
The views and opinions expressed in the blog are my own.