TravelGenee #atozchallenge P – PRIOR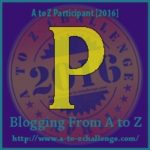 The Priors joined into my family tree when Augustus Stanley PRIOR (DOB 1895) married my maternal grandmother's sister Maud Victoria SHEPHERD (DOB 1897) on the 8th January 1922. My grandmother, Grace SHEPHERD had migrated to New Zealand by this time so probably did not sail back to England to attended the wedding.
Recently Findmypast added to their collection the 1939 Register. A Findmypast Blog post on the 1939 Register explains "What does the 1939 Register mean for family historians?" The post notes "it's a register of people living in England and Wales in September 1939. It is not a census. But, it does contain some really useful information that we don't get on any of the census returns."¹
For example, birth dates are included. It is this element of the 1939 Register that helped me correct a date of birth in the Prior family that was 20 years out. My original data came from the 1911 census on Ancestry.
Here is how it all happened:
With the release of the data by Findmypast I naturally wanted to test out the search and possible results. I searched for Maud and Augustus PRIOR and found the following results for them above the closed record black line. I saw another Prior household next door at number 21 Rainsford Road, Chelmsford, England, below them.²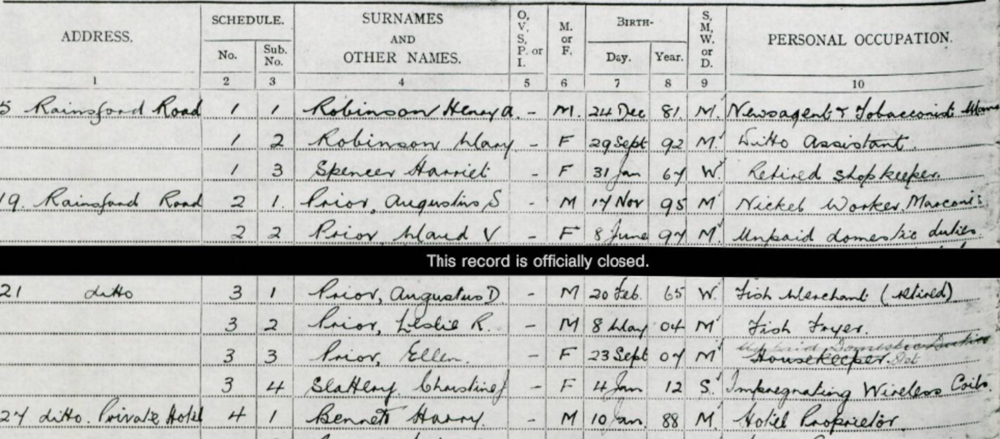 Augustus D PRIOR had a date of birth as 20 February 1865. I had a person with the same name with and estimated birth year of 1846. This information was copied from the Ancestry transcription of the 1901 Census.²
Here is the Ancestry Extract. You can see how the transcriber easily dated Augustus D Prior with an age of 55 years instead of 35 years.

As a check, I searched for the 1911 census for Augustus D PRIOR. As per the 1901 census the estimated birth year is about 1865. Also, Leslie PRIOR aged 6, appears on the census. This name is also in the 1939 register as Leslie R PRIOR with a birth date of 4 May 1904.4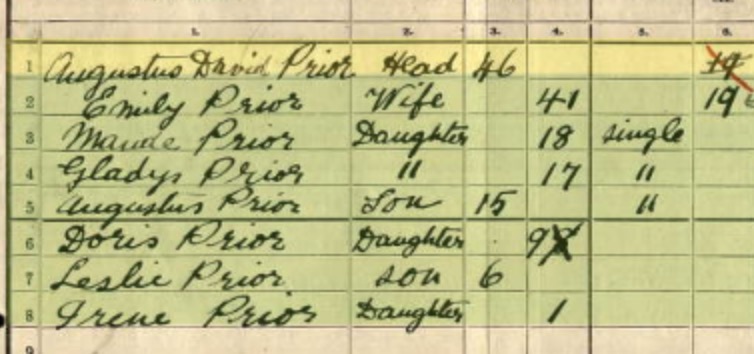 I also looked for other persons called Augustus D PRIOR in case the records were from different persons. I did not find any obviously different persons with the same name.
So while not totally proven it looks like the date of birth for Augustus D PRIOR should be 20 February 1865 as per the 1939 Register. TravelGenee #atozchallenge P helped me on a path to find out more of my family history.
Sources – some will require subscriptions:
Have you had a success with the 1939 Register yet? Feel free to comment.
TravelGenee #atozchallenge P – PRIOR
This is part of the A to Z Blogging Challenge for April 2016: Letter P for PRIOR. You can read more about the A to Z challenge and my other posts.  Or search on social media with #atozchallenge.