Trove is more than a collection of digitised newspapers. It is more than a place that helps you find and use resources relating to Australia. You can and will find material related to persons from other countries like the list of NZ WW1 Casualties I recently discovered.
Digital copies of NZ List of WW1 Casualties Available Online at Trove
With a search on the name KITTO I discovered a book with the New Zealand List of Casualties for a period in WW1. The details provided about the book include the creator, title, call number, when created/published and the number of pages. These details are towards the end of the post.
From this list of casualties you can source information on an individuals number, rank, date the injury was reported, their casualty list number and their unit. The material is listed in order of units plus there is an alphabetical index at the back. Also the digital copies are searchable. The digital copies were clear and easy to read. This made the searching process quick and easy.
Details about the book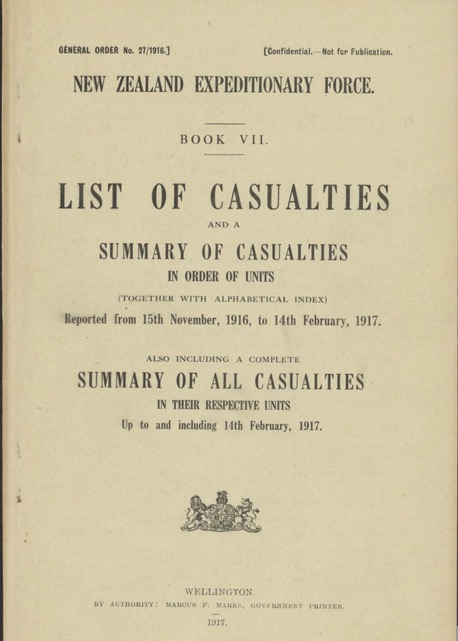 Creator
New Zealand. Army. New Zealand Expeditionary Force, 1st
Title
List of casualties and a summary of casualties in order of units (together with alphabetical index). Book VII, reported from 15th November, 1916 to 14th February, 1917 : also including a complete summary of all casualties, in their respective units, up to and including 14th February, 1917
Call Number
FERG/4053
Created/Published
[Wellington, N.Z.] : New Zealand Expeditionary Force, 1917
Pages: 60
So don't be fooled what Trove says – "Trove helps you find and use resources relating to Australia". It is much more and has resources for family history research outside Australia. The NZ List of WW1 Casualties is one example found after a very short search.