A quick check on Trove produced another piece referring to Richard John KITTO (DOB1859) who by this time was deceased. The piece about the Kitto Intestate Estate great sale appeared in the Illawarra Mercury on 9 February 1892. A large advertisement about a  "great sale" of the goods from his store including drapery, grocery, boots, clothing, etc. The sale was promoted by the S. W. Walker, "the well-known MANAGER of INSOLVENT ESTATES".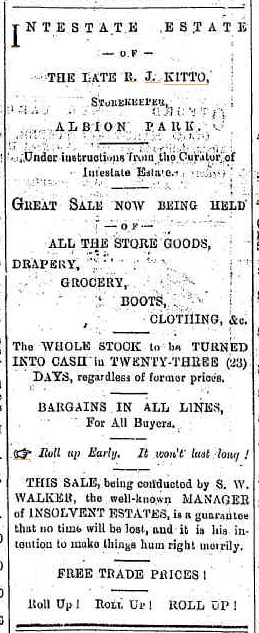 KITTO Intestate Estate
This sale was after the call for tenders that appeared on Page 2 of The Sydney Morning Herald, Thursday 21 January 1892. This suggests that there was a significant amount of stock left to sell leading to this second piece found at Trove.
This post about the the sale of the late Richard John KITTO's shop goods is part of My Family History Series for the 9 February.
See this and other family history bloggers #trovetuesday posts at Pinterest.
Source: 1892 'Advertising.', Illawarra Mercury (Wollongong, NSW : 1856 – 1950), 9 February, p. 3, viewed 12 January, 2016, http://nla.gov.au/nla.news-article132293603