G for Jenni & Thomas wearing "Glasses".
Earlier in 2017 I was at RootsTech, the biggest genealogy/ family history conference on earth. It's held annually at Salt Lake City in the USA. One social event a had a 70s theme so FamilySearch supplied us with funky striped glasses to help set the scene. I had already done my #GenealogyPhotoADay, that day using the glasses prompt but took the opportunity to post another one on Instagram. This is what happens when too many genealogy bloggers get together having fun.

#AtoZChallenge GenealogyPhoto Double Up
This gave me the idea to post two Letter G posts today for the A to Z Blogging Challenge 2017!!!! Here's the earlier G for Green New Zealand post.
Left in the photo is RootsTech Ambassador and blogger Jenni Fairs from Australia. Along with numerous family history roles in Australia Jenni writes a blog called Family Leaves and Branches. One of her areas of research is a surname study on the name Edenborough.
On the right is Thomas MacEntree who was in the first Instagram post that day.  You can see the other "glasses" post and read about RootsTech Speakers Thomas & Heather Smith.
So that is the double up for #AtoZChallenge GenealogyPhoto.
View this #GenealogyPhotoADay along with others on Instagram.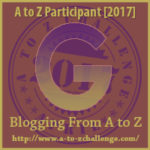 The 2017 A to Z Blogging Challenge is based on my genealogy posts for #GenealogyPhotoADay (some days, not everyday) on Instagram. I will be using past daily prompts starting with the appropriate letter. Here's the collection of 2017 A to Z posts that have been posted so far.
I welcome comments. If you use the commentluv feature to link your blog others can easily check out your blog too. Thanks.