I'm heading back to near the top of the activity list with Genealogy e-Resources for the next report of my Family History Month challenges. This is challenge number 2. Here we are asked to "Apply for a National Library of Australia e-resources card and explore genealogy resources online at home if you have not done so before ".
I applied for the card at the beginning of the month and it arrived about a week later. You need a card to get access to the massive amount of material and databases in the Licenced resources area.  There is also material freely available to anyone over the Internet and resources that are only available onsite at the National Library of Australia (NLA) building.  Material is tagged with a globe, keys or building as shown in the following images sourced from the libraries website.
I have to be up front here. In relation to genealogy, previously I have not done any research of the free resources at the National Library of Australia and none of the licenced resources. Firstly, I was avoiding adding another resource to my research because I have not fully explored what I have found so far, in any real depth. I really was trying to avoid picking the low fruits available at many databases online as I need to become more accomplished at researching in a methodical way with a research log. It is so easy to jump all over the place.
Secondly I am mainly researching in NZ and the UK so I was not too bothered. I made the basic mistake of assuming that materials at the NLA would have an Australian bias. Not sure why I did this as I have sourced overseas research from libraries in NZ.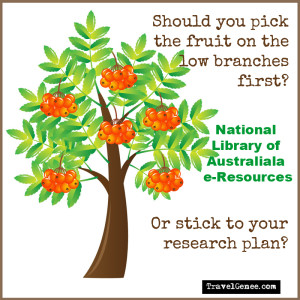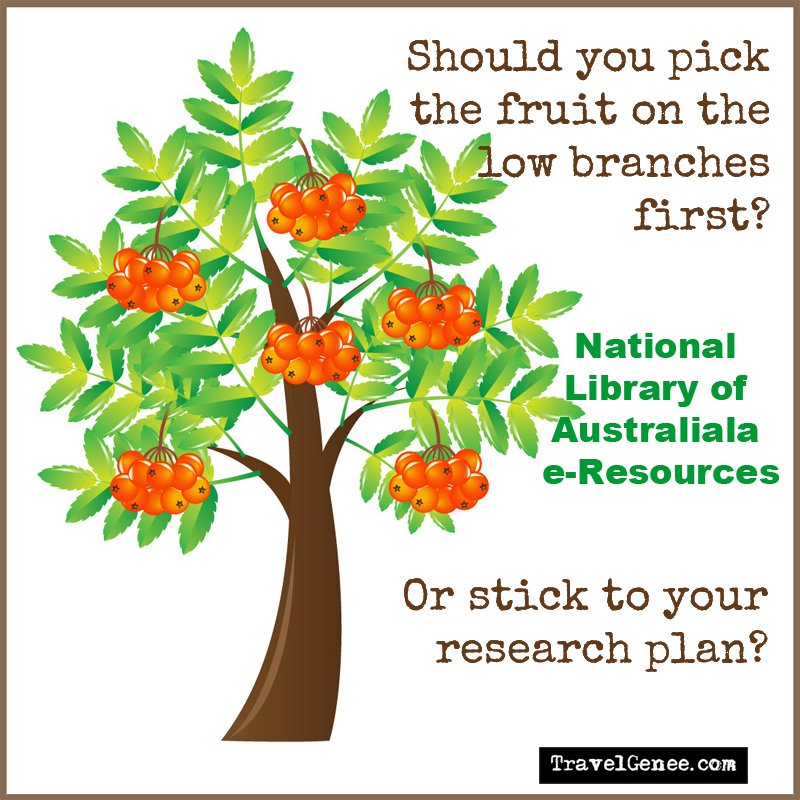 So this challenge gave me permission to have a little peak at what was available online in the free and licenced e-Resources area of the library. I decided that any e-Resources has the potential to be a genealogy e-Resources.
And there is so much material I was overwhelmed, after even a quick scan.
I had a look at some of the materials the library card gives you access to and found a resource to some 19th century English newspapers. I ran a little test.
A number of my DAWSON ancestors were watchmakers. So I searched on DAWSON and watchmaker. Quite a number of results where returned.  Right on the first page there were a number of entries that have a high probability of being about persons in my family tree. Here are two possible examples as the towns and names match. I need to verified these with my current research.


And I found a possible new clue: an initial for Emma Grout's father – J.  (Happy dance.)
So I have stopped myself as I could be (will be some day) glued to this chair for days researching the material available at the NLA. I have decided I need to stick to my plan.
I realise that sometimes it can take hours of searching to find new clues and evidence. Results do not always come so easily. What I can say that there is a high potential for many valuable results to be found at the genealogy e-Resources at the NLA.  Tweet this story, thanks.
Here are the other in this series of posts on the Family History Month Challenges.
Have you found clues or evidence from researching the genealogy e-Resources, NLA?