Genealogy on Facebook: Get links to great resources for your family history research.
Genealogy on Facebook reports the first 2 weeks in July with material and links on via the Caloundra Family History Facebook Page. It's tips, posts, links, jokes and more.  One of the focuses this month is maps for Genealogy and another in Scotland. July started off with a link to ScotlandsPeople:
This month ScotlandsPeople spotlight the Soldiers' Wills. The records are FREE to search on ScotlandsPeople. These unique records document the last wishes of over 31,000 Scottish Soldiers and offer a fascinating and poignant insight into the lives of those who died in combat. The vast majority of wills are from the First and Second World Wars, but there are around 300 dating from the Boer War, the Korean War, and other conflicts.
---
Criminal, sailor or guard on the first fleet?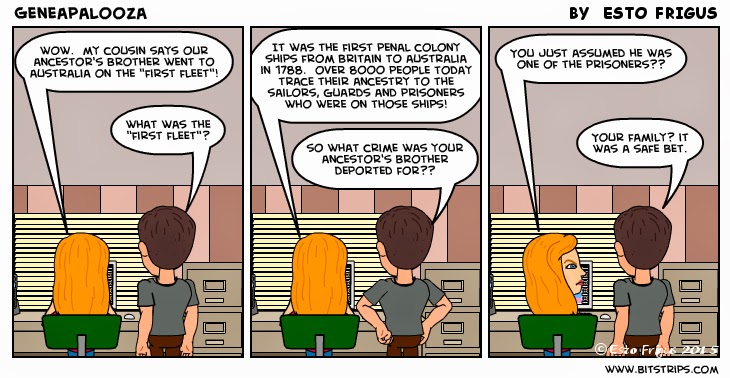 ---
National Records of Scotland has guides and help with family history. You can check them out on their website.

---
Flashback Friday: more from old library finds:
"Rootes" from the Gold Coast Family History Society Dec 2007, Issue 87. page 20 – Ann Morse's Hot Web Sites. "Most of these websites were working in October (2007) but remember they disappear without warning". The Scottish Emigration Database is still working.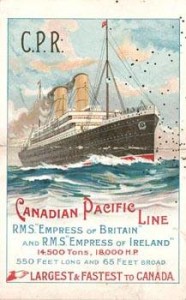 ---
Loads of Free Websites for South Australia Genealogy and History by Alona Tester from SA. Includes Facebook ones to follow if you are looking for SA cousins.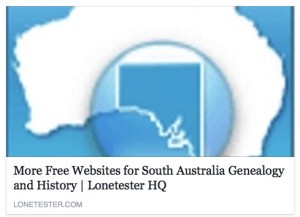 ---
1841 Census: the date was changed to avoid haymaking.
Since 1851 British censuses have been held in late March or early April, but in 1841 the census was taken on Monday 7th June (based on the inhabitants residing at the address on the previous day). Originally planned for 1 July it was changed when realised that the July date would conflict with haymaking, so many agricultural labourers would be away from home. (Originally found in the www.lostcousins.com newsletter.)
---
How Do I Start My Family Tree? – Eight Easy Steps was written in 2010. With online so dominant we need to make sure we do not forget some of the older online tips and trick. Number 5 – Post on Message Boards and Forums is not so common now with Facebook becoming the place to ask for help.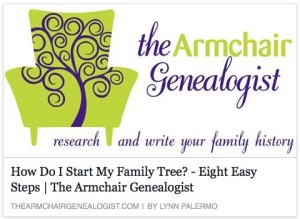 ---
Time for gardening…..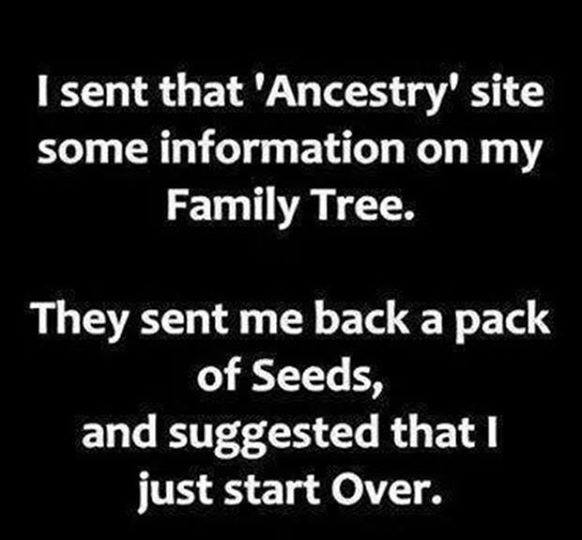 ---
'The wedding cake isn't just something to eat with a cup of coffee'. Are you a traditional wedding cake person or not? Why not save some of your family history by writing about wedding cakes in your family.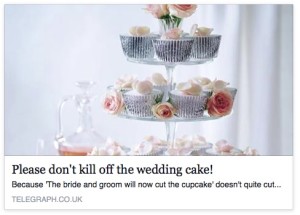 ---
Twisted Twigs On Gnarled Branches Genealogy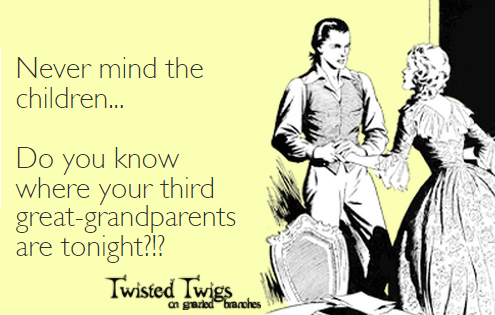 ---
Join Facebook genealogy groups online to get help or give help to others. Closed groups require you to request membership like the Australian genealogy group.


---
The UK and the US both recently announced the celebrities for their latest seasons of Who Do You Think You Are?. Now it's Australia's turn. Who Do You Think You Are? delves into the ancestry of prominent Australians. Read more about the latest celebrities to be selected at Alona's blog post at Gould Genealogy.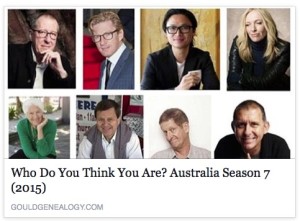 ---
Queensland Family History Society Inc Events.
Topic: Newspapers: people, places & events.
When: Saturday, 1 August 2015 – 9.00 am to 12.30 pm
Where: Queensland Baptists Conference Centre, 53 Prospect Road, Gaythorne
Cost: $15.00 members and $20 non-members (includes morning tea


---
Today I got an email from a first cousin that found me through my blog. It made me think on the reasons why we should write our family history. I might have shared this one before from the New York Library on reasons to write your family history but it is work a reminder. Also for CFH members – have you entered the Lorrie Barzdo Writers' Competition – details in the latest newsletter.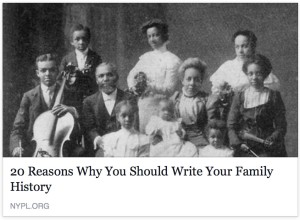 ---
Sometimes things you find online seem to disappear. Find out why with this post from Dick Eastman called "Why Was the Information Removed from Online?" (Updated post from Dick Eastman.)


---
Podcast: The latest podcast is in fact a webinar from the National Archives in England entitled Tracing your ancestors – women in the military services during the First World War. It is a 30-minute recording with slides by Emily Stidston, and discusses records from the British Army, Royal Navy, Royal Air Force, Merchant Navy, nursing services and voluntary organisations. Via Chris Paton.
---
Have you got a plan as to what will happen to your family history research?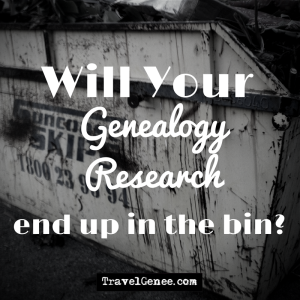 ---
If you find any of our Facebook content interesting, helpful or even just funny then feel free to share it with your friends and like the posts. Make comments and join in. It would be nice to hear from you!  (Nicely begging for shares, likes and comments.)
---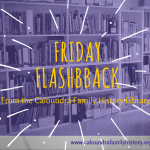 Friday Flashback: really old pieces from our library.
Forebears from the Maryborough a District Family History Society, Nov 2001, vol 18, No 3. From the Presidents report…. "We have been successful in gaining a grant of almost $5,000 to buy ten new fiche machines with extra light bulbs."How times have changed.
What else has changed in recent years?
---
Like the Facebook page for the Ryerson Index to follow up on their news.
https://www.facebook.com/RyersonIndex


---
Remember Helen Smith that recently came and talked to us. The 2nd edition of her book is now available and to celebrate the release of the second edition of her book Death Certificates and Archaic Medical Terms she has shared some terms here on her blog, with another 1500 terms plus available in the book. I'm pleased that many she has listed are not common anymore. Check them out now.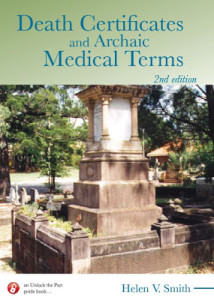 ---
Twisted Twigs Genie Joke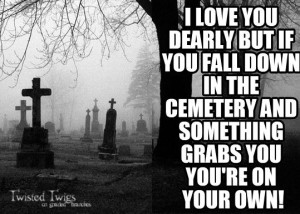 ---
Featuring maps for genealogy this week:
First post is to Old Maps Online. The Old Maps Online Portal is an easy-to-use gateway to historical maps in libraries around the world.
It allows the user to search for online digital historical maps across numerous different collections via a geographical search. Search by typing a place-name or by clicking in the map window, and narrow by date. The search results provide a direct link to the map image on the website of the host institution.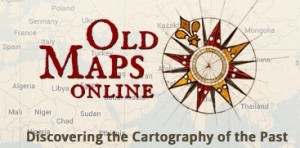 ---
Get your diaries out and book Thursday 16 July, this week.
Research – 9.30am to 1pm
GENERAL MEETING – 1.30pm to 4pm
Guest Speaker: June Blackburn
"SALT LAKE CITY & THE MORMONS"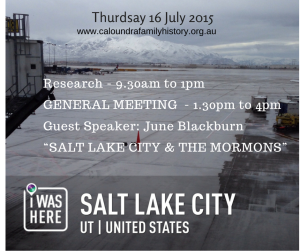 ---
The David Rumsey historical map collection has over 61,000 maps and images online. The collection includes rare 16th-century maps through to more recent maps and other cartographic materials. Browse map categories: What, Where, Who, When. The collection is used to study history, art, genealogy, explorations, and family history. It could be referred to as the go-to maps for Genealogy.
http://www.davidrumsey.com/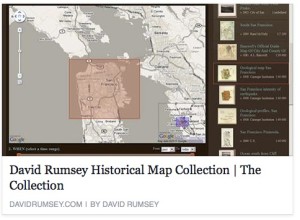 ---
More on Maps this week:
At the Scotland National Library website, there is a 'Map images' resource you can access and view over 91,000 maps as high-resolution, colour, zoomable images. The maps date between 1560 and 1964 and relate primarily to Scotland. We also have maps of areas beyond Scotland, including maps of England and Great Britain, Ireland, Belgium, and Jamaica.
---
Some Webpages Sherie found Useful for Reading the Irish Catholic Parish Registers. They might help you too.
---
The following week will continue the focus on Maps and start a new theme on Translating for Family History.