TravelGenee #atozchallenge N – NIXON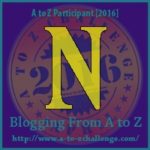 My great grandmother Frances Ann EDMONDS (DOB 1865) had an older brother named Spencer John EDMONDS (DOB 1856). He married a Clara Mary Ann NIXON (DOB 1861). I do not have many given or surnames in my tree that start with the letter N so it's Clara NIXON for the A to Z challenge.
Clara Nixon is one of those people that get added to your tree with less excitement compared to when you find direct ancestor facts. She was not a big challenge when looking for the basics. It was easy to find England & Wales, FreeBMD and various church documents for birth, death and marriage information. Also census data pre and post marriage.
We can still learn from Clara NIXON. She shows us how looking at the same documents on different family history websites can clarify our research. This is not statistical comparison between the Ancestry and FindMyPast digital images as it is just one person with 3 records
First the comparison between Ancestry and FindMyPast digital images for the 1861 England census. The FindMyPast image was lighter and harder to read.
England and Wales Birth and Death index examples:
Generally both the birth and death index images were legible yet there was shading and clarity differences. It may be necessary to check alternative websites even when the text is generally legible.
While Ancestry and FindMyPast need subscriptions for Births, Marriages & Deaths in the UK there is also the FreeBMD index. Images at this location are searchable and free. Quality will vary too.  Source for FreeBMD Nixon Image.
Quality can also vary on computer screens so this is another option when viewing difficult images. On my Mac, if you open and image in preview you can adjust the colours with Tools > Adjust Colours via the menu. Many factors can be adjusted as shown in the following tool image. Click the image if you would like to see a closer view.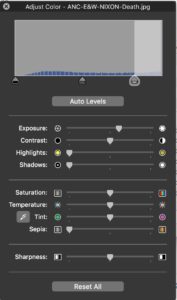 Thanks Clara Mary Ann NIXON for sharing some of your digital images.
Do you try various website for the same image? Feel free to comment.
TravelGenee #atozchallenge N – NIXON
This is part of the A to Z Blogging Challenge for April 2016: Letter N for NIXON. You can read more about the A to Z challenge and my other posts.  Or search on social media with #atozchallenge.