W for Wildlife in the Backyard
We get lots of different animals visiting our home. Fortunately most stay outside. This is a big black parrot.  They usually come in pairs.
We have a number of green frogs and the other day I saw a blue tongued lizard. In our last place we saw poisonous brown and red belly black snakes. The brown snakes loved laying eggs in the warm compost bin. Poisonous red back spider occasionally visit too.
I am wary gardening and don't wonder around in the dark. Fortunately most of the dangerous animals keep away from humans most of the time.
View this #GenealogyPhotoADay along with others on Instagram. Feel free to follow me.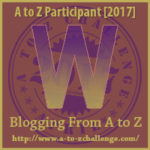 The 2017 A to Z Blogging Challenge is based on my genealogy posts for #GenealogyPhotoADay (some days, not everyday) on Instagram. I will be using past daily prompts starting with the appropriate letter. See more 2017 A to Z posts.
I welcome comments.  Any wildlife visiting your backyard?