RootsTech Ambassadors attend the Ancestry breakfast
The day started super early for me at 7.30 am the Ancestry breakfast meeting for Day One Rootstech London. Fortunately for me, it was located on the Sunborn London Yacht Hotel located at the Royal Victoria Dock where I was staying so I could roll out of bed at the last minute, shower and go to breakfast.
Several Ancestry staff talked about the projects they have been working on and future developments. First up was Todd Godfrey, Vice President Global Content. One interesting comment he made was the rescanning the original documents instead of using the microfilm so that they are coloured and not the monotone microfilm style. While this option only happens with some record sets, for these ones they are more vibrant and look like the originals, so have so much more life.
Helping make trees more accurate
John Erickson, the Senior Director of Product Management, followed talking about Thru-Lines and the constant improvements being made based on feedback. The DNA side of the business wasn't the only thing he mentioned. Ancestry is aware of the issues of surrounding users just accepting hints without reviewing them. They are working on helping people make the correct decision with hints. For example, now hints are cleaned out if they are no longer valid. In earlier iterations of hints, these just sat in your hints list once they had been generated. Add of course some users just accept hints as true, add them to their tree and others then follow suit.
The Director of Scientific Communications & Research, Barry Starr talked about DNA advancements including the recent ethnicity and community improvements. Ancestry's large number of trees, records and a massive number of people who have DNA tested enable Ancestry to keep improving their communities. Barry sat at the table I was seated at so I had a nice chat with him.
Crista Cowan, a Genealogist, mentioned there are over 1600 AncestryProGenealogists including Angie Bush that was at my table so I got to meet her also. Plus Brad Argent (from Australia), International Senior Programming Director at Ancestry, mentioned a new podcast he is involved with currently. They will be recording one episode at RootsTech London.
I was fortunate to select a table with a number of the Ancestry Team and Rosemary Morgan, fellow ambassador, (far left) that I had met at an earlier RootsTech in Salt Lake City. Barry Starr is on the right and Angie Bush in the middle.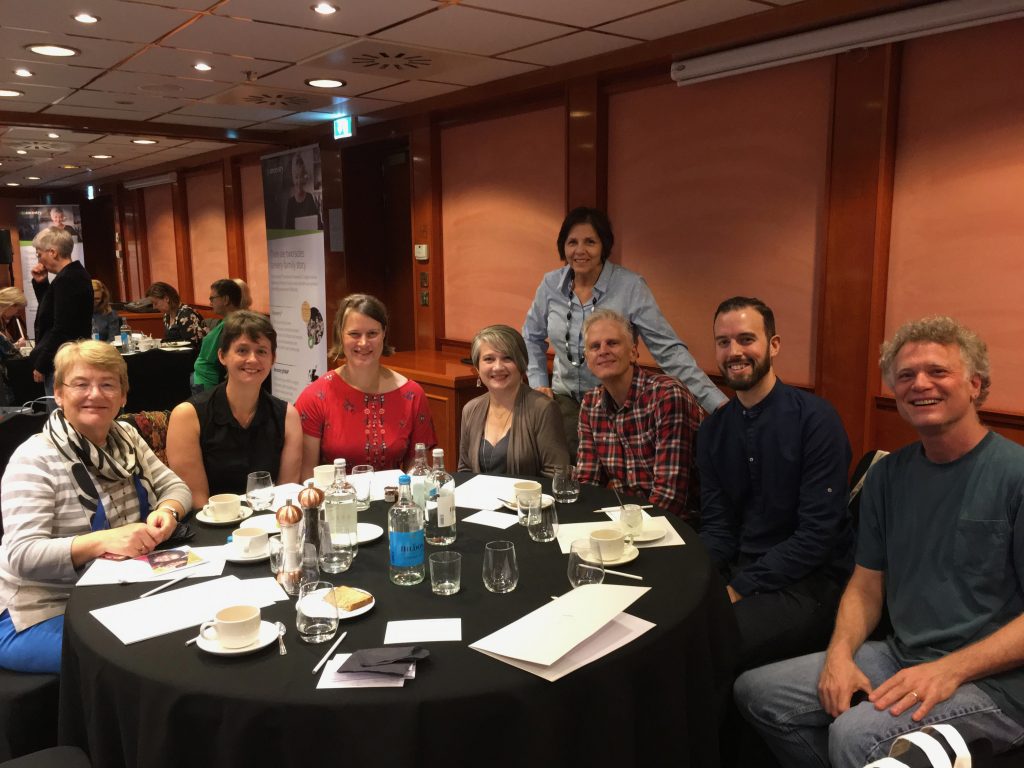 Finding my French Ancestors
Having visited some of my maternal side for the first time the other day, in Chelmsford, I am excited about learning more about how to research my French ancestry. Nana (Grace Shepherd DOB 1896) always said she had French ancestors with her grandmother being from France. Fanny Monger or her parents might be a French connection. On my paternal side my great grandmother, Amelia Bretel, was from the Channel Islands and her parents from France.
The first session I attended was French or foreign ancestors in France: archives tell a lot about them with Murièle Gadaut and Jérôme Malhache. Like the UK and other countries, France has a National Archives, regional and local archives plus they have specific ones like police and military records. I now have a starting point for my French research.  Knowing things like graves are only purchased for X number of years and that they are then removed will be helpful with future research. It means that I will not keep searching for grave unnecessarily.
Murièle Gadaut and Jérôme Malhache were kind enough to let me get a photo to add to my conference collection.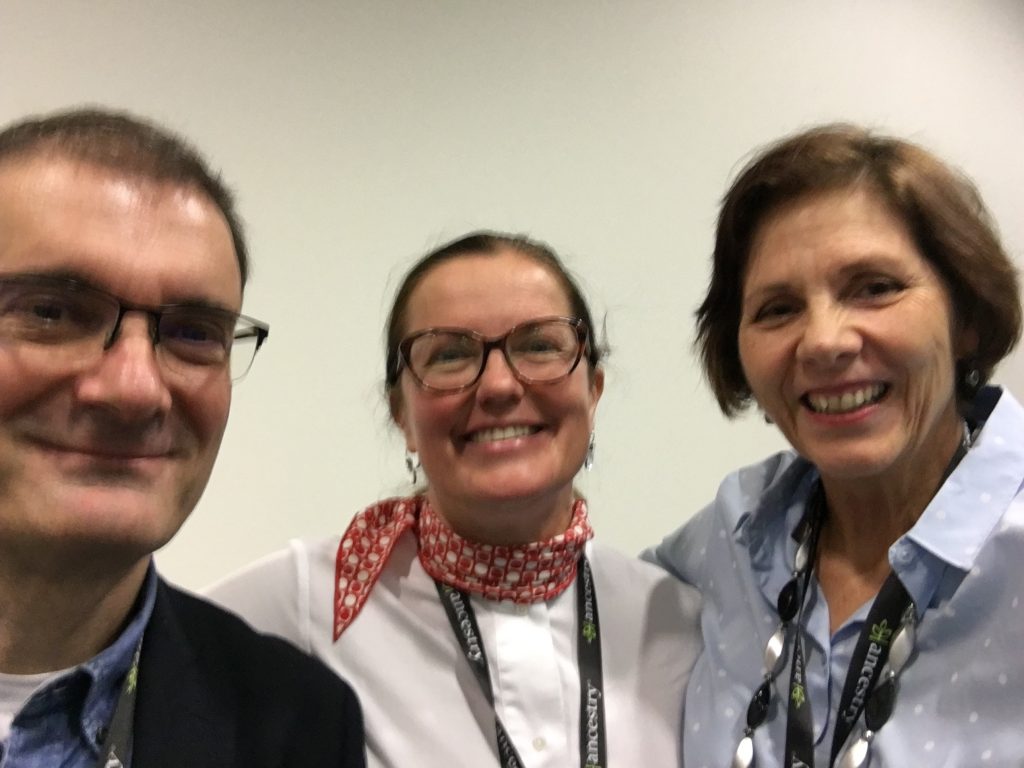 I will be checking out the FamilySearch Wiki on France for more tips and web-links to follow up for my French Research. Remember if you are language challenged, like me, you can use Google Translate to help your translations.
Connect Belong: how to inspire youth with history
I was fortunate to participate in the interview Nick Barrett, the RootsTech London Host. I asked about the Community Archives and Heritage Group (CAHG)  where Nick is on the executive committee. It is a national group which aims to support and promote community archives in the UK & Ireland. He talked to us about a particular heritage group from Ryde on the Isle of White. There was a problem with youth vandalism at a local cemetery. So they engaged the children to transcribe the graves. They then set up a website rather than sell the information to one of the large family history giants. Since then the amount of vandalism has dropped. The project leads to a greater interest in local history. Plus with the free website, an increase in tourism in the off-season. Thus benefiting the local community's economy.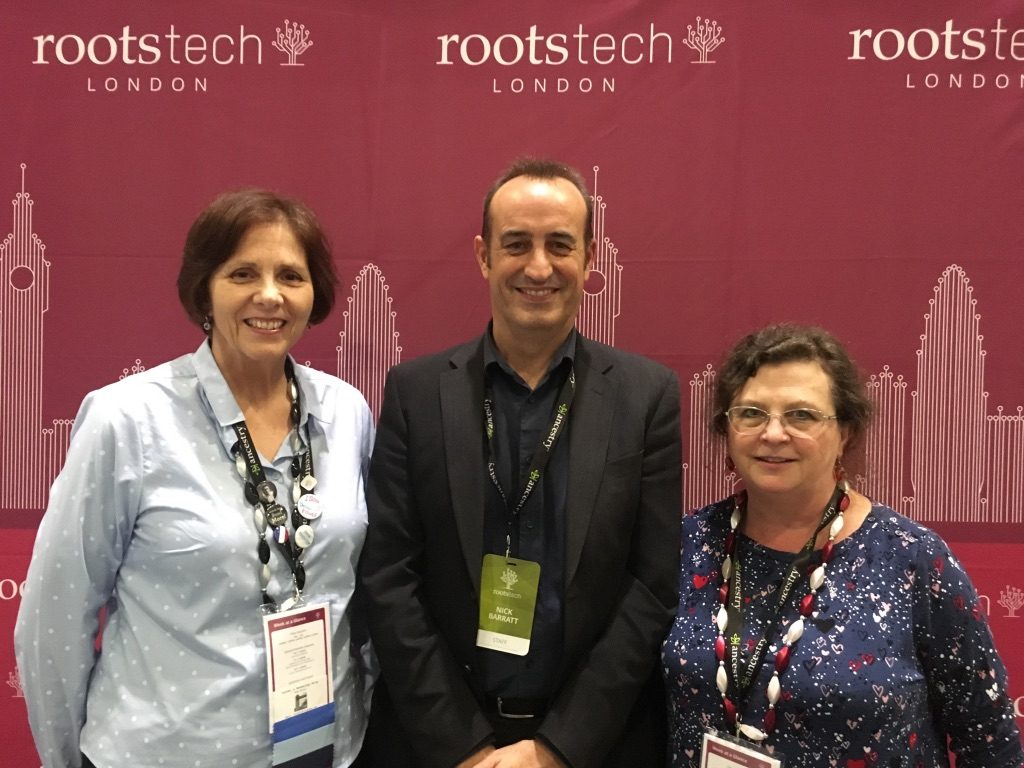 Above is Nick Barrett with Jenny Joyce (right) another of the Australian Rootstech ambassadors and myself at the RootsTech London media hub.
Look See Learn
A big feature not just on day one RootsTech London, similar to the Salt Lake City event, is the Expo. I always try to visit as many of the stands as I can, relevance and time permitting. Visiting the stands enables you to learn about new product innovations and share feedback. You can even get help with the occasional genealogical problem.
The three platinum sponsors, FamilySearch, Ancestry & FindMyPast and others like Family Tree Maker have teams of people helping answer questions and running instructional classes and demonstrations. Ancestry, for example, has around 40 free classes and demonstrations running for the 3 days on the Ancestry stand. All have computers connected to their services with staff helping conference attendees. In addition to the banks of the computer at the FamilySearch stand was a booth that is digitising books for free.
So Day One RootsTech London was all about connecting with old friends, making new ones while learning and sharing ways to find out more of my family history.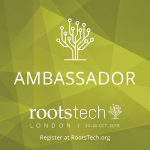 Disclaimer: As a RootsTech London Ambassador I receive free event registration and other ambassador privileges in return for promoting it in various social media forums, at events and on my blog.
The views and opinions expressed in the blog are my own.
Feel free to share on social media this post: Day One Rootstech London.