This post is about how RootsTech works. I was going to give more explanations in the post today about connecting yourself to the FamilySearch Tree so that your Relatives at RootsTech gives you some connections. However, I have seen many tweets, Facebook, YourTube and other comments today with people still wondering, worrying about how the conference will work. Consequently, I have changed today's topic to How RootsTech Works.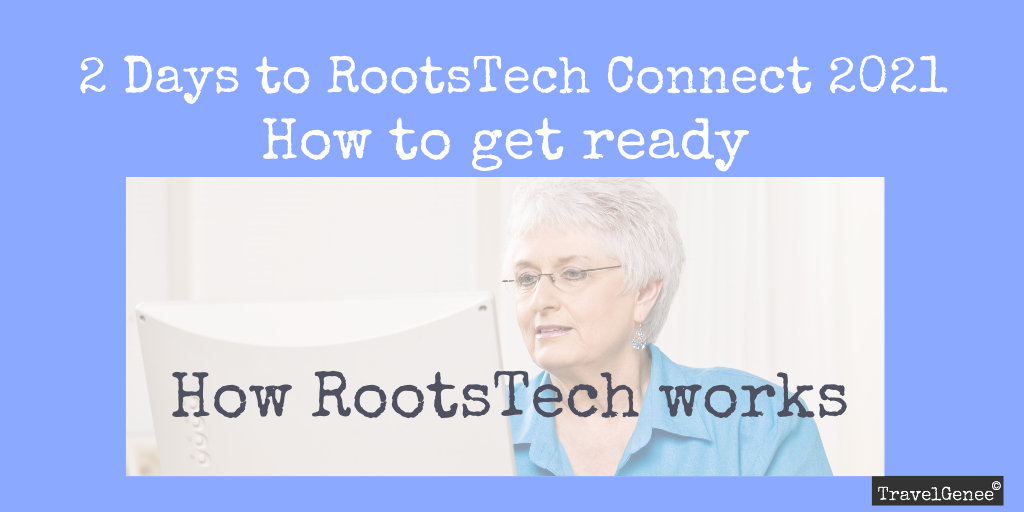 How Rootstech works
You attend the RootsTech Connect Virtual conference via the RootsTech website.
For the conference, the website will be given a new conference look and feel with new conference functionality.
The first keynote speech will start at 11.00 pm EST (USA) on Wednesday 24 February 2021 which converts to 2.00 pm in Brisbane and 3.00 pm in Sydney on Thursday 25 February. This is 5.00 pm, Thursday for my Kiwi Whānau and friends. See more about time in the What time is it? post.
Once the website goes live you can start building your "My Playlist". This is where you create a list of sessions and keynotes you wish to view.  More on the Sessions, Guide Me and the My Playlist.
You will need to log on using your FamilySearch account to use the advanced features such as the My PlayList. Create a FamilySearch account if you do not have one or check you can log on when you need to do this. More on checking your FamilySearch account in this blog post.
You can still watch as a guest however you will not be able to use some features like Chat / Connect. Look for talking about connecting, communicating… in than earlier blog post, for more about chat.
The Conference Expo will be open for previewing 4 hours prior to the Keynote speeches starting. More on Keynote speakers.
You do not have to stay up 24 hours a day for 3 days. The Keynote speeches on the Main Stage are repeated. The sessions are on-demand so you pick the day and time you want to watch any particular one. It can even be later in the year.
Relatives at RootsTech – this is on the FamilySearch app or via the www.FamilySearch/Connect. Log in with your FamilySearch log-on user id and password and opt-in. You can opt-out at any time. More at the posts Relatives at RootsTech Part 1 and part 2.
Are you ready for RootsTech Connect?
I hope this summary helps. Only 2 days to go.
Only two days to go - Are you ready for Rootstech? This is how @travelgenee thinks it will work. Tips for the virtual conference by a frequent RootsTech attendee. #RootsTechConnect #FamilyHistory #Genealogy @FamilySearch @RootsTechConf
Click To Tweet
Share on Pinterest interest, thanks